« Mid-Morning Art Thread
|
Main
|
Shock: Mitt Romney May Join Hypothetical Biden Administration »
November 09, 2020
The Morning Rant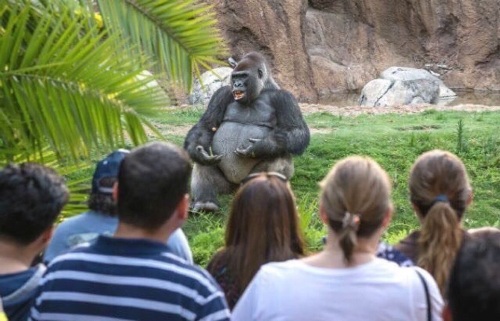 I think we have to beware of false information and false hopes. For example, here is a video that was making the rounds this weekend:
So, after watching this video, two questions immediately came to mind: (1) Who is Leigh Dundas, and (2) how is she privy to such insider information from the Trump adminstration? She makes it sound like she's right there in the "inner circle" of the President's advisors. I've been following the post-election brouhaha fairly closely and I must admit I don't know who she is. I have never, not once, heard her name mentioned anywhere.
So I did some googling and found this:
https://tonyortega.org/2020/06/11/scientologist-attorney-gets-her-first-head-on-a-pike-with-oc-health-officer-resignation/
This article is unrelated to anything having to do with the election, but it reveals that basically, Dundas is a lawyer employed by the Scientology organization. That's red flag #1. She says she's a "human rights attorney", which is basically a way for a lawyer to proclaim his or her moral goodness. That is, I know there are legitimate human rights attorneys, but she doesn't sound like one, especially as she's someone connected to such an unsavory organization. So that's red flag #2. Upon further googling, I could find no evidence that she is connected to the Trump administration. That's red flag #3.
I have enough to make a prima facie case that what she says should be treated with extreme skepticism, if not outright dismissal.
In other words, Leigh Dundas is not someone we should be listening to.
Here's another example:
https://twitter.com/tom2badcat
/status/1325125515313770499?s=20
Scroll down down about 5 tweets and watch the video by "Dr. Charlie Ward", described as a "Trump insider" -- which is red flag #1. That's almost as bad as "sources say." But is there any evidence at all for what he's saying? He sounds very impressive and authoritative but who is he, and why should I believe him? And how is he connected to the Trump administration that he would know the things that he's talking about?
To be honest, Ward has got kind of an Infowars vibe to him that sets me off.
Like the Scientology lawyer, Charlie Ward is not someone we should be listening to.
So who should we be listening to?
It is dangerous to believe anything we hear or read on social media (or any media, for that matter) about the post-election disputation. At this point, the only credible witnesses we should pay attention to are Donald Trump or one of his authorized spokespersons (such as Donald Trump Jr., Kayleigh McEnany, or someone from the Trump legal team such as Rudy Giuliani or Sidney Powell).
Right now, all we know is that the Trump administration believes that Biden won several states due to fraudulent voting and they have evidence for this fraud they believe will hold up in court. We don't know anything about this evidence, what it is, or how they got it. Or even if a judge will look at it and won't immediately say "nah, brah."
And by the way, this is where a conservative court is not naturally on our side. Because I think a conservative judge will be extremely reluctant to reverse the results of a national election. So the quality of the evidence Trump's attorneys are preparing to present had damn well better be three levels above airtight.
So the bad news is that courts are going to want to see something extraordinary in the way of evidence. The good news is that Trump thinks that's exactly what he has. This is a comment from this Saturday's chess thread:
There's a video floating around twitter of Trump stopping after his golf game today to take pictures with a bride and her bridesmaid at some club. He couldn't have been more engaging and upbeat.

If he thinks he's lost he sure as hell isn't showing it. Good enough for me.

Posted by: JackStraw at November 07, 2020 06:44 PM (ZLI7S)


Blago Knows Corruption When He Sees It: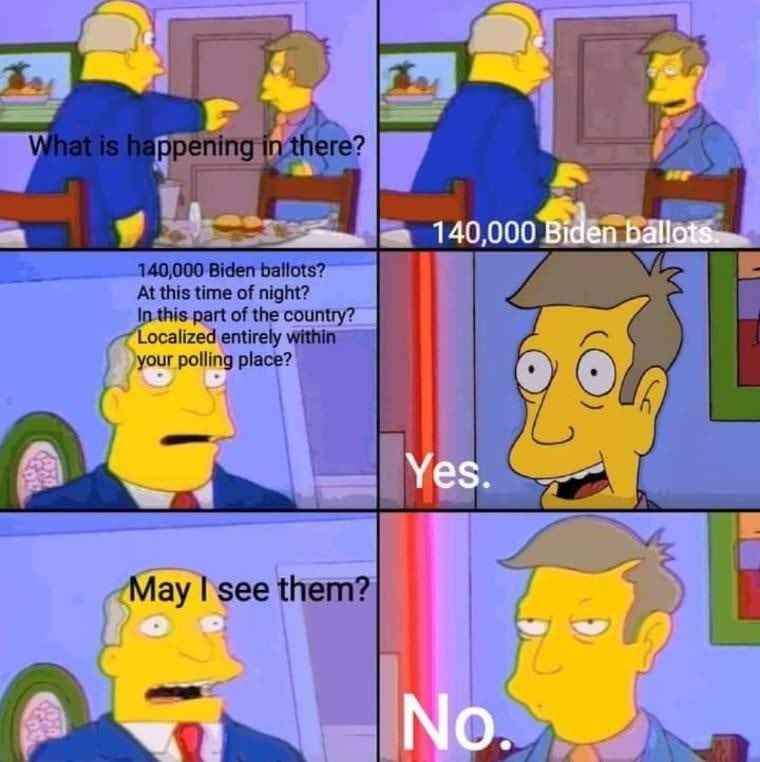 (Click to enlarge)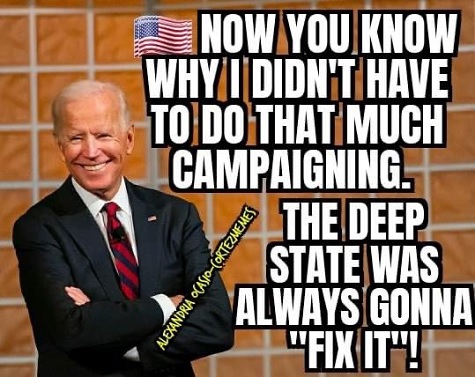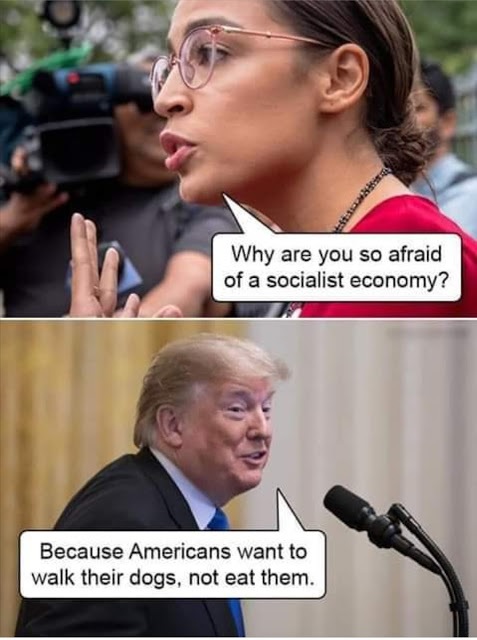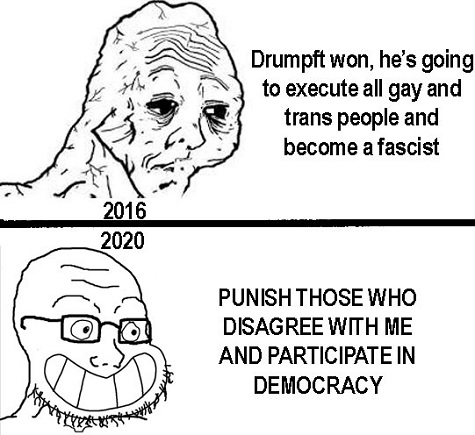 Chain of Command (Succession):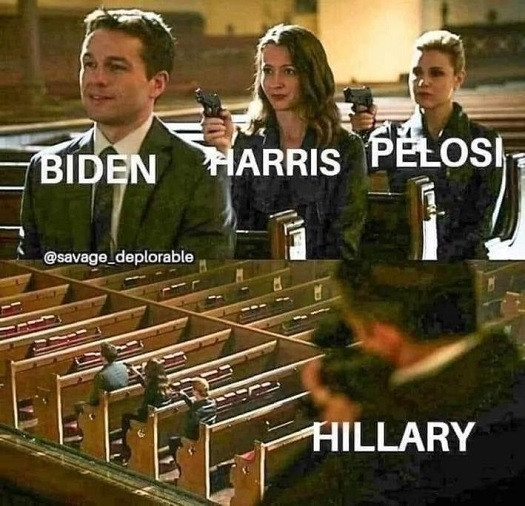 Creepy Joe 2020: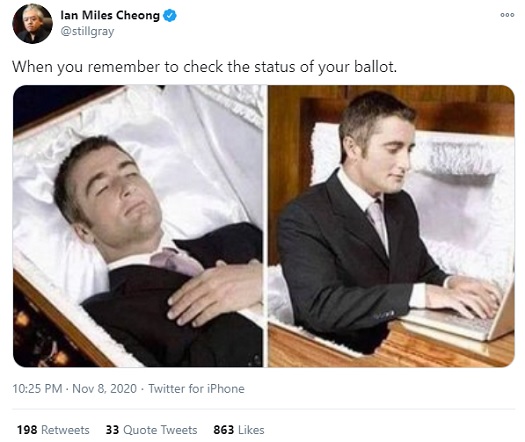 Oh Look, They Want To Make Nice Now: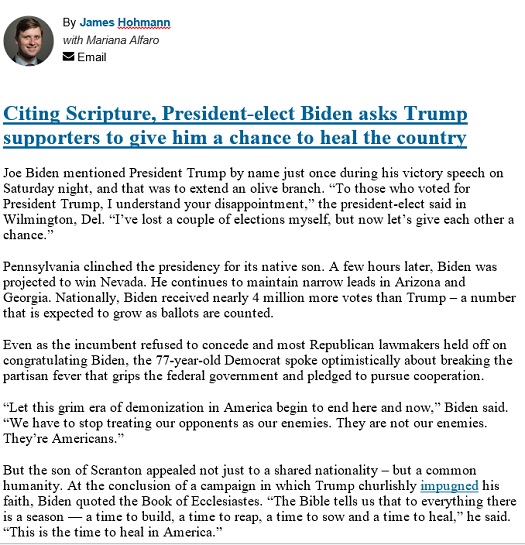 Who Dis: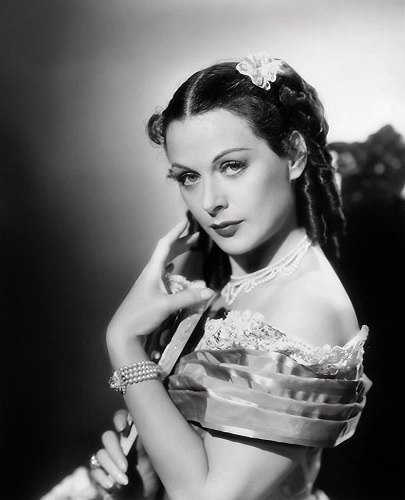 Photo 2
Photo 3
Photo 4
Photo 5
Photo 6
Photo 7


For the 'Ettes: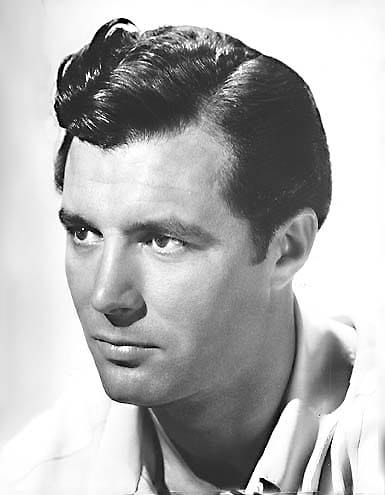 Photo 2
Photo 3
Photo 4
Photo 5


Friday Who Dis:
Married Hollywood actors Hilarie Burton and Jeffrey Dean Morgan. I guess Ms. Burton has just joined the Walking Dead cast, so there's that connection, too.


Today's Edition Of The Morning Rant Is Brought To You By Cranberry Raspberry Pie: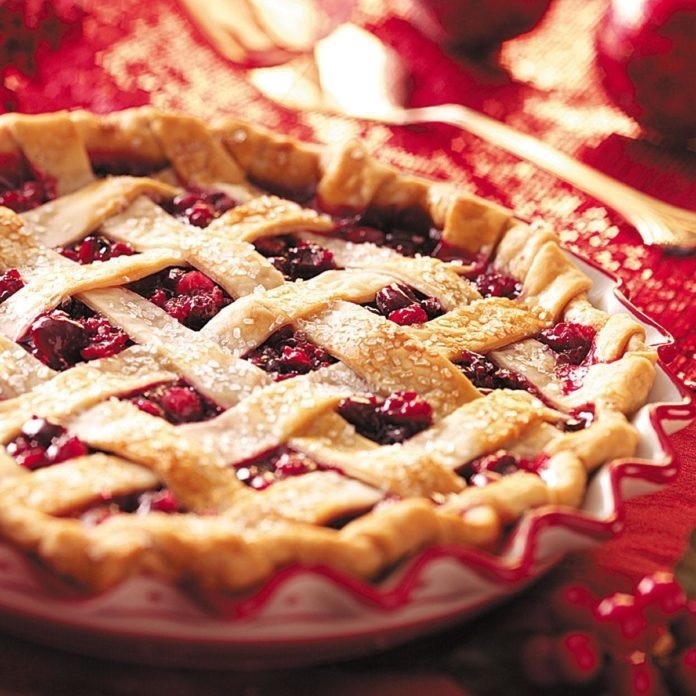 (click for bigger pie)
Recipe:
2 c. cranberries
3 c. or 1 12oz. package frozen raspberries (thawed)
1 1/2 cup sugar
1/4 t. salt
2 1/2 T. cornstarch
1/4 t. almond extract
1 9-inch double-crust pastry
1. Coarsely grind cranberries
2.Mix all filling ingredients
3. Spoon into pastry-lined pie plate.
4. Top with butter
5. Make lattice top.
Bake at 425F for 10 minutes. Reduce to 350F and bake 40 minutes
Mrs. Muse tried this recipe out this weekend and it is out-of-this-world good. So good that I made her swear a blood oath that she would make it every holiday season from now on.

posted by OregonMuse at
11:12 AM
|
Access Comments