« Obama/Biden Administration Approved the Sale of a "Strategically Sensitive" Manufacturer With Military Applications to... Hunter Biden and a Communist China Front Company Which Makes Purchases for the People's Liberation Army
|
Main
|
James O'Keefe Promises a Spoo-oo-ooktacular Halloween Hidden Video Sting »
October 23, 2020
Jake Tapper Is Nearly in Tears Whining About Trump's Attacks on Sundown Joe
Look at him -- he's hysterical and his voice is quavering as he tells his dwindling viewership to brace themselves for Republicans to criticize the leftwing candidate he's praying for.
You should watch the vid at the link to get a full sense of Jake Tapper's womanly emotional meltdown, but here's what xhe was shrieking about. Like a bitch.
CNN's Jake Tapper called the Trump campaign the "the single most negative, sleazy campaign in American history for a major party candidate" following the second presidential debate -- citing "nonsense" accusations against Joe Biden and members of his family.

"He is running the single most negative, sleazy campaign in American history for a major party candidate," Tapper said.
Calling the charges "nonsense" is a dishonest tactic taken straight from Joe Biden's spokesman. He calls the charges "nonsense," "malarkey," and a "smear."
All of these words are chosen to not be fact-based -- because you can fact-check a fact.
But you can't fact-check a deliberately vague assessment like "nonsense."
What does it mean? In what way does he claim these emails are false?
He won't say -- intentionally.
Because the emails are real and he knows it. But he wants to claim they're fake, anyway.
Is Jake Tapper saying that Tony Bobulinski is lying? Or a "Russian Asset"?
No, he's not saying that -- because that is a false statement which could be fact-checked.
He and CNN would also be sued for making such wild, unsupportable claims. That's defamation. And CNN is already paying Nick Sandmann for its wild defamatory claims about him.
So instead he follows Biden in issuing a general, vague, nonspecific demurral about the charges, while not committing himself to any factual claim -- any journalistic claim -- about the charges' veracity.
This is deeply dishonest.
They know these charges are true. Otherwise they'd present stories proving them to be false.
But they have no such proof, so they just handwave it away using the deliberately vague, intentionally nonspecific word "nonsense."
Jake Tapper is a partisan liar.
"It used to be that people would be negative and you could always say, 'Well, don't forget the campaign against Dukakis.' Or historians like [Michael] Beschloss would come on, say in 1800 Jefferson had pamphleteers that accused John Adams of being a hermaphrodite, or whatever... Trump and his allies in the media and the members of his family and the Trump allied websites and such are leveling with charges so heinous I'm not going to say them, just nonsense, crap, tied into QAnon, tied into pizzagate, tied into the worst things you could say about a person."
It's incredible that this sissy bitch essentially honeydicked a bunch of straight-but-curious "conservative" commentators by just giving them the slightest amount of attention on Twitter.
That was all it took to get AllahPundit and the rest of the gang to follow Jake Tapper around, sniffing his farts and begging for his approval.
Was it Jake Tapper's charisma, which I think can best be described as "elusive" and "long-hypothesized"?
Or was it just that Jake Tapper was on TV? Albeit -- only on basic cable, and only on in the afternoon when people simply are not watching TV news.
And at that particular timeslot, when people are not watching TV news, people are especially not watching Jake Tapper, Hero to C#cks and Middle-Aged Incels.
Jake Tapper wasn't the only "male" at CNN to be close to bursting out into open sobbing: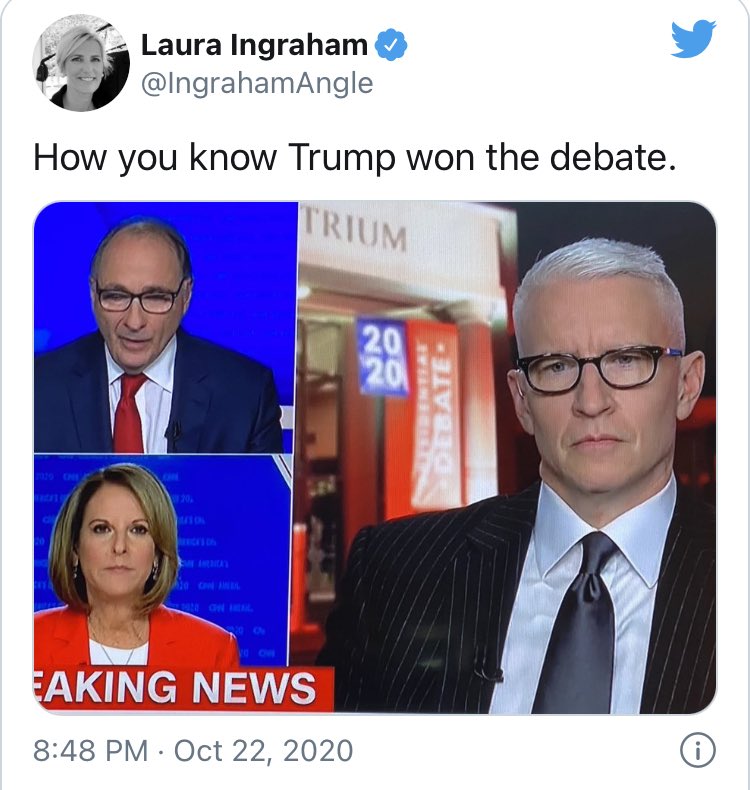 Look at this collection of sad slumpbacks at The Dispatch: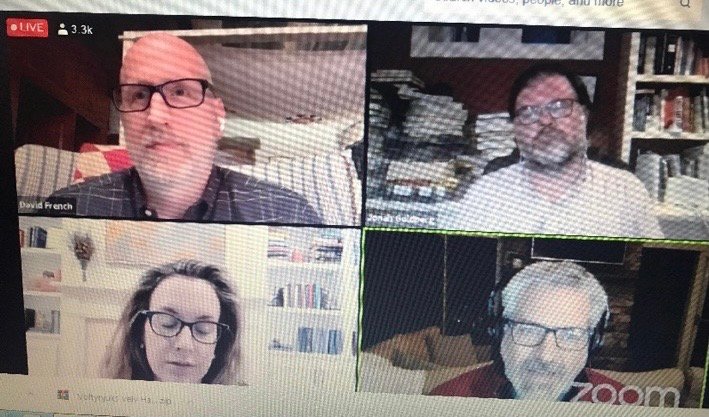 The Bulwark's resident effeminate hysteric -- a sissy shut-in who does podcasts about his love of kitchen appliances -- can't conceal the truth, so he just paints the truth in blood and feces.
You know -- the way a mentally-unstable stalker might scrawl rancid graffiti on your door.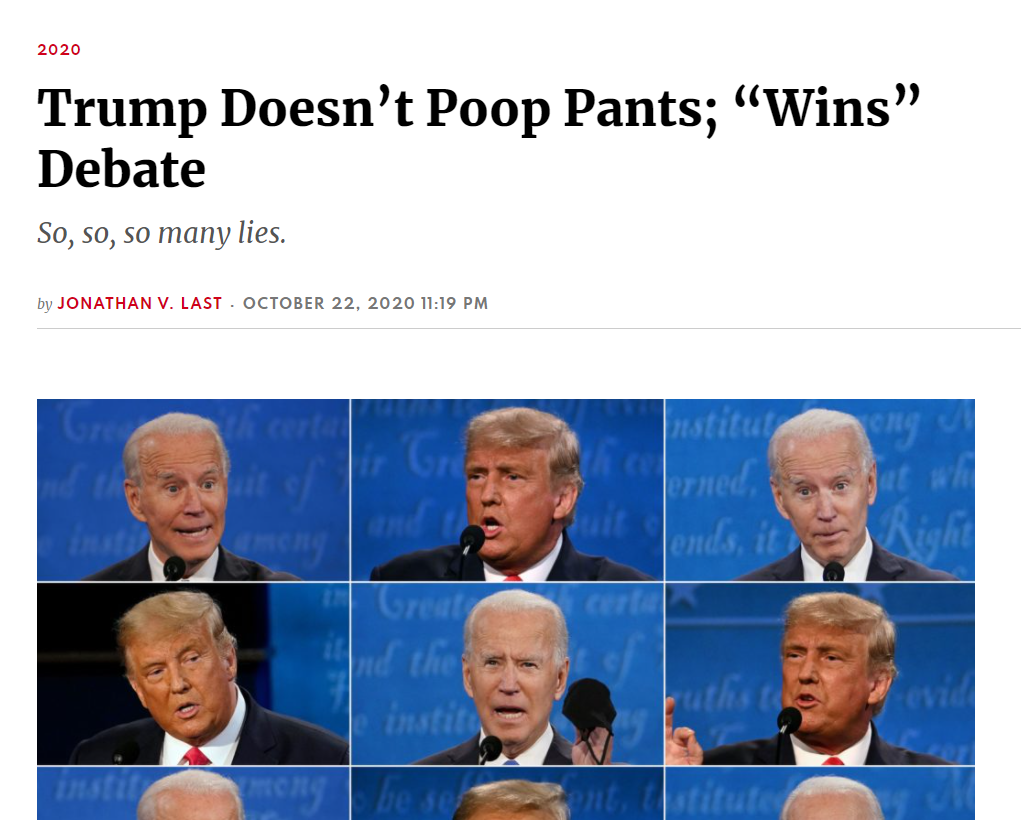 Will this picture go down as the iconic image from the debate?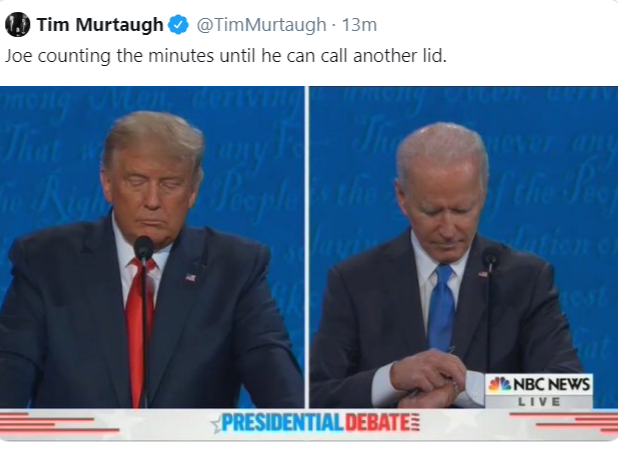 The media couldn't stop talking about it when George Bush (Senior) looked at his watch during a debate with Bill Clinton.
Somehow, though, I think they'll manage to overlook Sundown Joe checking to see when it's time for his next lid.

posted by Ace at
04:47 PM
|
Access Comments