« FaceBook is Recruiting Its Censorship AI Programmers From an Interesting Source: Communist China
|
Main
|
Jack Posobiec: Get Ready to See A Lot of Media Collusion With Hunter Biden In the Emails »
October 21, 2020
Leftwing Media (Including the Neoliberal Webzine and Corporate Owned-and-Operated National Review) Rushes to Defend #MeToobin's On-Camera Masturbation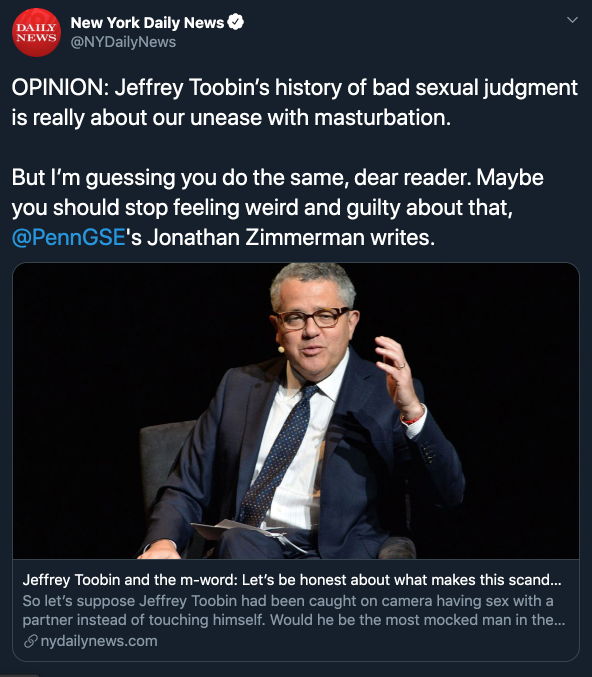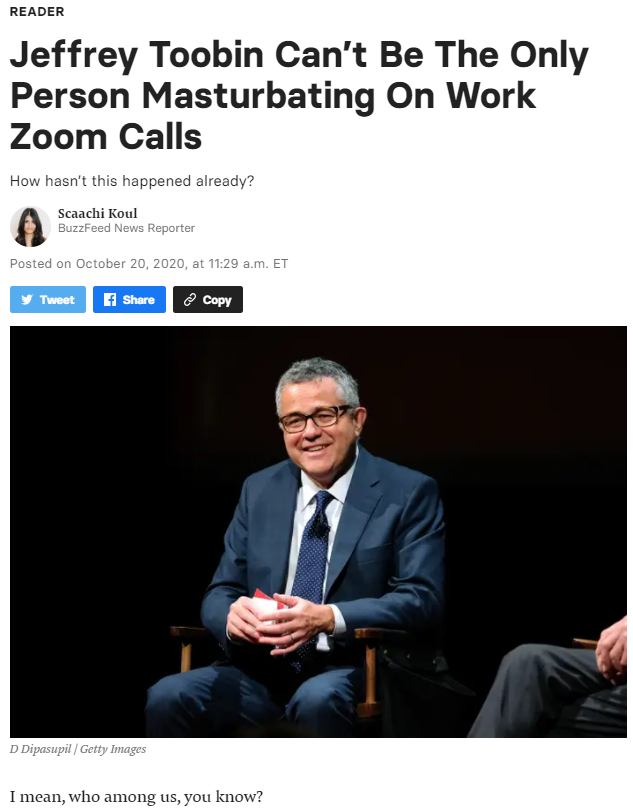 CNN's sexually-indistinct Tater claimed the on-camera masturbation was merely an "accident:"
"Jeffrey Toobin has been sidelined at a pivotal moment in the run-up to the presidential election. The reason: He exposed himself during a Zoom call with New Yorker colleagues in what he says was an accident. Here's our full story," Stelter tweeted with a link to his CNN article about the controversy.
An accident? Really? That's weird, everytime I beat it in front of a computer I meant to do it.
The absolute worst take comes, naturally, from National Review.
Bear in mind the rule at National Review, and among all the media "conservatives:" If someone can't get you a job, join the mob and destroy them.
On the other hand, if someone can get you a job, mount a self-righteous, sanctimonious defense of that person.
There is no principle here -- only back-scratching mercenary Yuppie careerism.
Because Jeffrey Toobin could whisper in an editor's ear and get a NeverTrumper a job, he has to be defended, unlike, say, the Proud Boys or Roseanne Barr or anyone not in the Democrat Media Complex that media "conservatives" are always sucking off.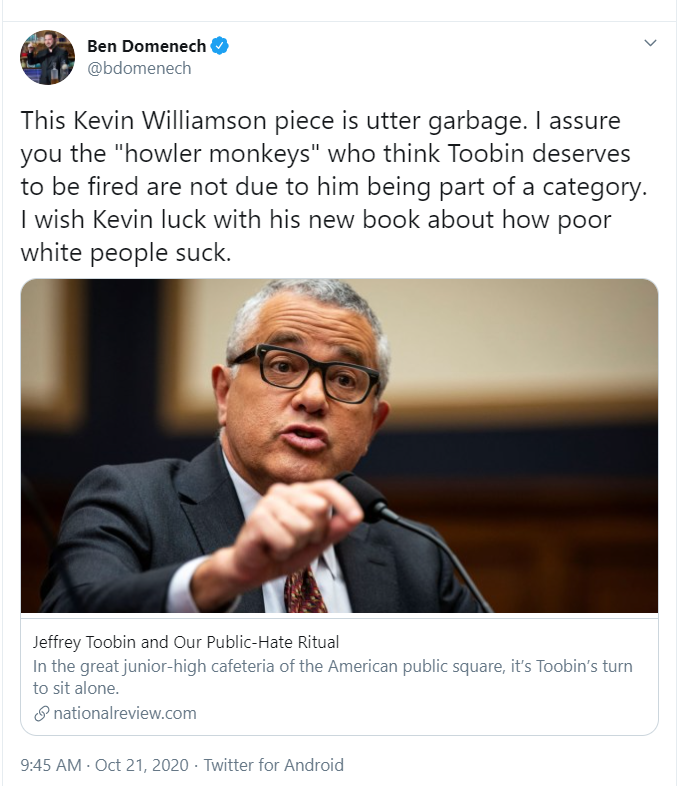 Here's Kevin D. Williamsom shrieking hysterically at "right-wing howler monkeys" who he claims, without evidence, demand that Toobin be fired:
He's been suspended by The New Yorker and is on leave indefinitely from CNN, taking the opportunity to spend more time with the people who'd probably prefer, at the moment, that he didn't. The usual howler monkeys are calling for him to be fired, not because of his embarrassing breach of decency but because they hate him, and hate him not individually but categorically: He's a Democrat-aligned media mouthhole, a fancy-pants writer for The New Yorker, etc., and certain people believe that it is their mission and duty in life to hate such people, to wish them harm and, if possible, to do them harm.
Notice that Kevin D. Williamson provides no quotes or citations for these claims, and Rich Lowry, Charles C.W. Cooke, or Nick Frankovitch, or whoever else, if anyone, is editing this Obese Rageclown apparently don't demand that he provide such citations.
There's usually a rule: You can't just make a derogatory claim about a group of people without at least some evidence for the claim. The minimum required, for saying something like "the leftwing media all claim," or something like that, is three cited instances, three quotes, establishing that the leftwing media is saying this.
Like in this very post. If I hadn't had three examples of the media defending #MeToobin, it would have been wrong to claim "the media" is defending him. In that case, I should specify who it is who's defending him.
I assume the National Review applies a similar rule.
But apparently this rule gets suspended at National Review when someone is smearing a group that cannot get NeverTrumpers a job, to wit, "right wing" "howler monkeys."
I guess we're just supposed to take this tribalist Hate Merchant's word for it, National Review?
...

Some enraged right-wing Toobin-haters feel compelled to write me because of my experiences with their counterparts across the aisle. (I am sure that there are people who hate Toobin from a left-wing perspective, too, but I do not usually hear from them.)

Any quotes from these conveniently-private missives you were sent, Kevin?
How about it, National Review? Is there ever going to be any substantiation required when Kevin Williamson goes off on another one of his hateful screeds?
If this is so common among "right wing" "howler monkeys," why is entirely unable to produce any public blog entries, opinion pieces, or even tweets from internet randos substantiating his smear?
Is proof of one's claims not required when dealing with "MAGAts"? Are the Deplorables just assumed to be so venal that they cannot be defamed?
It should be noted that there is good reason to take pleasure in Jeffrey Toobin's humiliation -- for example, this self-styled moral paragon shrieked that it was "excruciating" to hear anyone suggest that Brett Kavanaugh might be innocent of the absurd charges lodged against him. Anyone suggesting that Christine Blasey Ford was lying or even simply mistaken was a Sex Criminal on the level of Brett Kavanaugh.
Am I not permitted to laugh at him beating off in front of angry media lesbians, National Review?
Something pointed out by several National Review commenters is the sheer hypocrisy of Kevin D. Williamson.
Kevin D. Williamson has absolutely zero subject-matter credentials to speak on any topic. Maybe he can speak on opera, as an obese fanboy.
But about any other topic? He has no education, no training, no insights.
He brings nothing to the table, intellectually, except pre-diabetic syndrome.
His stock in trade is just... sneering animus and unhinged cruelty directed at whoever he's decided is today's Ritual Hate Object.
But this fat fuck wants to lecture us now on giving our Fellow Man a break?
Fuck off and die, Williamson.
Below: Not the actual video of Toobin masturbating, but an incredible simulation.
8 Hey, remember when it was our civic duty to DESTROY the life of a 16 year old kid for dating to **smirk** at a Native American man????


F#ck you precious sympathy for your creepy colleague.
Posted by: Lizzy
Perfect example -- Nick Sandmann could not get a job for anyone at National Review, and therefore, he should be destroyed.
Now, if Nick Sandmann had been the son of a Conde Nast executive, say, then Ben Shapiro, David French, Jonah Goldberg, and Kevin D. Williamson would have been clonking heads as they all dove towards his crotch to s*** him off.


posted by Ace at
04:25 PM
|
Access Comments