« Twelve Previous Hacks and Illegal Leaks of Confidential Information -- Which Twitter and Facebook Didn't Censor, Because They Were Anti-Trump
|
Main
|
Split Screen Townhalls, Trump on NBC, Frail Demented Corrupt Biden on ABC »
October 15, 2020
The Trump Curse Takes Another Victim
@realDonaldTrump

1h
I will be doing a major Fake @NBCNews Town Hall Forum, live tonight from Miami, at 8:00 P.M. They asked me to do it in place of the Rigged Steve Scully (he is now suspended from @cspan for lying) Debate. I wonder if they'll treat me as well as Sleepy Joe? They should!
Joe Lockhart is a fat fuck who was formerly a Clinton White House spokesman, and then began working for CNN. A lateral move, in other words.
He of course sprang to declare that Steve Scully was incapable of lying, and that anyone who suggested otherwise was himself a liar: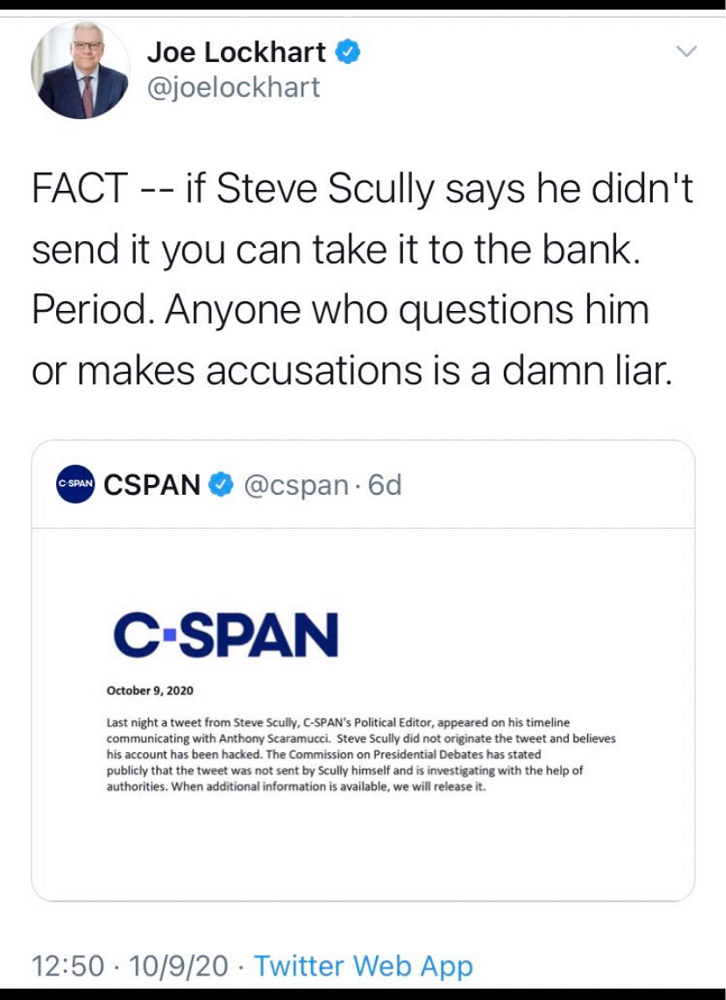 This ugly stupid rapidly-aging fat fuck is just Tater without all the Sexual Charisma.\
By the way, there was a super-spreader event in New York.
You'll have to read French to read about it. The American media won't report on it because it's not about Trump or his rallies and it's not about the Subversive Jews that Kommissar Kuomo has his gestapo searching for.
At a Sweet Sixteen party for rich Long Islanders (maybe Hamptoners), 81 people were invited (in violation of the 50 person cap the Nazi Cuomo has imposed). 29 of the attendees have tested positive for covid. 270 people are under quarantine (people who have been in contact with those who were infected).
Again, no Trump, no "Republican Energy" to the event, like that biker rally had. Just rich white leftwing Long Islanders.
So the American media buries the story.
Covid is not a medical story -- not in the American media. It hasn't been for some time. It's mostly a Political Op now, as far as media coverage. Only Republican gatherings have been portrayed in the media as spreading covid for some time now.
Apparently leftwingers are immune to the virus.
Makes me wonder why they spend so much time shrieking about it.

posted by Ace at
06:47 PM
|
Access Comments