« Sunday Morning Open Thread
|
Main
|
J.J.'s Sunday Hobby, Art and General Bodging Thread »
October 11, 2020
Sunday Morning Book Thread 10-11-2020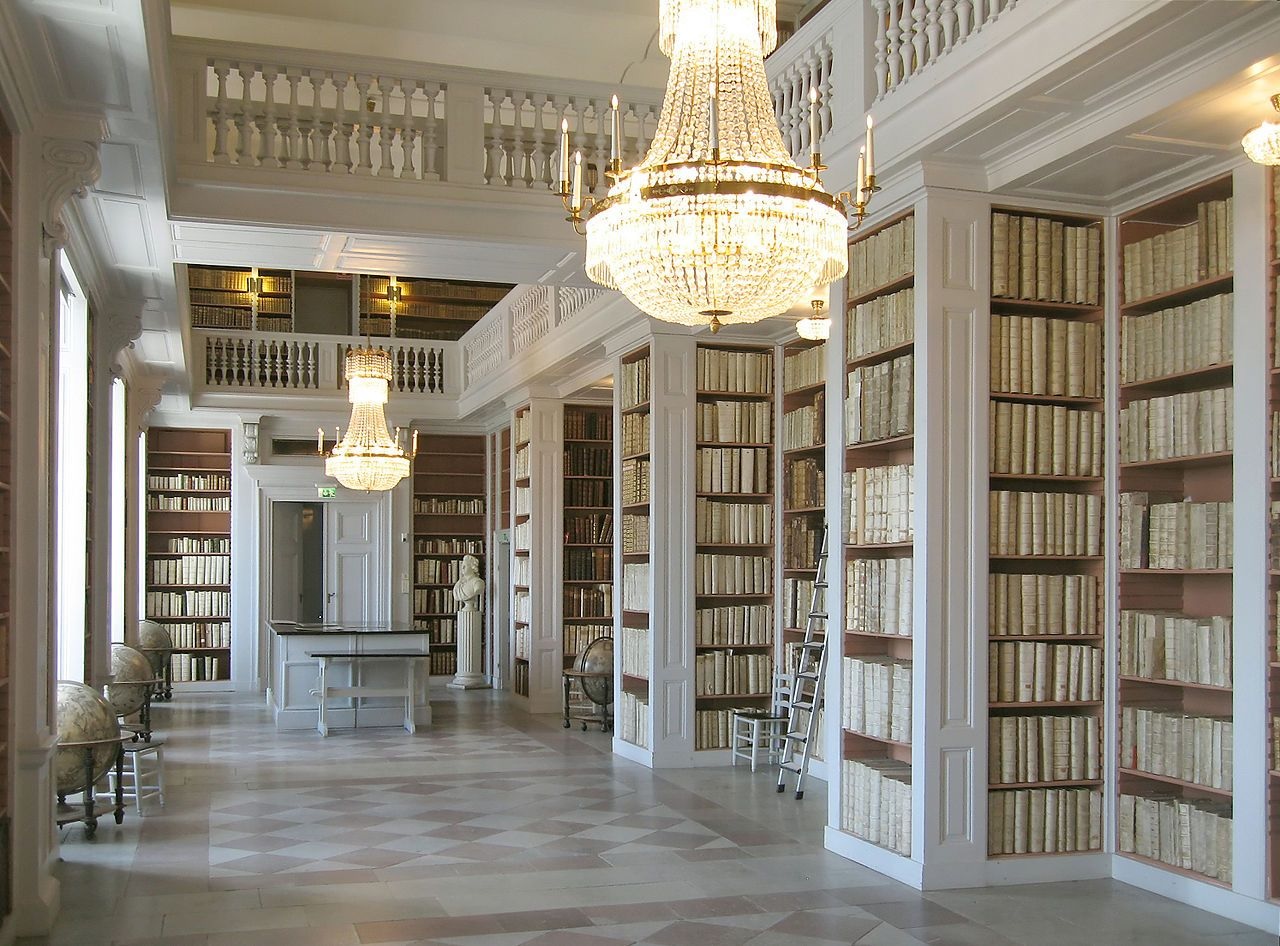 Carolina Redivivia Library, Uppsala, Sweden
Good morning to all you 'rons, 'ettes, lurkers, and lurkettes, wine moms, frat bros, crétins sans pantalon (who are technically breaking the rules). Welcome once again to the stately, prestigious, internationally acclaimed and high-class Sunday Morning Book Thread, a weekly compendium of reviews, observations, snark, witty repartee, hilarious bon mots, and a continuing conversation on books, reading, spending way too much money on books, writing books, and publishing books by escaped oafs and oafettes who follow words with their fingers and whose lips move as they read. Unlike other AoSHQ comment threads, the Sunday Morning Book Thread is so hoity-toity, pants are required. Even if it's these pants, which, as the running gag goes, you probably *could* wear to a barbecue, only I would suggest some butter and salt them first. And maybe a little black pepper.


Pic Note:
The library dates back to the days when royal families were basically heredity criminal gangs:
The library was founded by Gustav II Adolf in 1620. That year it also received its first donation. The King presented the university with the book collection that had been housed on Gråmunkeholmen (the island of the Franciscan or Grey Monks) in Stockholm. It included the remains of the medieval monastic libraries and confiscated private libraries.
Well, that's one way to build up your library: theft.
In the 1690's the library was moved to Gustavianum, one of the main buildings of the university at that time. Gustavianum was one of a few buildings that survived the great fire of Uppsala in 1702, when most of the town was burnt to the ground. In the 1700's the collections were growing from donations and legal deposits.
And theft.
In the 1840's the new library building, Carolina Rediviva, was finished. In 1841 the library was moved from Gustavianum and already in the 1880's Carolina Rediviva was reconstructed to make more room for closed stacks and reading halls for its visitors. The twentieth century onwards has been a time of intensive growth for the library, both regarding its collection, new building extensions and reorganisations. Today the university library consists of subject libraries, a special collections division and stacks around Uppsala.
I'd bet they'd be mad, though, if you organized a "Steal A Book" day and then claimed it was a library tradition.

It Pays To Increase Your Word Power®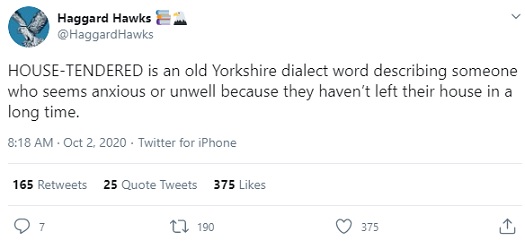 I feel seen.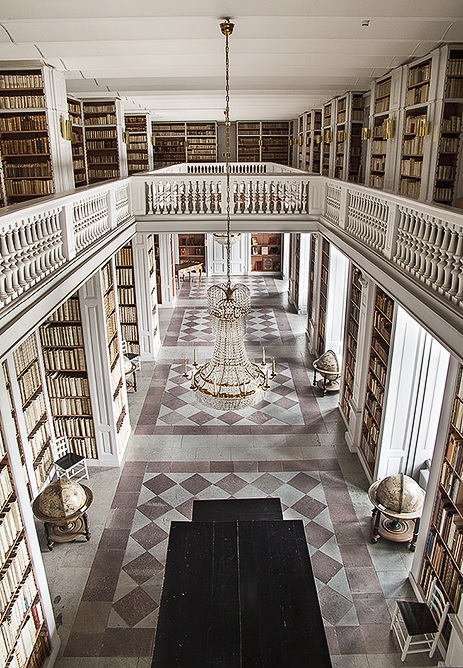 Another View of the Carolina Redivivia Library


None Dare Call It Censorship
What's the last movie you've seen where the Chinese are the bad guys?
Not martial arts movies, I'm thinking more of political thrillers.
Hollywood's favorite bad guys are almost always Nazis, and they come in a variety of flavors: actual, historical Nazis, modern day Nazis in an alternate timeline, future dictatorship Nazis, space Nazis, Illinois Nazis, zombie Nazis, American Nazis, and white supremacists Republicans. You will occasionally see some Russian commies as bad guys, particularly now with the USSR safely dwindling in our collective rear-view mirror so it's now safe to talk about them, but what about the Chicoms?
I don't remember ever seeing a Hollywood movie with Chicom bad guys. Especially not now, as during the opening credits of most of the movies that they're releasing nowadays, at least one of the production companies whose animated logo flashes by is obviously Chinese. The Chinese market is obviously yuuge. Obviously Hollywood doesn't want to alienate a market with over a billion potential customers.
Michael McGruther, author of the science fiction novel Crisis Moon, agrees:
"Crisis Moon" started as a screenplay many years ago and was very well received until the realities of Chinese influence killed its potential. The reason a movie like "Crisis Moon" will never be produced in the year 2020, is because the Chinese box office is more valuable to American movie companies than American box office is.

If Hollywood paints China in a negative light, studios would be banned from releasing movies there.

So in exchange for an increased corporate profit, we Americans must abide by the constricting rules of Communism when creating our work.
So he reworked Crisis Moon as a novel.
Space shrapnel knocks a satellite repairman out of orbit. Power and communications go dark around the globe. Boot prints are discovered on the Moon where no human has ever set foot. There's a crisis on the Moon and the United States is about to uncover a nightmare scenario that could mean the end of the republic.
Here is how the author touts Crisis Moon:
"Crisis Moon" is more than just an exciting and fast-paced space adventure on the Moon. It's also a crisis moon about the vital importance the private space sector has when the government is ill equipped to respond. It's about the American ideal of doing it yourself and loving what's behind you enough to sacrifice your own life.
The Kindle version is $3.99.
Note: Today, at least, the Kindle version is FREE (h/t AHE).


Who Dis: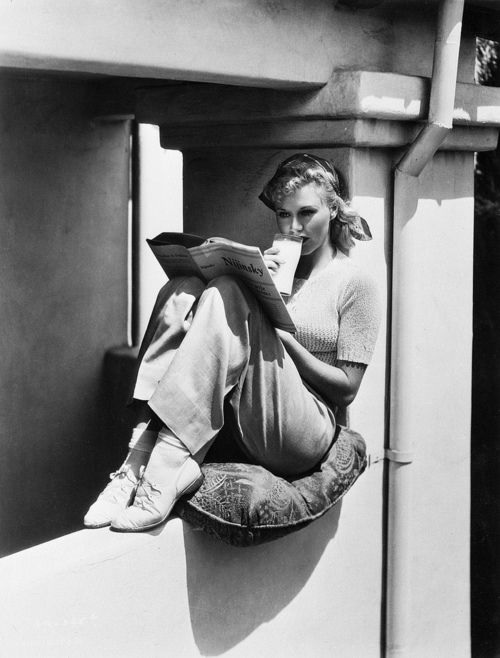 (Last week's 'who dis' was Mr. Elizabeth Taylor, AKA
Richard Burton
.


Books By Morons
Transgenderism is all the rage these days, the latest phase of the sexual revolution that's being jammed down our throats with astonishing ferocity. Conservative author Paul Hair has just published his new YA novella, Her True Self, and the plot has a transgender theme:
Eric Kepner's younger sister told him she was a boy when she was 13 years old. He didn't accept it and nothing has been the same between them since then. Two years later and things have come to a head, with a near-tragedy leading him to uncovering a secret that shocks him to his core. He launches into action but nothing is easy. Everyone seems to be working against his efforts, including a government worker and his own family.As Eric pushes on against these odds he inches towards doing something drastic, and he prays that he's able to help his sister before it's too late.
From the novel's forward:
Her True Self...exposes the dark side of this socio-political movement and challenges the reader to question everything about it. In the book, an average American family gets caught up in this new cultural orthodoxy. Peer pressure, trauma, adolescent confusion, misguided medical and psychological advice, governmental interference, and biases of contemporary journalism all unite to mold a drama none of them expected.
This a not the usual "stunning and brave protagonist comes out" story that you might expect. It is quite different. I'm reading it right now and the gender-confused teenaged girl has a brother who would do anything to help her. His love for her quite touching.
I have to say that I was quite shocked when I found out how quickly medical professionals bought into this, to the point where they're giving chemicals to even school-aged children because they believe, or they've been led to believe, that they're a different gender than their bodies would indicate.
And it appears to be happening more and more. This is the subject of the book Irreversible Damage: The Transgender Craze Seducing Our Daughters by Abigail Shrier, a Wall Street Journal writer who has done extensive research:
Until just a few years ago, gender dysphoria—severe discomfort in one's biological sex—was vanishingly rare. It was typically found in less than .01 percent of the population, emerged in early childhood, and afflicted males almost exclusively.

But today whole groups of female friends in colleges, high schools, and even middle schools across the country are coming out as "transgender." These are girls who had never experienced any discomfort in their biological sex until they heard a coming-out story from a speaker at a school assembly or discovered the internet community of trans "influencers."...

Unsuspecting parents are awakening to find their daughters in thrall to hip trans YouTube stars and "gender-affirming" educators and therapists who push life-changing interventions on young girls—including medically unnecessary double mastectomies and puberty blockers that can cause permanent infertility.
This is the book that Joe Rogan mentioned on his podcast that some woke trans activists at Spotify are complaining about. They never want to hear a discouraging word, only that transitioning is great, nothing can go wrong, so shut up.
Mental illness caused by social contagion is a hell of a thing. So is aggressive ignorance.
___________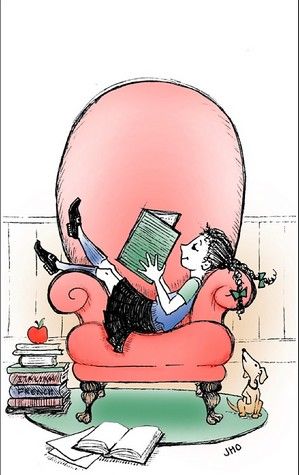 Moron Recommendations
I recently discovered a delightful series called Ascendance of a Bookworm, and waiting for the English translation is nerve-wracking enough that I might have to learn Japanese. Haha. The next one is out in a few weeks.

The story is about a Japanese bookworm who dies in an earthquake of books and is reincarnated in another world as a sickly little girl named Myne. She figures she's got a second chance to spend her life reading...but it turns out she's living in a medieval world, before printing presses, and she's a peasant. So before she can spend her life with books, she has to first create paper, develop various means of printing, and, oh yes, spread literacy. Naturally, the nobles have some opinions about that. Oh, and it turns out this is a fantasy world, with magic fruits and powerful blessings...

The light novel is finished in Japanese, and the English translations are slowly catching up. There's also an anime on Crunchyroll that goes through the first five or so books.

Posted by: Mrs. Peel at October 04, 2020 09:10 AM (rWZ8Y)
Wow. According to Amazon, this is a 10-book series.
There are also manga editions available.
Ascendance of a Bookworm: Part 1 Volume 1 is $6.99 on Kindle. Not much I can add to Mrs. Peel's excellent synopsis, other than this exhortation from Amazon:
Dive into this bibliofantasy written for book lovers and bookworms!
A "bibliofantasy". I like that word.
___________
58 I also read The Book of Lost Names by Kristin Harmel. This is a beautiful, well-written novel based on a true story about forgers in occupied France during WW II who produced documents for infants and small children to escape to freedom in Switzerland. I'll be seeking out the author's other work, The Winemaker's Daughter, also set in WW II France.

Posted by: Zoltan at October 04, 2020 09:25 AM (AAqtz)
Eva Traube Abrams, a semi-retired librarian in Florida, is shelving books one morning when her eyes lock on a photograph in a magazine lying open nearby. She freezes; it's an image of a book she hasn't seen in sixty-five years—a book she recognizes as The Book of Lost Names.

The accompanying article discusses the looting of libraries by the Nazis across Europe during World War II...and the search to reunite people with the texts taken from them so long ago. The book in the photograph...is one of the most fascinating cases. [I]t appears to contain some sort of code, but researchers don't know where it came from—or what the code means. Only Eva holds the answer—but will she have the strength to revisit old memories and help reunite those lost during the war?
The paperback edition won't be released until next year, but you can buy it on Kindle for $14.99.
___________
So that's all for this week. As always, book thread tips, suggestions, bribes, insults, threats, ugly pants pics and moron library submissions may be sent to OregonMuse, Proprietor, AoSHQ Book Thread, at the book thread e-mail address: aoshqbookthread, followed by the 'at' sign, and then 'G' mail, and then dot cee oh emm.
What have you all been reading this week? Hopefully something good, because, as you all know, life is too short to be reading lousy books.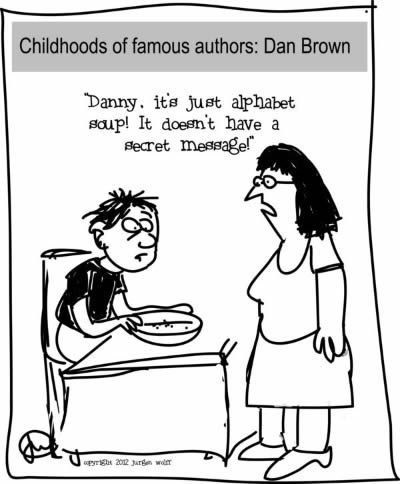 posted by OregonMuse at
08:54 AM
|
Access Comments