ę #Hacked, Redux: Former Joe Biden Intern and Debate Moderator Steve Scully Sends Tweet to Anthony Scaramucci About Trump, Then Claims He Was "#Hacked"
|
Main
|
Trump on Rush: We've Let Iran Know, "If You F*** Around With Us," "We're Gonna Do Things to You That Have Never Been Done Before" Ľ
October 09, 2020
Grifter C#cks Jonah Goldberg and Steve Schmidt Argue About Who Is the Bigger Grifter C#ck
Oops: Sorry, I thought I posted a post at 1:00. I guess it didn't publish.
The bitchfight starts here, where Steve Schmidt challenges the integrity of Noah Rothman and Matt K. Lewis (spoiler: they have none) for not doing more for conservatism, like Steve Schmidt has, in supporting Democrat candidates for three election cycles running.
The True Conservative Steve Schmidt makes his case against Rothman and Lewis by deploying the typical unhinged liberal tactic... of calling them Nazis for disagreeing with a liberal.
#MuhNormz, huh?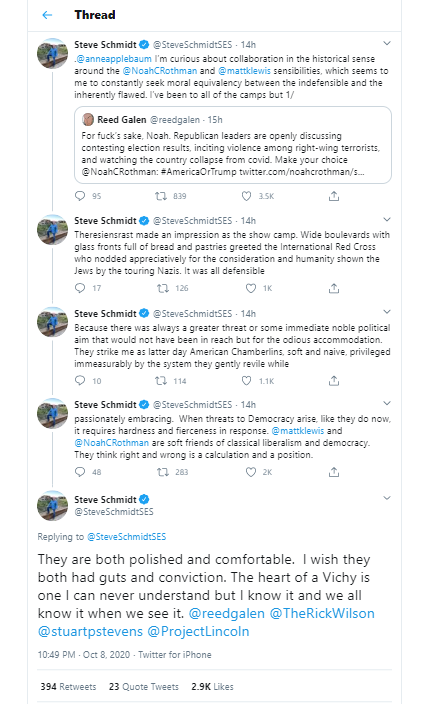 Now, NeverTrumpers never defend actual conservatives, but they all rush to defend other members of their effete corporate-subsidized neoliberal sewing circle.
So Jonah Goldberg rushed out to defend Rothman and Lewis:
@JonahDispatch You are so full of shit Steve. You're literally getting rich(er) as a resistance porn hustler while invoking Vichy against Noah and Lewis? You've risked nothing. You tell left wing audiences what they want to hear from a former Republican hack and you think that makes you brave.
I literally hate Jonah Goldberg's voluminous guts, but... he's not wrong.
Remember, Steve Schmidt, along with Noted Pirate and Confederate Rick Wilson, claim that they're making money hand over fist from their new liberal/corporate donors to defend "norms."
Here's Steve Schmidt's reply to Jonah Goldberg -- you can practically taste the norms regenerating.
@SteveSchmidtSES ∑ 1h By someone who claimed he was a two time Pulitzer finalist. You weren;t you lied.''

I adore your arrogance and self seriousness. You are the type of guy who strokes his chin with earnestness before running around with
@DineshDSouza, appearing in his unhinged Hillary movie.

@SteveSchmidtSES
Your books have been panned as weak and unscholarly.
And also: They've been panned as unacknowleged, uncredited rewrites of other people's previous works.
@ProjectLincoln is in the fight against a malignancy in this country. What have you ever fought for, stood up for? I'll make the same offer to you I made to @mattklewis
. Pick a non freak show podcast and Iíll be happy to...

...have a discussion with you about the rancidity and illiberalism of the Conservative movement. Do you remember when you said in 2005 that Iraq wouldn't slide into a civil war, it would have a viable constitution and Americans and Iraqis would think the war worth it?
It was a stupid thing to say, as it turned out.
This is also a liberal attack line.
And strangely: It's a Trump attack line. Trump always opposed the war. (Okay, except for one line -- "I guess we need to do something" about Iraq, uttered on Howard Stern.)
But that won't stop Steve Schmidt from attacking Trump.
He agrees with his leftwing pals: the anti-war position is the only moral position.
Except when the Bad Orange Man blesses it. Then he's an Agent of Putin (TM).
That was a really stupid thing to say. It reflects perfectly your profound smugness and arrogance. You truly are the embodiment of someone born on third base who thinks they hit a triple. You are a first rate know it all, a second rate writer and a third class thinker.
I agree with all of that. But again, he's cribbing from a leftwinger -- Ann Richards, liberal Democrat of Texas -- with the "born on third but you think you've hit a triple" insult.
Which she deployed against... George Bush.
That you are thought of by some as some type of conservative intellectual, along with @marklevinshow and @mattklewis in the cloistered surreality of your ecosystem explains perfectly why the movement was so suceptible to a demagogic con man like Trump
Mark Levin is an intellectual -- he at least has an advanced professional degree.
Jonah Goldberg, on the other hand, has two credentials for swanning about as a Fake News Public Intellectual: He went to Goucher College (yes, the Goucher College) and he successfully navigated his mother's birth canal.
I would give Steve Schmidt one thing of Jonah Goldberg: Jonah Goldberg is also working for the Democrats.
But some of the people working for the Democrats continue maintaining the fiction that they're "Republicans" and "conservative commentators" because they could not get jobs on their own talents or merits, but only as fake conservatives acceptable to their liberal paymasters because they're ineffectual and also because they're actually liberal.
People like Jonah Goldberg. People like Steve Hayes. People like Matt K. Lewis.
Steve Schmidt is also lying about his ideological affiliation. He still claims to be a "conservative." But at least he's up-front about which party he's supporting in fact -- the Democrats who are funding him.
Jonah Goldberg won't admit that.
One more thing about Steve Schmidt.
A fly landed on Mike Pence's head during the debate.
Steve Schmidt pronounced -- on MSNBC, of course -- that this was "historically" seen as "the mark of the Beast."
When the host asked him to clarify that he was joking, Steve Schmidt instead doubled down on his claim that a housefly was the Devil's Talent Scout and Advance Man.
So that's where this Trump Deranged grifter is.

posted by Ace at
02:00 PM
|
Access Comments