« FBI Claims That Six "Right Wing Militia" Members Plotted to Kidnap Hideous Governor of Michigan Gretchen Whitmer
|
Main
|
Disney Lays Off 30,000 Employees in Their Theme Park Business, and Now Eyes #Woke Propaganda Channel ESPN for Cuts »
October 08, 2020
Disgraced Ex-Congresswoman and Throuple Enthusiast Katie Hill Gets a Sympathetic Movie Deal (Of Course!);
Katie Hill's Former Staffers Take Over Her Twitter Account and Reminds World That She Is a Predator and a Liar
Elizabeth Moss, the go-to so-dumpy-she's-relatable frumpstress of The Handmaid's Tale and every other leftwing woman's TV project, will play the Throuplist in a TV movie to be produced by Blumhouse.
The movie will depict the disgraced former Congresswoman -- who sexually harassed her subordinates -- as A Strong Wammen Hero to be emulated, because she's on the LGBTQ spectrum and everyone on the LGBTQ spectrum is obviously a hero, as Jim McGreevey and Kevin Spacey can tell you.
The book tells of Hill's experience as a young woman with no prior political experience whose charm, and common sense won over the people in her district and thrust her into the halls of power in Washington. While her brash confidence won her powerful allies and infuriated her enemies, it was privately concealing a cycle of domestic abuse she was trapped in at home, infamously culminating in the release of intimate photos and the revelation of her own admitted personal mistakes that would eventually result in her stunning fall from grace.

...

Elisabeth Moss added, "I am so honored to have the opportunity to portray Katie and to help tell her story. Her strength and work to amplify women's voices is incredibly inspiring to me and her experiences could not be more important for us to magnify right now. As always, Jason and the Blumhouse team are such incredible partners and Lindsey and I are thrilled to make something powerful with them and Michael."
That didn't sit well with whatever former staffer still maintains control of Katie Hill's twitter account, and that person scolded Hollywood and Elizabeth Moss for portraying a sexually-harassing #MeToo villain as a #MeToo hero: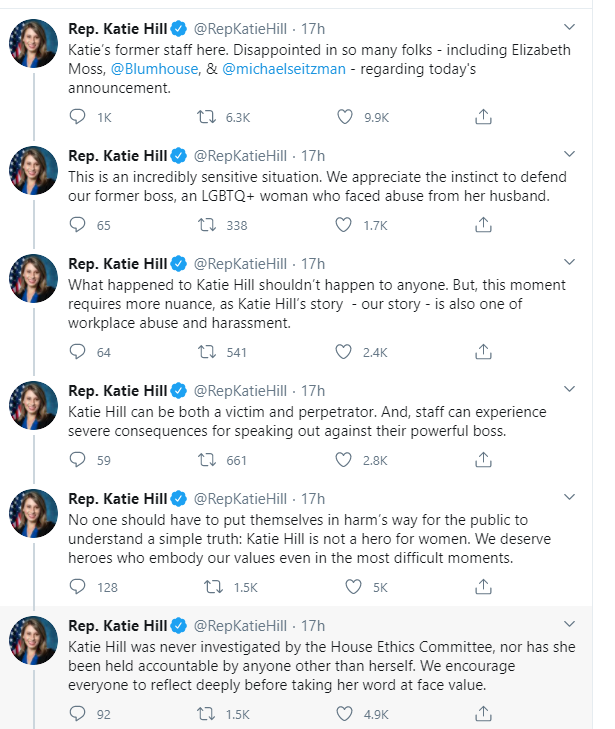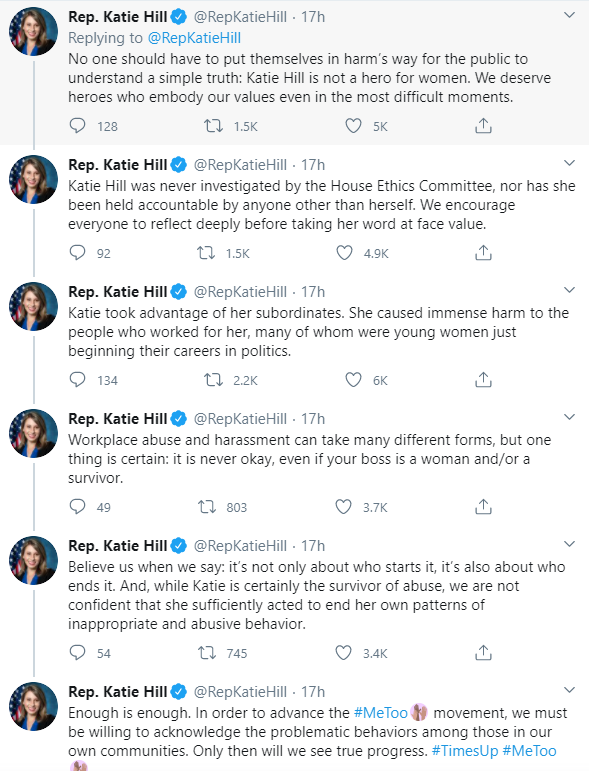 posted by Ace at
03:16 PM
|
Access Comments