« IBD-TIPP Poll: Post-Debate, Biden's Lead Falls to Three
|
Main
|
NYT, ABC, CBS, Rolling Stone: Judge, You Must Dismiss Nick Sandmann's $100 Million Defamation Lawsuits Against Us
Judge: LOLGFY »
October 02, 2020
Trump To Be Taken to Walter Reed
I don't know if this is more than cautionary. Earlier today, the WH reported Trump had "mild" symptoms.
@jonathanvswan BREAKING: Per WH pool reporter @fran_chambers - POTUS to be taken to Walter Reed.
There was an earlier report that three White House "reporters" had also tested positive. Trump's covid could have come from them, though they'll never mention that possibility. Only the Bad Orange Man could be a spreader.
Say, what's the Line of Succession if Jim Acosta can no longer perform his duties? Does Shep Smith fill his void?
@julie_kelly2

1m
Praying for the president, First Lady and his family.

Fuming about the viciousness and inhumanity of his enemies.
"Covid deniers," gloats Vox: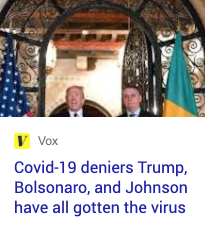 posted by Ace at
05:29 PM
|
Access Comments