« Joe "Racial Jungle" Biden: I Was Able to Stay in Quarantine Because "Some Black Woman" Did the Minimum Wage Work of Stocking Supermarket Shelves for Me
Plus: Trump to Leave Walter Reed
|
Main
|
Ye Olde Tyme Quarantine Cafe Thread »
October 05, 2020
Jim Acosta Says Trump Has "Finally" Condemned White Supremacism
Contradicted by a 2017 Report That Trump Condemned White Supremacism, A Report Filed By... Jim Acosta
When has CNN condemned antifa terrorists, I wonder.
Jim Acosta
@Acosta

Trump has finally condemned white supremacists... on Hannity.
First of all: It's obvious that this swish intends "... on Hannity" to mean that the statement doesn't count or something. That Trump's "hiding" it on Hannity.
But that doesn't make sense. In Jim Acosta worldview, all the Many Many Millions of White Supremacists are watching Hannity (and Fox News generally); the non-racists all watch CNN, MSNBC, and the NBA Finals.
So by making this reluctant admission -- as Acosta insinuates -- on Hannity, Trump would actually be angering his Many Many Millions of White Supremacist followers while not delivering the message to the non-racists who might be impressed by it.
This makes no sense. But deranged people make sense, if at all, only accidentally.
But beyond that: Jim Acosta already reported that Trump had responded to questions about white supremacy by stating that "Racism is evil."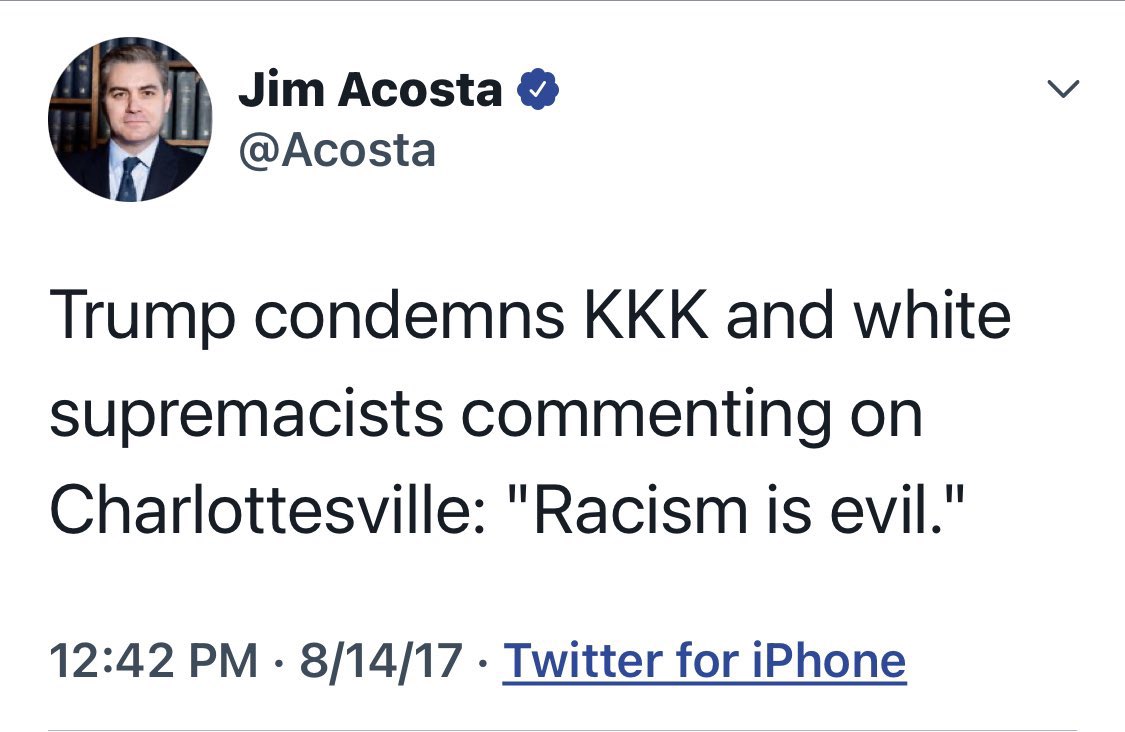 Jim Roberts, a "journalist" for the neoliberal corporate Fox News network, is also claiming that Trump just hasn't ever condemned white supremacy.
He's forgotten his own previous reporting.
But I guess it's an election year, so the liberals are allowed to lie more than usual.