« Ye Olde Tyme Quarantine Cafe Thread
|
Main
|
The Morning Report - 10/6/20 »
October 05, 2020
Monday Overnight Open Thread (10/5/20)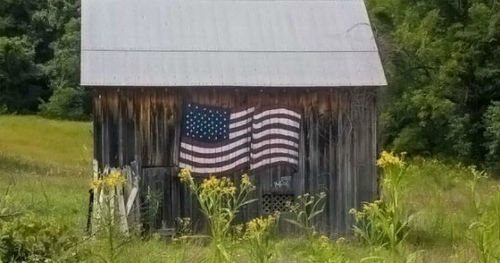 ***
The Quotes of The Day

Quote I

'You can safely assume that someone at the Internal Revenue Service [IRS] is looking very closely at him. This is a big deal.'Top LA tax lawyer David Holtz

Quote II

"Today's Supreme Court ruling, handed down by a narrow majority of Republican justices, is deeply disappointing, and I vehemently disagree with the court's interpretation of the Michigan Constitution. It is important to note that this ruling does not take effect for at least 21 days, and until then, my emergency declaration and orders retain the force of law. Furthermore, after 21 days, many of the responsive measures I have put in place to control the spread of the virus will continue under alternative sources of authority that were not at issue in today's ruling." Gov. Karen Whitmer (Bitch-MI)

Quote III

"There is but one good; that is God. Everything else is good when it looks to Him and bad when it turns from Him." C.S. Lewis
Quote IV

This is a technique that helps academics feel "safe" with a potentially critical journalist; it's like letting a dog smell your hand (my apologies—that analogy is unfair. Academics should never be compared to dogs. Dogs are beautiful, beloved creatures, unlike the anthropomorphic colostomy bags that inhabit our nation's universities). David Cole

Quote V

"[W]e know that we're going to have to destroy our society in order to get it. We'll have to get rid of all of our freedoms; we'll have to make sure that very few people interact with each other." Stanford University Professor of Medicine Jay Bhattacharya

Quote VI

They are the ones behind Antifa, and if Donald Trump is reelected, we will likely see the DoJ (once Trump rids himself of the worse than useless FBI Director Christopher Wray, who never met self-serving establishment narrative he didn't eagerly hump like a horny dog rubbing on the nearest leg) forced by Bill Barr to concede that this is an Astroturfed RICO conspiracy paid for by rich leftists.Kurt Schlichter
***

It's just Joe being Joe, creepy as shit.
Isn't a 75 year old woman more Joe's style? Dolly Parton in talks with Playboy.

Dolly Parton is considering celebrating the big 7-5 with a return to Playboy.

In a new radio interview, the "9 to 5" singer said that she's in talks to pose for Playboy for her 75th birthday in January but noted the shoot would have to be "in good taste." She previously appeared on the cover in 1978 but did not appear naked for the inside spread.

"Yeah, I just might do it. If I can do it in good taste and we'll do it along with a really good interview inside," she said on the "Scott Mills & Chris Stark Show" on Radio 5 Live. "So, yeah, we've talked about it."

For the 'ettes, Here's a dick pic for ya!
***

Why work within the system to change things when you can make a profound statement?!?!

A Portland man was arrested on Sunday after he reportedly smashed out the window of a police unit and pepper-sprayed the interior.

An officer was inside the vehicle at the time and is recovering from the effects, police said. The suspect, John B. Russell, 41, is facing multiple charges, according to a press release from the Portland Police Bureau.

"As police officers, we know that the vast majority of community members who approach and contact us do so with no intention to do us harm," said Chief Chuck Lovell. "However, attacks like this one remind us all that there is the potential for people to try to take direct violent action against police officers
***
TikTok shows 'Karen' threatening to kill neighbor's dog if she doesn't get new WiFi password
'I have ways in, and your dog won't be breathing tomorrow.'

Maybe the hard working bill paying resident in the aforementioned story can get his kick ass solider to be her neighbor.

Soldier dual-wields M240s at the range, just because he can.
The mighty M240 machine gun has been a staple of the armed services since the 1970s. This Belgium-designed firearm is chambered in 7.62x51mm NATO, which gives the gas-operated gun plenty of stopping power. While the gun is sometimes carried into battle by soldiers, it is also often mounted on tanks like the M1 Abrams or Humvees and MRAPs (Mine resistant ambush protected vehicles).

The M240 has an effective range out beyond 800 yards and it can fire anywhere from 600 to 900 rounds per minute depending on the setup and type of ammo
***
I'm so happy to hear that Los Angeles mayor Eric Garcetti is concerned about the health, welfare and civil rights of Armenians in the Artsakh region.

MOSCOW (Sputnik) - Los Angeles Mayor Eric Garcetti in the early hours of Monday expressed solidarity with the Armenian people in the Nagorno-Karabakh conflict and called on Turkey that support Azerbaijan to disengage.

"L.A. is proud to be home to the largest Armenian diaspora. We stand with the people of Armenia. I urge our leaders in Washington to conduct the sustained and rigorous diplomacy necessary to bring peace to the Artsakh region. Turkey must disengage," Garcetti said on Twitter.

While Garcettii is all in favor of Armenians, he and his henchmen are telling American citizens to FOAD when it comes to their First Amendment rights. However they got busted in doing so.

A federal court ordered Los Angeles to hand over more than $100,000 to the National Rifle Association after ruling that the city had violated the gun-rights group's First Amendment rights.

Federal district court judge Stephen Wilson struck down a city ordinance aimed at punishing prospective contractors with ties to the NRA as an infringement on the right to free speech and association. On Tuesday, he ordered city officials to pay for the Second Amendment group's attorney fees, which totaled nearly $150,000.

"In this case, the text of the Ordinance, the Ordinance's legislative history, and the concurrent public statements made by the Ordinance's primary legislative sponsor evince a strong intent to suppress the speech of the NRA," Wilson ruled in December. "Even though the Ordinance only forces disclosure of activity that may not be expressive, the clear purpose of the disclosure is to undermine the NRA's explicitly political speech."
***

If the word "Shady" is used in a HOA. Beware!

TITUSVILLE, Fla. – Over the course of three years, a former homeowners association president stole $20,000 from the community he served and used the money to expand his stamp collection and buy lawn equipment, according to the Titusville Police Department.

Brett Rowe, 51, was named HOA president of Shady Oaks Pine in 2017 and records show at that time, there was about $21,000 in the HOA's Bank of America account.

Yeah, yeah, I know not all HOA officers are crooks...........Save your grumbling for Yoko night..........
***

What the fuck is systematic racism? Perhaps the National Treasury Employees Union is guilty. Sounds like they have a shit ton of guilt. H/T Name withheld upon request Moron.

The federal government should be a leader in fostering open and honest discussions about systemic racism in our country, not trying to shut them down. Holding these discussions in federal workplaces is not just the right thing to do, it is necessary and essential.

We strongly disagree with the administration's order to cancel training that would allow a deeper understanding of each other and a recognition of the value of every employee. Too many voices have been ignored, if not silenced for too long. The U.S. civil service is a large, diverse workforce and those differences need to be understood, respected and welcomed, not disparaged or ignored.

In addition to the regressive decision to end diversity training, we have strong concerns about the administration's order that individual employees be disciplined for conducting such training. This is a heavy-handed and unnecessarily punitive order designed to intimidate federal employees. Left unchecked, this administration will continue its efforts to hollow out our government and silence employees and their representatives. NTEU will continue to challenge all these efforts to ensure that all employees feel welcomed, included and valued in the workplace. Dignity and respect for federal employees is our mission, and it should be the administration's as well.
***
Wonder if the Boss can get shelving with his?

We don't work at the office anymore. But someday, we might again. Or maybe we won't. Maybe we'll be working from cafes or buses or literally anywhere and everywhere we might travel. In that case, the efficient guy starts loading up his gear like he's Rambo heading into the jungle. Everything needs to be in its right place, with every contingency considered and planned for.

The Moovy Bag is the commuter and world traveler bag for the savvy on-the-go problem solver who has clearly thought everything through.

A back pack with cool shit, is still a back pack.
***
Another day that ends in "Y". The CDC continues to make pronouncements by the seats of their pants. Now the Kung Flu can hang around for hours and hours.

The US Centers for Disease Control and Prevention has now acknowledged on its website that COVID-19 can be spread by airborne transmission. In an update Monday to the website detailing how the virus can be transmitted, the CDC now says coronavirus droplets can remain in the air for hours.

"Some infections can be spread by exposure to virus in small droplets and particles that can linger in the air for minutes to hours. These viruses may be able to infect people who are further than 6 feet away from the person who is infected or after that person has left the space," the CDC website says.
***

Elon Musk of Tesla laughs all the way to the bank with government subsidies. While Jane and Joe Consumer get stock with shoddy workmanship. In this case WTF!!!!

Nathaniel Galicia Chien was driving down Interstate 580 with his parents in their brand-new Tesla Model Y when he started to hear a lot of wind.

"I thought a window was open," Chien recalled in an email to The Verge, "but half a minute later the entire glass top of the roof just flew off in the wind."

Chien said the incident occurred hours after he and his parents picked up the new Model Y from the Tesla dealership in Dublin, California. Right off the bat, they noticed some minor "fit and finish" problems, such as "spacing issues and unevenness in the gaps that are pretty well-known issues with new Teslas." But they didn't expect any problems with the crossover's mammoth panoramic glass roof, and certainly not on the same day they drove it off the dealer's lot.

Perhaps the Chiens should have looked up Red Green....................

***
Since Twitter banned me and ibguy is no longer around to keep me informed, I have no idea if this is still up on Twitter. How come Libtards always believe in "Not in my back yard" or "Not in my front yard"?

The camera panned over to capture three men walking up the sidewalk toward the house where the Democrat homeowner continued to wield the garden hose.

"They're from Honduras and they've got nowhere to go, so this just works out perfect," the man filming continued.

"Hector takes medication twice a day, and right now they've got to use the bathroom," he said as he handed the homeowner a plastic bag with prescription bottles. All three of them gotta sh–."

The three men made their way up to the homeowner who by now was staring open-mouthed and confused.


Report Advertisement
"Is it cool if they stay here?" the man asked the Biden supporter.

"No!" he responded quickly. "Who are they?"
***
No word if the gentleman and scholar OregonMuse was involved with this. Irked by little press, Oregon Libertarians hold nude rally. Party members show skin on Glenn Jackson I-205 bridge. Reason upset they weren't smoking pot while showing off the skin.

PORTLAND, Ore. (PORTLAND TRIBUNE) — Oregon Libertarians bared a lot more than just their arms during a rally spurred by the lack of media attention to the third party this election cycle.

Gary Dye — the Libertarian candidate campaigning against U.S. Senator Jeff Merkley this year — helped organize the demonstration in the buff on the multi-use path of the Glenn Jackson Interstate-205 bridge connecting Oregon and Washington between 1 and 3 p.m. on Saturday, Oct. 3.

"(It's) a result of Libertarian candidates for office getting zero attention from the media this year," Dye said in a message to the Tribune. "Whether I am wearing any clothes remains to be seen."

Dye said another organizer works at a strip bar that is in danger of closing down due to the numerous "state-imposed restrictions to her business," and that the event was being held to coincide with World Naked Bike Ride Day, which is actually held in June, according to the planners of the event celebrated each year in Portland.
***

I love fish, pan fried, deep fried, baked, broiled, grilled. Rotted? I don't think so........

***

Professional Karens tell us how to prepare for Kung Flu in the upcoming months of winter.

Public health experts agree: winter with the coronavirus is going to be difficult.

You may want to build a "bubble" of a few close friends or family members, with whom you can share space indoors.

Just make sure "you don't bubble with someone, who then bubbles with someone, who then bubbles with someone," one public health expert said.

"Distancing and outdoor air are your best friends," another added.
Visit Business Insider's homepage for more stories.
***
The ONT Musical Interlude
On this day: 5 Oct 1965
Johnny Cash was arrested crossing the Mexican border into El Paso, Texas after customs officials found 100's of pills in his guitar case. He received a suspended jail sentence and a $1,000 fine. via thisdayinmusic.com
&&&
5 Oct 1992
American singer Eddie Kendricks of The Temptations died aged 52 of lung cancer one year after having one lung removed. His was the lead voice on 'The Way You Do The Things You Do', 'Get Ready', and 'Just My Imagination'. As a solo artist, Kendricks recorded several hits of his own during the 1970s, including the US No.1 single 'Keep On Truckin'. via thisdayinmusic.com
***
We have Genius Award Winners and we have Feel Good Stories of The Day. Tonight we have Assholes of The Day- The Port Hole on Herbert Street, Port Orange, FL

Several veterans with service dogs have recently been asked to leave a Port Orange bar, including one man who was trespassed but told his "dog could stay," police reports and body camera video shows.

On Sept. 25, Port Orange police were called to The Port Hole on Herbert Street around 10 p.m. where an employee at the bar asked police to trespass Stephen Harmon, who was at the business with his service dog, according to the police report.

"I was crying because I was just so hurt that someone would do this to a veteran," Stephen Harmon said. "The bartender told me that there were no dogs allowed. I informed her that Major is a service dog."
***
Well these explosives should work, shouldn't they? Genius Award Winners.

Three men blew up an ATM in a Chinese takeout restaurant in Philadelphia while the establishment was still open but were unable to get any cash, police said.

The men entered the Golden Chinese/American takeout restaurant in northwest Philadelphia shortly after 9 p.m. Friday and ordered food, police said. They then placed some kind of explosive device which damaged the ATM and the window and knocked items off shelves behind the counter, police said.

The three went back into the establishment but were unable to remove the cash box that was still inside the damaged ATM, police said. The three then fled, one on a bicycle and the other two on foot. Police were searching for suspects and no arrests were immediately reported.
***

Making the best out of home schooling via Zoom. Tonight's Feel Good Story of The Day.
***
Weekly commenter stats for week of 10-4-2020
Top 10 commenters:
1 [616 comments] 'TheJamesMadison, back to random thoughts' [86.41 posts/day]
2 [523 comments] 'Tom Servo'
3 [471 comments] 'BurtTC'
4 [448 comments] 'Joe Mannix (Not a cop!)'
5 [445 comments] 'Insomniac - Ex Cineribus Resurgo'
6 [414 comments] 'Skip'
7 [410 comments] 'Tami'
8 [396 comments] 'garrett'
9 [378 comments] 'runner'
10 [368 comments] 'qdpsteve'
Top 10 sockpuppeteers:
1 [335 names] 'Miklos, in for the long haul' [46.99 unique names/day]
2 [65 names] 'Duncanthrax'
3 [48 names] 'Bete'
4 [39 names] 'Joe Mannix (Not a cop!)'
5 [37 names] '18-1'
6 [36 names] 'Grump928(C)'
7 [33 names] 'Notorious BFD'
8 [30 names] 'josephistan'
9 [27 names] 'Two Weeks From Bunnysnuggling Melania Before Trump Drone Strikes Me'
10 [27 names] 'davidt'
***

Tonight's ONT has been brought to you by Imaginary Founding Father Quotes.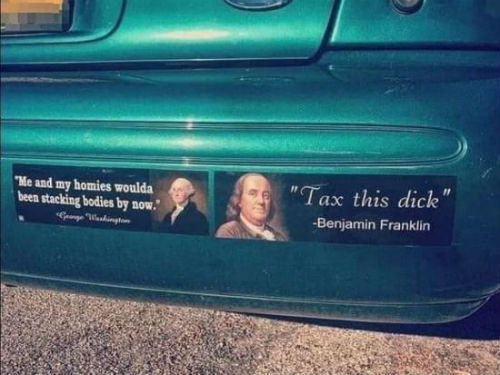 Notice: Posted with permission by the Ace Media Empire, AceCorp, LLC and Ace's shelving mentors. The ONT is measured by weight not volume. Some settling of the girth may have occurred.


posted by Misanthropic Humanitarian at
09:30 PM
|
Access Comments