« The Morning Rant: Minimalist Edition
|
Main
|
Joe Biden Refuses to Condemn Antifa, Claiming It's "Just an Idea"
Hey Joe: White Supremacism is Also "Just an Idea." Does That Mean We Shouldn't Condemn White Supremacism? »
October 01, 2020
Chris Wallace, Angry Defender of the Leftwing Democrat Establishment's Rights and Privileges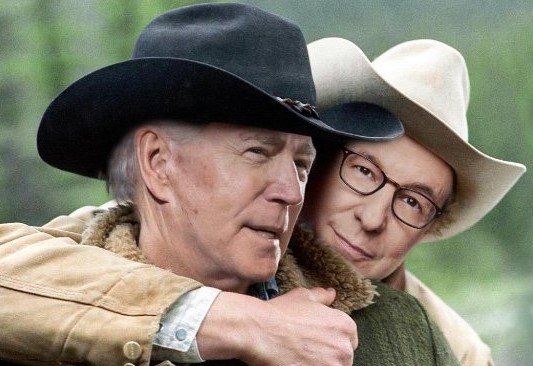 Many of us were dreading the Chris Wallace debate.
Because many of us have seen Chris Wallace's increasingly Maddow-like "reportage" over the past several years.
Previously Chris Wallace has insisted on the leftwing, and unfounded, claim that Kyle Rittenhouse is a "vigilante," nastily attacking, as he is wont to do, Katie Pavlich for making the inarguable observation that as official law enforcement recedes, private law enforcement -- "vigiliantism" -- will supplant it.
The first form of "law enforcement" is simply private vengeance-taking. That is only displaced with the introduction of reliable, professional third-party, disinterested law enforcement.
And when that professional third-party enforcement recedes, the original form of "law enforcement" returns.
This wasn't even "vigilantism," really -- this was a guy being asked by a property owner to guard his property.
But that sort of private performance of law enforcement functions is obviously required when the government-funded law enforcers are absent.
You'll notice two things from the below exchange: one, Chris Wallace is being praised by a far leftwing outlet, here, Rolling Stone.
Two, Chris Wallace really, really, really cannot abide women disputing his Solomonic pronoucements.
During a Thursday panel discussion, Fox News contributor Katie Pavlic seemed to make excuses for the alleged actions of 17-year-old Kyle Rittenhouse, who, on Wednesday, was charged with first-degree intentional homicide after allegedly shooting and killing two protesters and seriously injuring another during demonstrations over the police shooting of a Black man, Jacob Blake, in Kenosha, Wisconsin.

Fox News contributor Katie Pavlich made an argument that seemed to excuse vigilante justice when a law enforcement "void" exists.

"I have to say on the argument of vigilante justice. When you have no police around to defend businesses and people who are being attacked and their livelihoods burned to the ground, then there is a void that is filled," Pavlich said.

Pavlich then railed against Democratic city and state officials who she blamed for the supposed void, and host Melissa Francis wholeheartedly agreed with her take, saying, "No, that;s a great point. The vigilantes are just as much the fault of those local leaders who have failed so miserably. Great point."


Following a commercial break, Wallace made it clear that he was not buying the message that was sent during the last segment.


"I've got to push back on something we said at the end of the last segment because there seemed to be the implication that somehow vigilante justice was understandable or justified by the lack of sufficient police action and authority and presence in some of these cities," Wallace said.

As Wallace tried to complete his thought, both Pavlich and Francis showed their displeasure with Wallace's understanding of their argument, interrupting several times.

"I just gotta say this, just as it's completely a disconnect," Wallace said when he tried to continue after Francis interjected to say, "That's not what was said."

Wallace replied, "Well, that seemed to be the implication. That vigilantes were filling… Let me finish… that vigilantes were filling the void from police. Just as it's fair to say that rioting and looting is a completely inappropriate response to George Floyd or Jacob Blake, vigilante justice is a completely inappropriate response to the rioting in the street. There is no justification for what happened in Kenosha, and vigilante justice is a crime and should be punished as a crime."
There is Chris Wallace -- hard news man -- pronouncing that self-defense of one's life is not a "justification" and furthermore that if you defend yourself from antifa/BLM, you should be prosecuted for a "crime."

As you saw in Tuesday night's debacle, Chris Wallace, like all other arrogant left-liberals, has not bothered to learn anything, and continues spitting out the venom of his early, uninformed #HotTake.
Wallace did understand what Pavlich was saying. But Wallace, like every other left-liberal, is determined to push the narrative that there are absolutely no negative consequences to BLM's riots. If BLM demands to end policing produce lawlessness, that is just "right wing riot porn" causing problems.
Here's Wallace again pushing -- hard! -- a very standard left-liberal claim, and again attacking a conservative woman for daring to dispute his Impotent Old Man Energy.
Fox News anchor Chris Wallace and network contributor Katie Pavlich got into a heated debate on Monday as they debated impeachment, with Wallace telling Pavlich to get her "facts straight" before "Special Report" anchor Bret Baier advised both sides to "tone it down" on Monday. ...

"The Senate is not the House, the House did not come with a complete case, and every impeachment beforehand, the witnesses that were called had been called in the House before being brought to the Senate," Pavlich argued. "So there are questions here about the process."


...

"Katie, what you're saying just isn't true. The fact is that the whistleblower information was given to the inspector general, who gave it to the Justice Department. The Justice Department decided not to investigate, and that is why it went to the House," Wallace said.

"So to say that in the Clinton investigation that these people were interviewed by the House, one, they weren't, and to say it wasn't done by the Justice ... it wasn't done by the Justice Department, because the Justice Department refused to carry out the investigation. Get your facts straight!" Wallace said.

"OK, OK, let's tone it down," Baier injected.
After Pavlich proved she was right, Wallace changed the topic to whining about him wanting John Bolton to be a witness.
Notice all the angry old man yelling that starts when a conservative woman shoots down his leftwing bullshit talking points.
And again, here's Chris Wallace angrily telling a conservative woman to shut up. Mollie Hemingway said that the Mueller Report had found nothing connecting Trump to Russia -- which had been reported in advance of the release of the full report.
Chris Wallace, who insists you trust the media except when he insists you cannot believe its reports, angrily tells Mollie Hemingway that she's not allowed to talk about media reports until the full report is released.
And again, Wallace is being praised by a leftwing source (Mediaite here).
Hemingway added "there needs to be a reckoning" in the media over their promises that Trump would be found guilty of [treason, collusion, etc.] "The people who spread this theory," Hemingway said, and "who did not behave appropriately, need to be held accountable."

Of course, Mueller's report has not even been released yet, something Fox News anchor Chris Wallace pointed out in the segment after Hemingway's comments.


"No one has seen [this report]," Wallace said. "To say that somehow this clears the president seems like the height of rushing to judgment."

Wallace went on to brutally dismantle the rest of Hemingway's arguments seeking to dismiss Mueller's investigation.

"People talk about the appointment of the special counsel," Wallace said. "The fact is the reason the special counsel was appointed is because Trump fired James Comey in the middle of his investigation. If Comey had been allowed to finish his investigation there probably wouldn't have been an special counsel."
Note that Chris Wallace is, was, and always will be a huge shill for the Russia Collusion Conspiracy Theory -- and has been extremely reluctant to report on the huge news since then that almost everything Wallace previously claimed to be true was in fact a lie.
"I'm also a little surprised at this talk about process crimes," he continued. "Process crimes are not parking tickets. Process crimes are lying to federal prosecutors, they're lying to the FBI. This is the very basis of which justice is administered. And to the degree that which commit perjury, that's a very serious crime."
And yet Chris Wallace has never called for perjury prosecutions for conspirators known to have lied in procuring the FISA warrants.
Wallace noted the special counsel resulted in "serious convictions" of Trump's former national security adviser Michael Flynn, Trump's former campaign manager Paul Manafort, and Trump's former lawyer Michael Cohen.
The Hard News Man Strikes Again. First of all, Michael Flynn is innocent, as we all now know (though Wallace is characteristically quiet about proof of lawbreaking in trying to "get Flynn.")
But even at this time, Flynn was never "convicted." You are considered "convicted" in a plea deal, but only after you plea to the judge and the judge accepts the plea.
This never happened. Flynn has never been "convicted" and in fact someone with a litigious bent could sue Wallace for claiming he was.
And here's Chris Wallace again attacking a conservative female reporter, Sandra Smith, in order to in order to advance the Trump impeachment.
Chris Wallace is, I will speculate confidently, retiring next year.
He has been showing more and more partisan animus for the past three years. He literally yells at women on TV.
He decided to go out with a blaze of glory for the benefit of the Democrat Party, of which he was a member.
FoxNews has watched him become more and more embittered and more and more emotionally unbalanced in the pursuit of his partisan goals, and let him serve as moderator anyway.
This is not Chris Wallace's sin alone -- it is Fox News'. The corporate neoliberal owners of Fox new the product they were ordering up when they made this hacky nepot the "moderator." They got what they were asking for.
Funny: via Pine Barrens.


posted by Ace at
12:12 PM
|
Access Comments