« Flynn Hearing Audio
|
Main
|
University of Chicago English Department Declares: We Will Hire No Professors Except for Those Working in "Black Studies" »
September 29, 2020
Just Declassified: US Had Intelligence That Russian Intelligence Had Information That Hillary Clinton Intended To Launch The Whole "Russia Collusion" Smear Against Trump
Just declassified by DNI John Ratcliffe: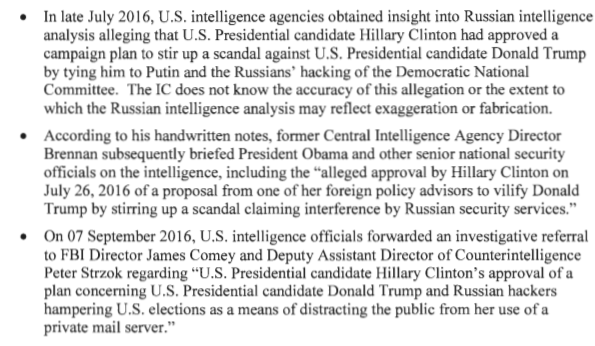 Obama was briefed about this -- days before he ordered US intelligence to participate in Hillary Clinton's smear operation.
I'm not sure what this proves -- just because Russian intelligence says that Hillary Clinton is preparing an information operation against Trump doesn't necessarily make that information op false -- but the timing is very sus (as the kids say).
How did Russia find out about the Clinton smear plan?
Could it be because Russia had an asset embedded in the Democrat policy infrastructure which was feeding the Clinton campaign and FusionGPS these lies, and the asset reported to his spymasters that they were eating it up?

Or: As commenters suggest -- it could just be proof that Russia was reading every Hillary-world email, straight off her absurdly-compromised Secret Toilet Server.
Filbert says to pay attention to point 3. Let's do that: US had intelligence, from a Russian intelligence leak no less, that Hillary Clinton was pushing this bullshit to tag Trump with some kind of "national security problem" story -- to mitigate the fallout from her own real national security problem.
Just as we always suspected.
And instead of taking that as a caution flag, Obama and Biden decided to launch Operation Crossfire Hurricane. And Crossfire Razor, to get Flynn.
More: Here's Hillary Clinton operative debuting the Russia Collusion Hoax on TV, July 24th, 2016.
Just days later, Obama told his government to turn Hillary Clinton's political op into a national security crisis.
Thanks to Jack "GanjaMan" Straw.
Twitter is Chinese Government Ops and Should be Treated as Such:
310 And just like that , "Ratcliffe" is trending on Twitter, and if you click, it goes directly to Natasha Bertrand shitting all over Ratcliffe with commenters saying he's doing the "GRU's work."

Posted by: JoeF.

posted by Ace at
04:14 PM
|
Access Comments