« First-World Problems...Part Who The Hell Knows...
|
Main
|
Sunday Patriot Parade: Watch to the End »
September 27, 2020
Food Thread: Bagel With Lox And A Schmear, And A Side Of Lily White Rice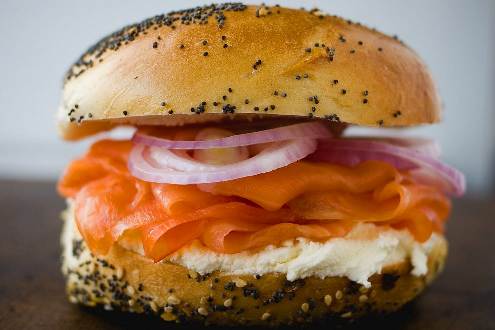 Tonight at sundown begins Yom Kippur, the most important holiday in Judaism, when even mostly-areligious Jews tend to do something to recognize the holiday. It is the Day of Atonement, when Jews fast and ask forgiveness for their sins against God. It gets a bit more complicated with sins against our fellow man...we have to seek forgiveness or reconciliation, and to try to right those wrongs. Yeah...it's complicated.
But we get to break the fast with some fun foods, and I have been using the quintessential Jewish-American food for years! Luckily I live in an area which has pretty good bagels, and smoked salmon is no longer a specialty item! Hell, Costco has excellent stuff, so I don't have to go to Russ & Daughters in Manhattan and take out a second mortgage to buy a few pounds of salmon, especially since most of it will be sitting on a pile of cream cheese and onions.
If I were serving it on its own I might consider buying the high end stuff, but for most uses I have absolutely no problem eating mass-market smoked salmon. By the way, it is a bit different than the more heavily smoked fish that I used to see in California and the Pacific Northwest. It is a more delicate cold-smoke with a bit less salt. Not better...just different.
A mostly ignored ingredient that is a key component of the perfect bagel and lox sandwich is the cream cheese! Whipped is mandatory. Sorry, there is nothing better. And Temp-Tee brand is the best of the lot. Oh, Philadelphia brand will do in a pinch, but no self respecting Jew will choose it over the classic.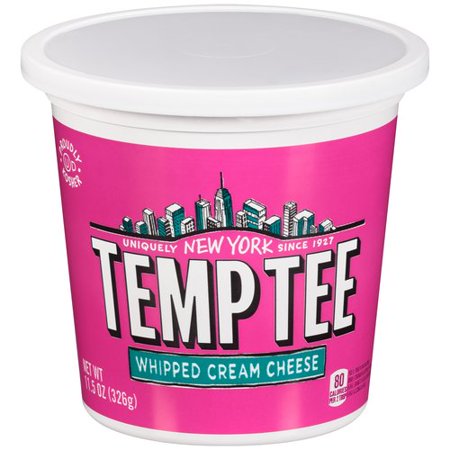 The bagel needs to have a chewy crust and a tender but firm interior. Too soft and it won't stand up to the filling. And that crust is the difficult part of the bagel baking process. I've made them, and it's not as easy as it seems. The claim among NYC bagel makers is that the water is key, but the best bagels in NYC come from New Jersey, and I promise you that our water is crap compared to New York's last (only?) claim to fame.
Onion? Yes. Preferably a red onion. But tomato? Absolutely not, but I am in the minority. I think tomato muddies the flavors and makes the entire sandwich mushy.
Capers on the other hand? They add a nice briny pop. But that's it. no other silly accoutrements. And for fvck's sake...no butter!
******
Uncle Ben was a dignified and well-dressed man who was the advertising face of the brand. In what way was his likeness insulting or disrespectful?
Uncle Ben's Rebrands as Ben's Original.
It wasn't.
Are there HR and marketing managers in these companies frantically looking for imagined slights to some aggrieved group so they can polish their PC chops and improve their standing in the virtue signalling contest that seems to be running perpetually?
Must they cleanse everything of any hint of Black America before it became woke and communist? The last time I checked, Black America had a vibrant food scene and it is certainly something of which to be justifiably proud.

******
What Maniac Thought The World Needed Pumpkin Spice Mac & Cheese?
There is a maniac on the loose and that maniac is responsible for bringing pumpkin spice Kraft macaroni and cheese into the world. Has humanity not suffered enough with this spice that's "been a thing" for 3,500 years, according to History.com, but now has gone too far.
******
David Attenborough: Eating Free-Range Meat is "Middle-Class Hypocrisy"
The planet can't support billions of meat eaters. If we all ate only plants, we'd need only half the land we use at the moment.
And I think that David Attenborough is a Champagne Socialist who needs a swift kick in the teeth and a nice medium-rare NY strip so that his brain begins to function properly after years of starving it of real food.
What are we supposed to do with all of that unused land? Last time I checked we really weren't hurting for open space outside of the densely populated cities, and none of that land is taken up by farms that support the evil red meat industry.
The obvious reality is that the planet can support billions of meat eaters just fine. Although the sooner Attenborough shuffles off this mortal coil and stops plaguing us with inane pronouncements about what we should do, the better off the rest of us will be.
Now excuse me while I go have my lunch of a large beef short rib.
Maybe two if I am feeling peckish.

******
I remember this from a few years ago, but somebody mentioned it in the comments recently and I had to post it.
Jimmy Dean Sausage Complaint call
may be the best two minutes on YouTube!
******
Yes. Oh YES YES YES!
What's not to like about this? I haven't had a corn dog since the Sonoma County Fair in the 1990s...or maybe even earlier. But there is something wonderful about the idea, and this just makes it easier.

******
It's happening again! every year around this time it starts to get cooler and the days become shorter and my tastes shift to braises and stews and other warming foods. This one looks good, and standard, but there is nothing wrong with that.
Guinness Beef Stew
may be right out of a 1950s cook book, but sometimes the simplest foods from our past are still around for a reason; they taste good.
******
Food and cooking tips, Large-breasted Muscovy ducks, young wild pigs, bartenders who use vermouth in Martinis (but not too much), pork belly that doesn't have 5-spice, low-temperature-roast chicken, and good tomatoes that aren't square, pale pink and covered with Mestizo E.coli:
cbd dot aoshq at gmail dot com
. Any advocacy of French Toast with syrup will result in disciplinary action up to and including being
nuked from orbit.
And yes, shaking a Manhattan is blasphemy...it's in the Bible!

posted by CBD at
04:00 PM
|
Access Comments