« Saturday Evening Movie Thread 09-12-2020 [Hosted By: Moviegique]
|
Main
|
EMT 09/13/20 »
September 12, 2020
Saturday Overnight Open Thread – 9/12/2020 [Buck Throckmorton]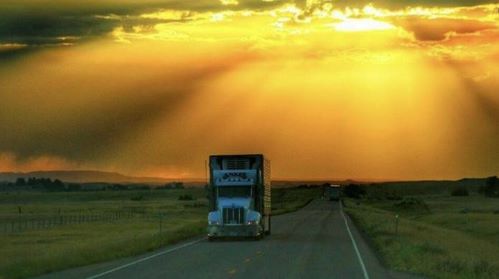 *****
ROBERT CONQUEST'S THIRD LAW
The simplest way to explain the behavior of any bureaucratic organization is to assume that it is controlled by a cabal of its enemies.
Covid and Wokeness are two viruses that seem to be an accelerant in the strange desire of powerful entities to destroy themselves. It's fascinating right now to watch universities, left-wing cities, Hollywood, public schools, sports leagues, newspapers, and other institutions commit suicide. If a manager or employee acts in the best interest of those entities, it might get him fired, but taking actions that alienate customers and produce lost revenue are career enhancing. Good riddance.
*****
OFFICING AT HOME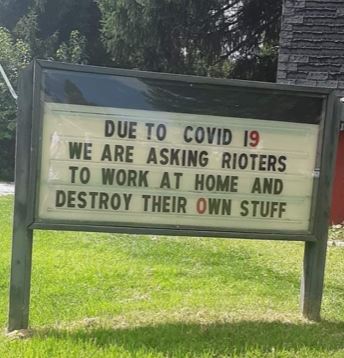 *****
THE MYTH OF HARMONIOUS INDIGENOUS CONSERVATIONISM
The left's push to destroy western civilization incorporates a bizarre myth, that indigenous people lived in some form of universal harmony with nature, unlike the evil Anglos who destroyed the natural order. Of course, all humans have been, well, human from the beginning, engaging in predictable human behavior. This Quillette article dares to say the unspeakable – that indigenous people wreaked havoc on existing ecosystems when they moved in.
When the ancestors of North America's Indigenous peoples entered the New World some 16,000 years ago via Siberia, they hunted many of the mammals, reptiles, and birds, from the Arctic down to Tierra del Fuego. Mammoths, mastodons, and enormous ground-dwelling sloths, as well as giant bears, giant tortoises, and enormous teratorn birds with 16-foot wingspans—animals that had never had a chance to evolve in the presence of humans—were among the many species that disappeared from the Americas.
Throughout history, however, humans killed animals that were tasty, numerous, and huntable. For kin-groups, staying alive meant making life-and-death cost-benefit calculations about where to send your berry-pickers and hunters. "Sacredness" had nothing to do with it.
Such depictions of the benign and gentle ways of Indigenous peoples are perhaps well-intentioned, an antidote to the racist depictions of so-called "savages" that have been common currency in the West for generations. But they have been cynically leveraged by activists and politicians acting on their own principles and parochial concerns. In many cases, the above-described mythology has become a subset of a larger anti-capitalist discourse that presents Indigenous lands as a secular Eden, and greed as a form of original sin.
*****
CLASSICAL MUSIC YOU LIKE BUT CAN'T NAME
Most of us grew up hearing and liking a lot of classical music that is played as background or mood music, but if you're like me, you reached adulthood and didn't know the names of specific pieces you liked, much less their composers. Learning the titles and composers of classical music that I enjoyed but couldn't identify was a fun little project for me a few years ago. Here's a couple that you'll recognize.
Aram Khachaturian's "Sabre Dance"

George Frideric Handel's "Water Music: Alla Hornpipe"

*****
FAINTING GOATS
The first time I heard of Fainting Goats, I just knew I was being played. Nope. They're real. And they're hilarious. "Myotonic Goats" have a variety of names (Fainting Goats, Wooden Leg Goats, Nervous Goats) but whatever you prefer to call them, their leg muscles tighten when they are scared or excited, causing them to fall over. (I actually did the same thing when the future Mrs. Throckmorton accepted my invitation for a second date.)
*****
MORE POLAND
In last Saturday's Overnight Thread I posted a piece celebrating the 100th anniversary of Poland saving Europe from communism when they repelled Soviet forces pushing west. Several commenters pointed out that Poland has a habit of saving Europe from invasion of hostile foreigners with hostile ideologies. In 1683, an army of Germans, Austrians and Poles under the command of Polish King John Sobieski ended the Ottoman (Turkish) Empire's expansion into Europe and saved most of Europe from being subjugated to Islamic rule.
On September 12, 1683, Polish, Austrian and German forces under the command of King John III Sobieski crushed the Ottoman Empire Army, thwarting its expansive ambitions in Europe.
While the Austrian-German soldiers attacked the main Turkish units, the Polish cavalry launched a devastating assault from the rear, shocking the enemy and causing the mass retreat of the Ottoman Turks and their commander. The death toll among the Turks was 10,000, while 5,000 were wounded. Polish forces lost 1,500 men and 2,500 wounded. Although most of the Ottoman army managed to escape, they lost all the guns used in the Vienna siege and all their supply stocks.
The glorious victory brought an end to the Turkish expansion in Europe. As a result of his failure, the Turks' chief commander, Kara Mustafa, was killed by the sultan.
*****
MLB PLAYER WHO WAS SUSPENDED FOR RACIST GESTURE DURING WORLD SERIES IS FED UP WITH YOU RACIST AMERICANS
Yuli Gurriel of the Houston Astros was suspended for five games after making a racially insensitive gesture (see picture below) toward Japanese pitcher Yu Darvish during the 2017 World Series.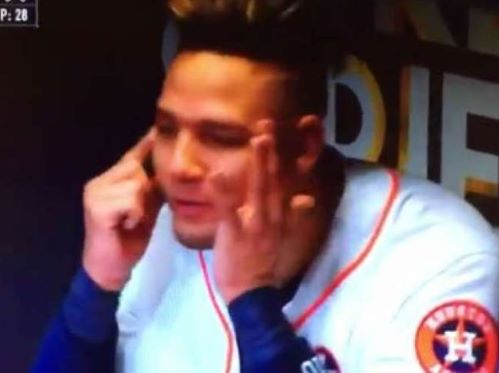 Yuli is a Cuban ballplayer who defected during a baseball tournament in the Dominican Republic in 2016. He then signed a $47 million contract with the Astros and moved to the United States. Yuli would now like for you to know that he has had it with this awful country that made him a mega-millionaire, and he is especially fed up with all the racist fans who stuck by him during his suspension.
On August 28 of this year, Yuli put on a BLM T-shirt while warming up for a game against the Oakland Athletics. At game time he and the other players walked off the field and refused to play - because America is racist. And Yuli will not abide racism.
To accommodate Yuli's intolerance for racism, maybe it's time to re-visit his actions in the 2017 World Series and give him a lifetime suspension.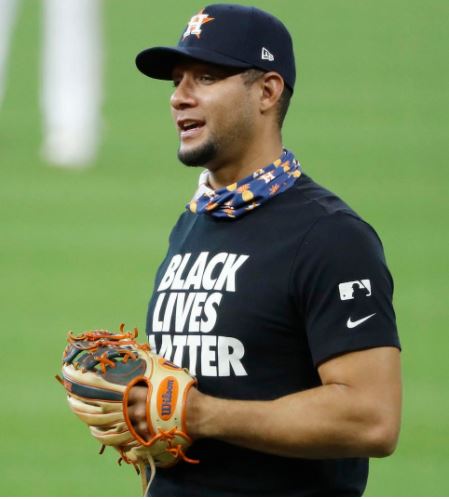 *****
A FUNERAL SOUNDS MORE FUN
In one of these pictures, Bill Clinton is at a funeral. In the other picture, he's at home with Hillary.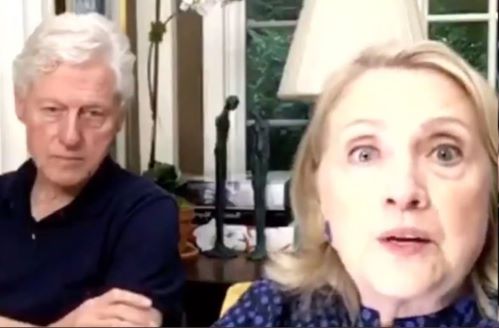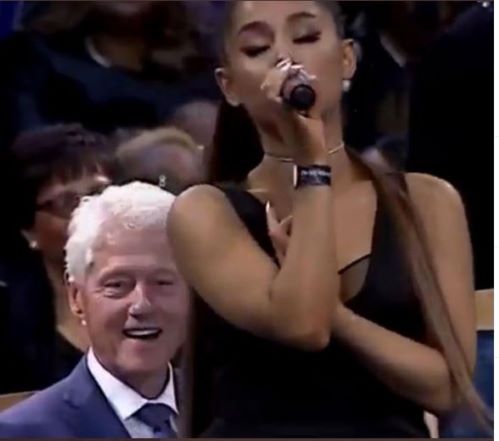 What are some of the things that you would rather do than spend an evening at home with Hillary Clinton?
*****
MOTIVATION
(h/t – despair.com)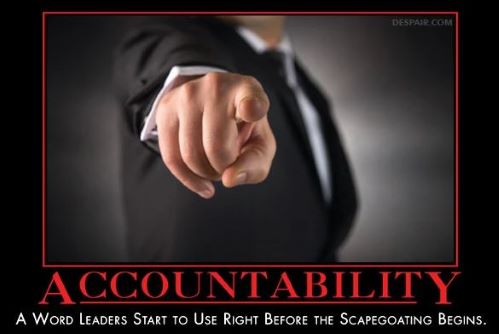 *****
FARRAH AND BROADWAY JOE
Shaving looked really fun back in the day.
(By the way, getting "creamed" was '70s slang for getting "roughed up." As in "The Doomsday Defense creamed the unsuspecting quarterback.")
*****
BUCK THOUGHTS
There is dignity in all work - unless you are a consultant inflicting silly management fads on captive employees. Then you are worthy of the contempt and revulsion your victims feel toward you.
*****
THROCKMORTON'S FIRST LAW OF LIVE MUSIC: IF THERE'S AN UPRIGHT BASS IN THE BAND, IT'S PROBABLY GOING TO BE GOOD
Saying goodbye for the final time to house or a town that was an integral part of your life is always a poignant experience. Here are a few songs that capture that feeling well.
"Who Will Watch The Home Place" (Laurie Lewis)

"Our Town" (Iris Dement)


"This Old House" (Craig Bickhardt)

*****
Tonight's overnight thread has been brought to you by Corn Mazes.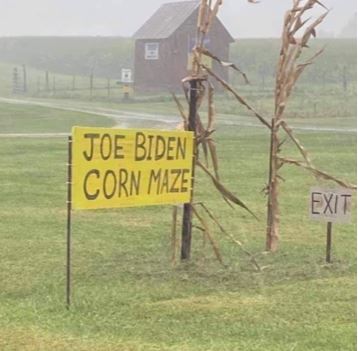 *****
Thanks again to the horde for letting me play host. Please feel free to offer any helpful feedback, insults, or tips at buck.throckmorton@gmail.com

posted by Open Blogger at
09:59 PM
|
Access Comments