« Quarantine Cafe/RGB RIP, Cont'd
|
Main
|
EMT 09/19/20 »
September 18, 2020
Overnight Open Thread (09/18/2020)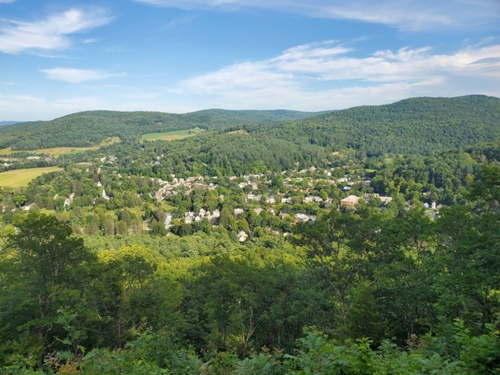 Unemployment as a mass phenomenon is the outcome of allegedly "pro-labor" policies of the government and of labor union pressure and compulsion. This explanation is by no means peculiar to those economists whom the "progressives call "reactionaries."
-- Ludwig von Mises
Nothing can be of value without being an object of utility. If it be useless, the labor contained in it is useless, cannot be reckoned as labor, and cannot therefore create value.
-- Karl Marx
The Great Depression, like most other periods of severe unemployment, was produced by government mismanagement rather than by any inherent instability of the private economy.
-- Milton Friedman
The so-called consumer society and the politics of corporate capitalism have created a second nature of man which ties him libidinally and aggressively to the commodity form. The need for possessing, consuming, handling and constantly renewing the gadgets, devices, instruments, engines, offered to and imposed upon the people, for using these wares even at the danger of one's own destruction, has become a "biological" need.
-- Herbert Marcuse
Prices are important not because money is considered paramount but because prices are a fast and effective conveyor of information through a vast society in which fragmented knowledge must be coordinated.
-- Thomas Sowell
******
The photograph up above was taken from the top of Mt. Tom, just west of Woodstock Vermont. It was a beautiful late summer day, and the few people we passed on the trail were friendly and happy. As much as I criticize the Northeast, and there is much to be critical about, it is a beautiful part of the country, and there are large swaths of it populated by the bedrock of America...people who love America and embrace American Exceptionalism. Some of our country's roots are in those mountains, and it is my most fervent hope that they will be rediscovered by a new generation of Green Mountain Boys and Graniteheads and Nutmeggers and even Massholes (Yuck! Red Sox land!) and the rest.
Well, Maine is just weird, and Rhode Island is too small to notice, although their oysters are superb! Even New York and New Jersey have a solid minority of people who represent the best of America.
To paraphrase Nurse Ratched; "Leave? Hell no, this is my state!"

******
I know that some of you miss the good old days of pre-computer cars, and aesthetically you have a point. No American car company has come close to the elegance and beauty of some of those old cars. Come on...the early Mustangs? They simply cannot be beaten by anything modern. And who knew that they also designed with a sense of humor!
But modern cars are amazing. They are faster, handle better, get better mileage, and are far more reliable. So what I want is the body of one of those glorious cars on modern guts. That can't be too hard!

******
Obviously it's a speed bump (in a pedestrian crossing), but what does a pelican have to do with anything?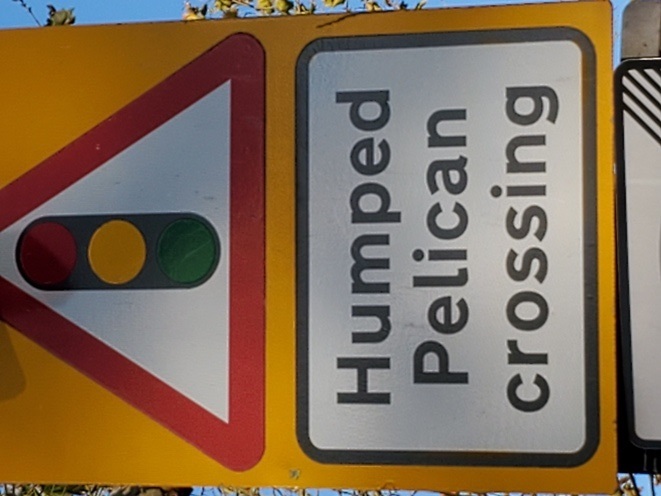 The Brits are weird.

******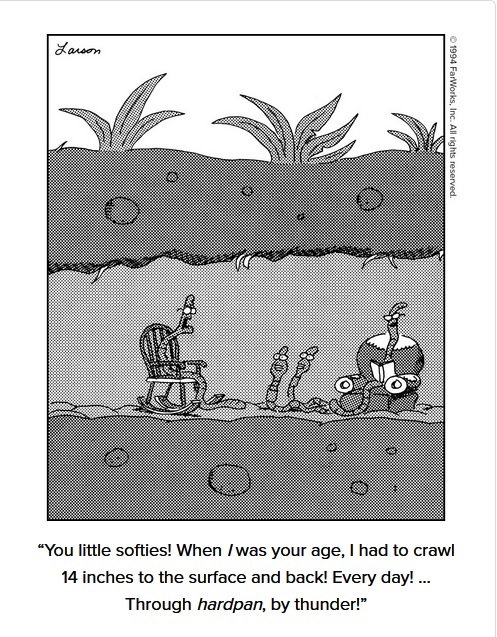 The Far Side
You folks were recently discussing exactly how good Far Side really was, and even got into a bit of a "Just the punch line" competition. I don't know how Gary Larson did it for so long, or even for a few years. His imagination and quirkiness and humor and understanding of the human condition, all in one drawn panel is without peer.

******

Hat Tip: DJLadysmith
I actually like some of their other songs a lot better...like "A-Punk," and "Unbelievers. But singing about the Oxford comma? They get credit for trying!

***
***
******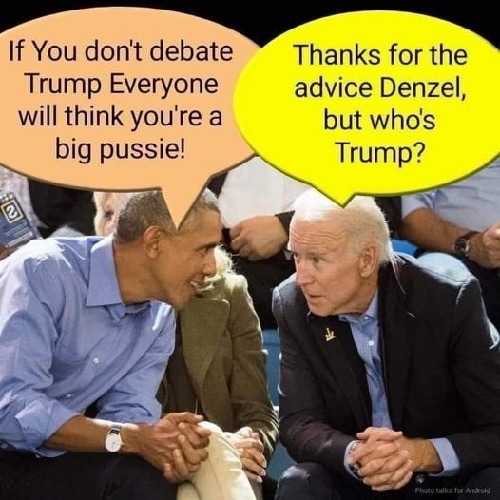 ******
Shana Tova!
Happy New Year everyone!

******
©2023 by AceCorp LLC. All Rights Reserved. Do not taunt proprietor with Makita, DeWalt or Milwaukee products. Shelves are non-weight-bearing and are for decoration only. Dehydrating room is closed. Body under flat-screen TV is an art installation; do not disturb. Platinum members to the right, all others please use rear entrance. All members wearing fur-lined Crocs will be asked to leave. Trolls, please check in with the front desk for language skills testing. Send all unwanted Browning Hi Powers to: cbd dot aoshq at gmail dot com

posted by CBD at
10:00 PM
|
Access Comments