« 17-Year-Old Kyle Rittenhouse Arrested for What Black Lives Matter Does Every Night; Charged With Intentional Murder
|
Main
|
Jacob Blake's Mom: No One Should Take the Shooting of My Son as an Excuse for Violence and Lawlessness.
Also, I Have the Utmost Respect for President Trump. »
August 26, 2020
Poll: Trump Rising in Six Swing States
Thus Don LeMon's sudden disapproval of his antifa allies' attacks on citizens.
Voters' concerns about the coronavirus have fallen and President Donald Trump's approval rating has ticked higher in six swing states over the last two weeks, according to a new CNBC/Change Research poll.

Still, the improvement has not helped the president overcome a polling deficit against Democratic presidential nominee Joe Biden.

In Arizona, Florida, Michigan, North Carolina, Pennsylvania and Wisconsin, 66% of likely voters said they have serious concerns about Covid-19, the survey released Wednesday found. The share fell from 69% in a poll taken two weeks earlier. The share of respondents who said they have "very serious" concerns about the coronavirus dropped to 45% from 49%.

At the same time, 48% of voters in the states said they approve of the job Trump is doing, while 52% disapprove. Two weeks ago, 46% of respondents said they approved of the job Trump is doing, versus 54% who disapproved.

On how the president has handled the coronavirus, approval rose to 47%, the highest since mid-May. Earlier this month, only 44% of respondents said they approved of how Trump is handling Covid-19.

...

Though the survey shows a competitive presidential race, it found Biden leading Trump by a 49% to 46% margin across the key states. He has an edge over the incumbent in five of the six states, while North Carolina is virtually tied.

Arizona: Biden 49%, Trump 47%
Florida: Biden 49%, Trump 46%
Michigan: Biden 50%, Trump 44%
North Carolina: Biden 48%, Trump 47%
Pennsylvania: Biden 49%, Trump 46%
Wisconsin: Biden 49%, Trump 44%
That's pretty tight. I can see why Democrats feel as though they have to rig the vote like they've never rigged it before.

I mentioned Zogby's poll earlier: It has Trump at his highest approval level found by Zogby at 52%, with approval rising among blacks, other minorities, and even Democrats. (Which... I mean, that's largely minorities.)
Buoyed by blacks and independent voters, as well as urban dwellers shocked by the Black Lives Matter protest violence raging in some cities, President Trump's approval rating has hit a new high, according to a survey heavy with minority voters.

The latest Zogby Analytics poll just shared with Secrets had Trump's approval at 52%. "The president has recorded his best job approval rating on record," said pollster Jonathan Zogby.

What's more, his approval rating among minorities was solid and, in the case of African Americans, shockingly high. Zogby said 36% of blacks approve of the president, as do 37% of Hispanics and 35% of Asians.

Approval among independent voters is also up, to 44%. And "intriguingly," said Zogby, 23% of Democrats approve of Trump.
Looks like Biden's panicking -- he's finally saying something negative about his riotous, arsonous allies: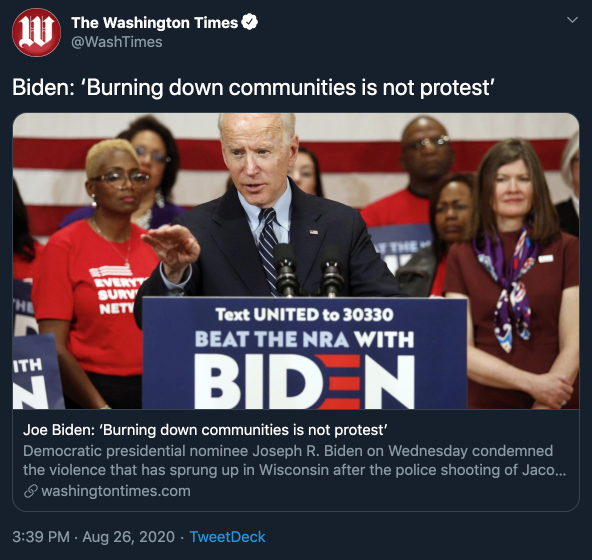 Frank Luntz notes that Biden is running behind Hillary Clinton in four swing states:
Obviously, the NeverTrumpers are greeting Joe Biden's extremely late condemnation of violence -- on the eve of an outright bloody civil war -- as courageous and statesmanlike.
Related: Tim Alberta, late of National Review (of course), whines that people aren't appreciative enough of "media elites" like himself and all his leftwing bestest fwiends.
That silly bitch was groomed, trained, and promoted by National Review -- because of course that's the quality of "conservative" your money buys at National Review.
This sissy bitch joins Robert Costa, also a National Review alum, who went on to be a gonzo leftwing hack at the Washington Post.

posted by Ace at
04:45 PM
|
Access Comments