« Mid-Morning Art Thread
|
Main
|
Goodyear Tires Permits Black Lives Matter T-Shirts But Has "Zero Tolerance" for MAGA and Blue Lives Matter T-Shirts;
Trump Asks for Boycott »
August 19, 2020
The Morning Rant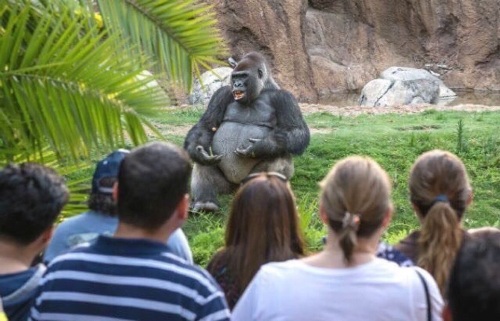 So back on August 6th, the attorney general for the state of NY, Letitia James, has announced that
she's basically trying to put the NRA out of business
. She has accused the NRA leaders of financial malfeasance and her solution is to dissolve the entire organization.
Note that she's not bringing criminal charges against the NRA leaders, she just wants the entire organization gone. No half measures here!
I think she's overplaying her hand. As I said, she's a progressive. Overplaying their hand is what progressives do.
This is obviously a political hit. In fact, it's clear that Letitia James has pretty much politicized the office of the NY State Attorney General, like all progressives do.
But how bad is her timing?
Coming as it does right after many American cities have been set on fire by rioting mobs which have resulted in record firearms sales, many by first-time buyers and even many by liberals. Imagine that: Progressives have figured out a way to get Americans to buy more guns. Because if there's one thing that this summer has taught Americans, it's the necessity of having the means to defend yourself against looting, rioting thugs.
But the message from the Democrats is
1. Your cities will burn
2. The police will be prevented from helping you.
3. And we're going to try to shut down the biggest organization that will support you.
4. Shut up, peasants
And you have to ask, WTF? The intent, ultimate goal, and timing of James' lawsuit is are all mind-bogglingly stupid. Why are the Democrats going out of their way to give reasons to not vote for them?
Look at their convention. There's *not one* Democrat who will emphatically and unequivocally condemn the rioting and looting of our cities. Because all the Democrats have to do to do well in the election is to not be batshit insane. That's it. But they just can't.
When he is 97 years old and long retired, President Trump is going to write a book explaining how he successfully managed to sneak in a number of deep-cover operatives into various levels of the Democrat Party whose sole mission is to come up with really stupid, self-destructive ideas and then trick the Democrats into implementing them. And I'd guess that nothing in this book would surprise me in the least.


The Honesty Remix:


The Biden Campaign Has A New Slogan: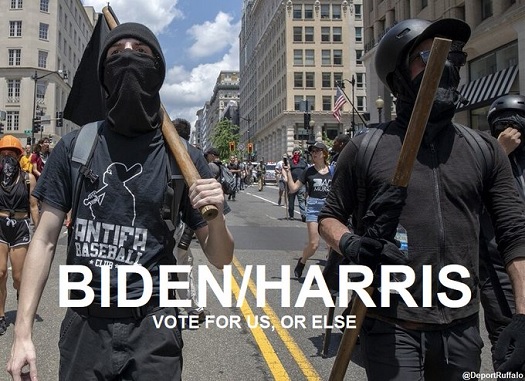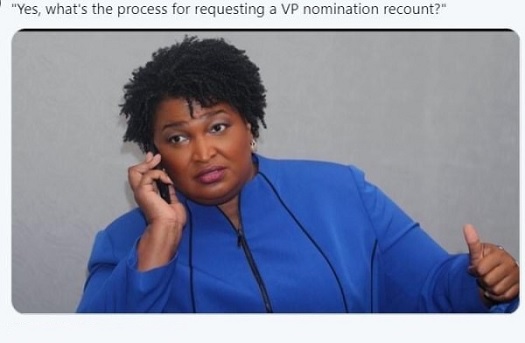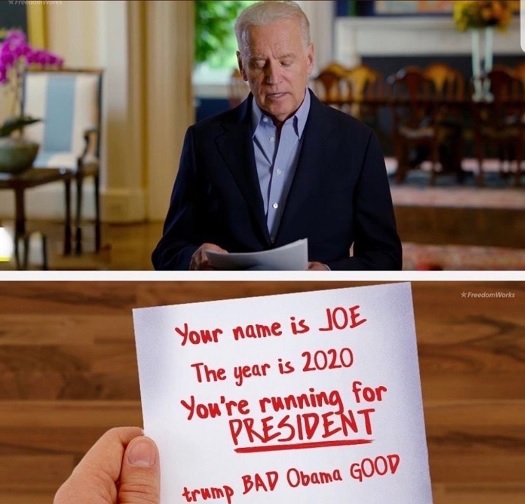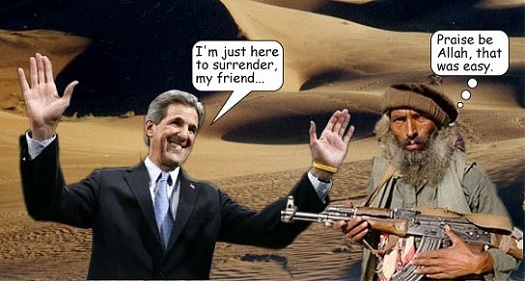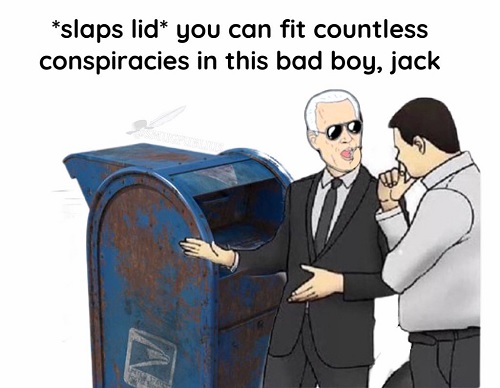 Compare & Contrast: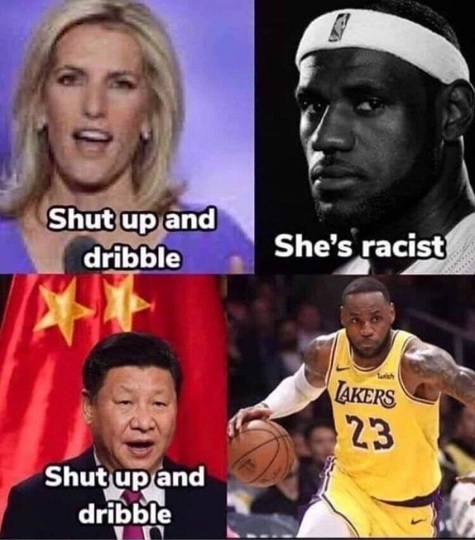 AoSHQ Weekly Prayer List
Please submit any prayer requests to "Annie's Stew" at apaslo atsign hotmail dot com.
Prayer Requests:

7/18 - IrishMikeComedy thanks the Horde again for the prayers for his son, born in April. He'd like to request prayers now for complete healing for his son from a UTI that seems cleared up, but they are checking for renal scarring.

7/18 - IrishMikeComedy also asks for prayers for employment. He was laid off last Thursday. He is looking for remote work in customer service, with a specialty in insurance.
8/17 Update- The baby is doing well and has a clean bill of health, and IrishMikeComedy has gotten a new job!

7/25 - Pooky's Girl reports that Pooky is looking for different employment. He dropped off his resume at a local place that would fit his skills better and had a good meeting with the owner, who he already knows. Asking for prayers that he either gets this job or a lead on a similar job.

8/6 - Jordan61 asks for prayers for Mom, who is in remission from multiple myeloma, and she is having a bone biopsy on Wednesday, 8/12, to make sure it isn't returning. (She's had some red flags in her routine bloodwork.) Prayers for a negative result and continuing remission.


For Healing:

7/15 - Fox2! requests prayers for his friend Vicki, who is suffering from a rare form of cartilage cancer. Her doctor is talking about taking her log off above the knee. Please pray for healing and for wisdom for the doctors.
8/3 Update: Vicki's surgery is scheduled for next week.

7/17 - Dr_No requests prayers for his daughter Megan. She is scheduled for a 5.5 hour operation 7/21 to remove a Stage 2 cancer from her sigmoid colon, and will have a complete hysterectomy for preventative reasons.

7/21 Update: Megan's surgery went well, and the best part is she didn't need a colostomy!
7/27 Update: Megan's pathology report showed that 4 of 20 lymph nodes showed cancer. Please pray for healing. Chemotherapy is planned to start in September, at this point.

8/5 - Prayers for Chaves the Hugo and his Family for healing and happiness.

8/12 - Prayers are requested for Jean, Ladyl's very close friend, who is fighting mantle cell lymphoma.

For submission guidelines and other relevant info, please contact Annie's Stew, who is managing the prayer list. You can contact her at apaslo at-sign hotmail dot com.
If you see a prayer request posted in a thread comment, feel free to copy and paste it and e-mail it to Annie's Stew. She tries to keep up with the requests in the threads, but she's not here all of the time, so she may not see it unless you e-mail it to her.
Please note: Prayer requests are generally removed after five weeks or so unless we receive an update.
Please remember the Prayer of St. Francis:
http://www.prayerguide.org.uk/stfrancis.htm
Keep calm and pray on!


Who Dis: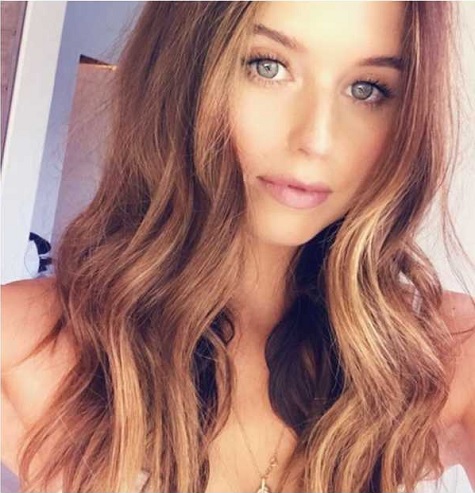 Photo 2
Photo 3
Photo 4
Photo 5
Photo 6
Photo 7


For the 'Ettes: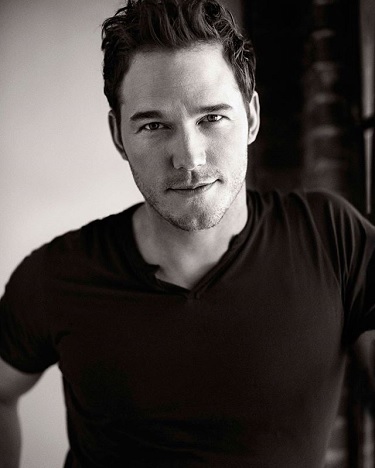 Photo 2
Photo 3
Photo 4
Photo 5


Monday's Who Dis: I first saw Colombian hottie Sofía Vergara in the 2012 reboot of The Three Stooges and was immediately impressed by her huge and spectacular... comedic acting chops. She was *really* funny and that movie is criminally underrated, in my opinion. She has been married since 2015 to Joe Manganiello, who, according to imdb.com, skydives with the Army's parachute team "The Golden Knights". He also used to shovel sand and gravel off of a truck and do demolitions for a construction company. So he's not a soy boy. They were in the 2019 film Bottom of the 9th together.


Today's Edition Of The Morning Rant Is Brought To You By Spicy Pork Ramen Noodles: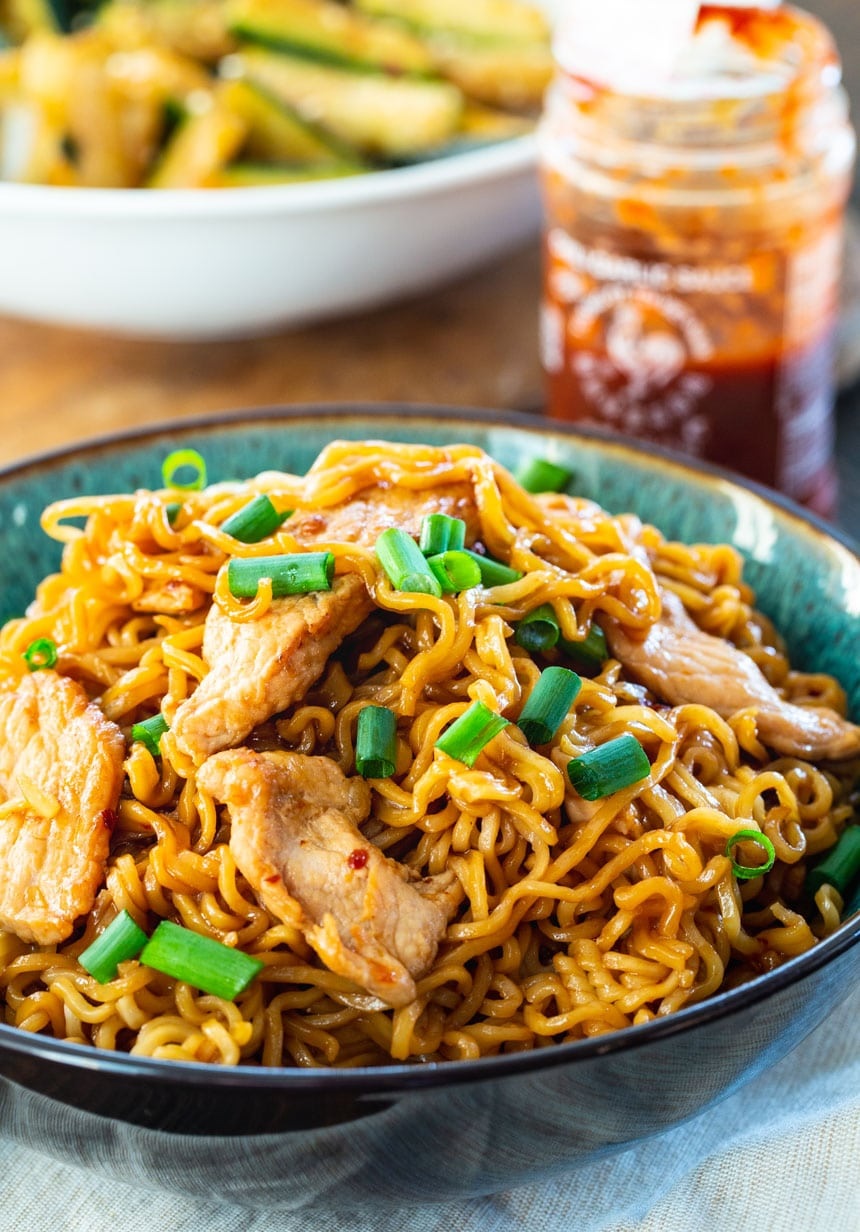 (click for larger ramen)
Ramen recipe here.

posted by OregonMuse at
11:11 AM
|
Access Comments