« Sunday Overnight Open Thread (8/16/20)
|
Main
|
Mid-Morning Art Thread »
August 17, 2020
The Morning Report - 8/17/20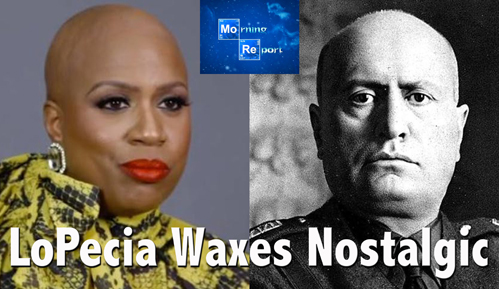 Good morning kids. Start of a new week and a number of things are heating up and bubbling under that to my way of thinking indicate that the Democrats are in serious trouble - or at least perceive themselves to be in serious trouble - as we enter the home stretch towards November. The latest Leftist eruption of outrage is aimed at really their last, best hope to if not steal the election outright, then to cause as much disruption and chaos so as to engineer an actual physical removal of President Trump, no matter how the vote count goes, if it goes. I'm talking of course about Mail-In Voting and yet another tinfoil hat propaganda conspiracy smear that the President, and Postmaster General Louis DeJoy, are removing mailboxes or sabotaging postal sorting machines which will somehow lead to their stealing the election -- much like Trump conspired with Vladimir Putin to steal the 2016 election because of a few thousand dollars of Facebook ads, or something.
Well, when you can't razzle them with the facts, dazzle them with the bullshit, as the saying goes. Or when you don't have a case, just pound your shoe on the table to win over a jury. And this is exactly what's happening here. The rent-a-mob has already showed up twice to DeJoy's home in Greensboro, NC, no doubt to sing a heartfelt rendition of "Kumbaya" while getting ready to toss Molotov cocktails through his window. I suppose they think they can terrorize him into making some sort of anti-Trump public statement as well as pimp the completely safe and immune from tampering under any and all circumstances system that is this fiasco. We'll see if he can stand the heat, hopefully rhetorical and not actual.
Meanwhile Malig-Nancy Pelosi has called back the House from recess to address the "crisis," or to be accurate, ramp up a crisis, while using the stalled General Tso's Sicken relief package as cover and cudgel:
White House trade and manufacturing adviser Peter Navarro accused Senate Minority Leader Chuck Schumer (D-NY) and House Minority Leader Rep. Nancy Pelosi (D-CA) of trying to turn the U.S. Postal Service into a "ballot harvesting service."

Navarro said, "Let's think about it. First, the irony of what's getting Chuck and Nancy back to Washington; it's not concern about the working men and women of America, who really need our help right now. They want to come back so they can rename the post office the United States ballot harvesting service. So it's unfortunate we get these -- in the middle of the election -- we get all these new cycle things going on that they seize upon."

On a deal for a new coronavirus relief package, Navarro said, "You can't have either side cross the other's red lines. What are the red lines here? The red lines are bailing out massive blue states that basically did not do a good job in terms of taking care of the public. A lot of those are sanctuary cities and states which basically got in to the hole they're in by giving a bunch of money away to illegal aliens. So that's clearly a red line there.

He added, "Clearly, this president does not want to support ballot harvesting. Nancy and Chuck want a big amount for that. You know, there's other things. You can't make the Republicans pay for things like Planned Parenthood, and certainly, the Democrats have their red lines."
It doesn't take a genius to figure out why this is being ramped up. This past Friday Dr. Kilpatient Fauci said:
"There's no reason we shouldn't be able to vote in person."
Plus, we have Cuomo and Murphy reopening the schools and Newsom looking for a way to do the same, as keeping them shut is a political albatross (with wafers [Python reference]) and schools constitute a massive number of polling places. So if it's safe enough for the kiddies to be there for seven hours at a stretch, it's certainly safe enough - even if you have to wear your little maskie and keep 6 feet away - for people to go in for a few minutes to c cast their vote. And there goes the last best hope for election thievery right out the window.
No wonder in an interview on Agitprop TV, bald-headed stooge LoPecia Pressley has called for more rioting if billions of dollars aren't allocated to the USPS.
The mail-in balloting has been an abject disaster this election cycle, but Democrats and their cronies are calling for more of the same this November. As an added bonus, the very people who would be in charge of conveying those ballots to election offices have just endorsed Democrat Joe Biden. What could go wrong?

Pressley has a cure for that. She calls for more "unrest" in the streets over it.

Steve Guest, who's on the rapid-response team for the GOP, recalled Nancy Pelosi's call for unrest two years ago against ICE agents. The rabble showed up.

Let's take a step back for a moment. What kind of responsible elected official sees the burning, beatings, looting, and destruction and says to herself, "Yeah, I want more of that."

Who calls for more of the mail-in balloting that has been a disaster where it has been tried this election cycle?

Who's calling for more riots, yet wants to prevent in-person voting because of the Wuhan coronavirus?

Someone who doesn't like America and its traditional way of voting very much.

Wonder why?
Elsewhere, I don't hold much stock in polls but XiNN, which is arguably the most rabid anti-Trump House house organ just had a poll where Biden's alleged double-digit lead over Trump has all but evaporated. There's also polling showing the Kamala Harris selection was not only a flop but a backfire as blacks are reportedly even less likely to vote for Biden now even after the pick.
And then we have the wonderful Rancida Taliban who has announced that she will not only not be endorsing Joe Biden but that she is voting a resounding "no" on the entire Democrat platform during the convention, which I believe starts today (?), plus Bernie's ex-press secretary ripped Biden for picking Harris, even as Sanders claimed that Biden was like putty in the Marxists' hands. Taken all together, whatever horseshit the media is flinging at us now, added on top of the Burning Looting and Murdering and the seething anger over the Peking Pox panic-induced national house arrest, things do not bode well for the Democrats. Could I be wrong? Of course, and I hope to G-d I'm not. But Biden will be a basement-dweller for the duration. And that too is not going to play well to the public.


ABOVE THE FOLD, NOTEWORTHY
NOTE: The opinions expressed in some links may or may not reflect my own. I include them because of their relevance to the discussion of a particular issue.
ALSO: The Morning Report is cross-posted at CutJibNewsletter.com if you want to continue the conversation all day.
Follow us on Twitter: @CutJibNews


posted by at
07:17 AM
|
Access Comments