« Biden's Campaign Manager Gives a Big Thank You to Alleged Journalists Covering the Campaign: "We did it, guys!"
|
Main
|
Quarantine Cafe: All Bats, But Now With Extra WOM! »
August 12, 2020
Trump Surges in Polls of Arizona, Minnesota
A bit of good news for President Trump came Monday evening. A new poll shows him leading former Vice President Joe Biden in Arizona by about a point-and-a-half just 85 days before the election. The state-wide survey conducted by the Trafalgar Group, a Republican polling firm, has Trump ahead, 46.2% to 44.8%.

The president had fallen behind his challenger in the once-reliably-red state but has whittled down Biden's lead to within the margin of error in the RealClearPolitics polling average, which now places the presumptive Democratic nominee ahead of Trump by just 2.2 points.
Arizona is a very tight swing state. If Trump's really only polling behind by 2.2 points (in aggregate), I'm inclined to think he's actually ahead in all of the swing states.
Meanwhile, a new poll shows Trump behind by just three points in Blue Minnesota -- epicenter of the Black Lives Matter insurrection.
President Trump is within striking distance of former Vice President Joe Biden in Minnesota, according to a new Emerson College poll released Tuesday that shows the GOP incumbent trailing by only 3 points in a state Democrats have carried for decades.

The survey shows Biden with 50 percent of the vote in Minnesota, while Trump trails with 47 percent, within the poll's 3.6 percentage point margin of error.
Hillary Clinton beat Trump in Minnesota in 2016, by 1.5%.
Real Clear Politics shows Trump gaining bigly in the swing states, cutting Biden's lead (or, "lead") to 4.3%.
Look at Trump's trajectory in the "top battlegrounds:"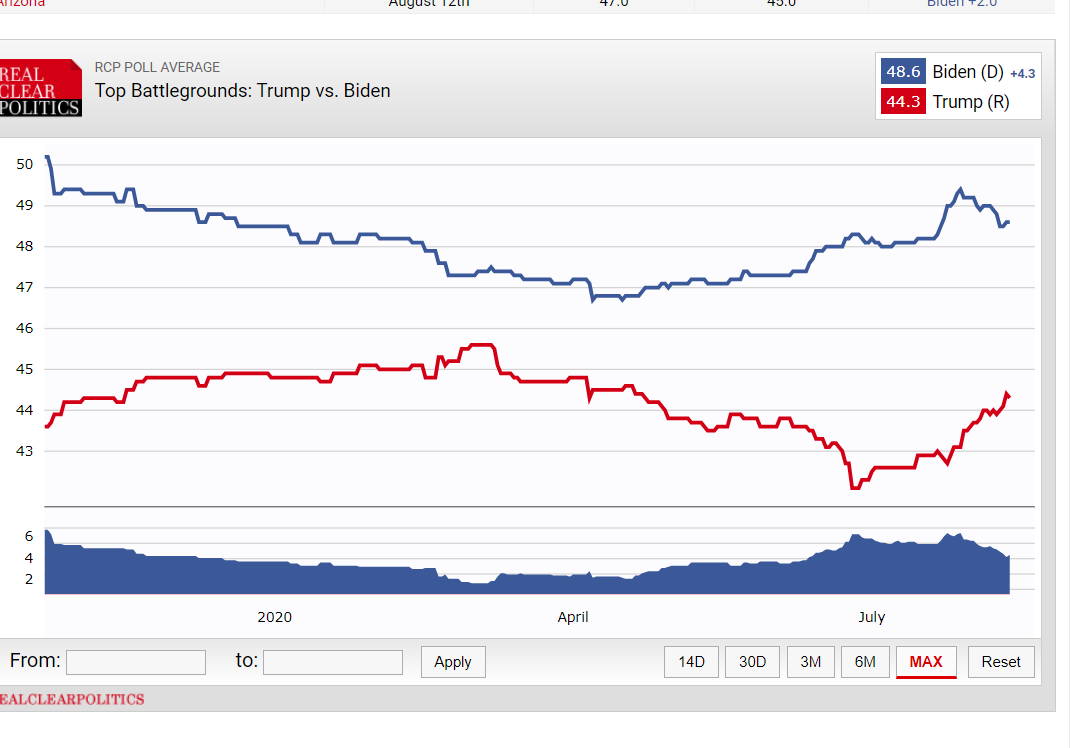 posted by Ace at
06:22 PM
|
Access Comments