« Tonight's ONT Is A Secret!
|
Main
|
Mid-Morning Art Thread »
August 07, 2020
The Morning Report - 8/7/20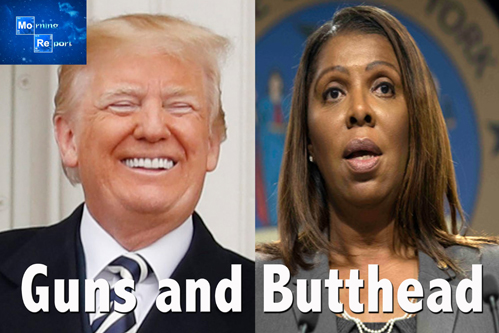 Good morning, kids. The weekend is here, and at the risk of creating a gigantic ken-ein-a-hurra (or kinna-hurra, if your ancestors were from Kishnev instead of being Galitzianer), what may very well prove to be election-winning gold was handed to us on a silver platter yesterday. No, it did not emanate from out of the gibbering maw of Joe Biden. As horrendous as his latest vile, racialist remark concerning the intelligence (or lack thereof in his melting cranium) of black Americans sure to transform Charlamagne the G0d-Awful into a Tourette's tornado of "motherf***ing mother***er, " this Jim Marshall of an own goal came from way out of left field - literally and figuratively.
On Thursday, New York's Attorney General, Letitia James, proudly announced that she had filed suit to "dissolve" the National Rifle Association. She also sued four NRA executives for damages. The basis for the suit is her claim that the NRA has been mismanaging donor funds. She was able to attack the NRA because the organization is registered in New York, where it was first chartered in 1871.

James got a lot of attention with her announcement, but it might not have been what she was expecting. Forward-looking Democrats demanded to know whether she was trying to help get Trump elected. Meanwhile, the NRA, which has been gaining 1,000 new members a day since the "defund the police" movement began, immediately filed a lawsuit against James, accusing her of defamation and seeking to squelch the organization's right to free speech...

It's no secret why James is going after the NRA. First, it was one of her campaign promises when she ran for Attorney General. In an October 2018 pre-election interview with Ebony magazine she attacked the NRA -- which protects Americans' Second Amendment rights -- as a "terrorist organization" (emphasis added).

The reason behind the lawsuit's timing is obvious. The NRA, recognizing the threat a hard-left Biden administration poses to the Second Amendment, vowed to spend tens of millions of dollars to help Trump win battleground states. With his usual pithy flair, Trump spelled out what would happen if James's suit were to succeed:

Just like Radical Left New York is trying to destroy the NRA, if Biden becomes President your GREAT SECOND AMENDMENT doesn't have a chance. Your guns will be taken away, immediately and without notice. No police, no guns!...
First of all, I don't understand why this is a lawsuit. If Wayne LaPierre and whoever else is named in the suit committed crimes, why didn't she hand down indictments? Makes zero sense from that aspect, but of course this is just a not-so-cunning stunt. I'll say this for Joe Biden; at least he has an excuse - dementia. In any case the media is in full circle-the-wagons mode around him in covering up what they can and excusing away what they can't. But the stupidity in this move by Letitia James is positively stunning. She calls a press conference to make some sort of major announcement. The propagandists dutifully showed up, fully expecting James to perhaps announce some sort of charges or malfeasance against President Trump, since she and the latest iteration of Manhattan DA Cyrus Vance have been going after him for his tax returns and business dealings, to date, unsuccessfully. But with Americans arming themselves to the teeth in record numbers since the phony pandemic panic and Democrat-fueled and supported rioting and mayhem, this glittering jewel of stupid confirms as truth to a vast MSM audience that she's going to help bring about what Trump has been warning about for months, which that same MSM has been poo-pooing as fear-mongering for equally as long.
However many millions of dollars she thought she could prevent the NRA from spending in swing states, she just provided at least an equal amount in an in-kind donation with that press conference. You better believe that not only Trump, but Republicans up and down the ticket are going to benefit hugely come November by yesterday's fiasco. Well, played, counselor. Well played! If Nazi collaborator and key insurrection financier George Soros bankrolled this dame's campaign, he got taken. Big time.
I think the only thing that gives me pause is mail-in voting. Without that, it's a landslide. With Letitia James' stupidity now piled on top of Joe Biden's vegetative state and the Burning Looting and Murdering sure to go nationwide, I still think Trump wins
With a tip of the hat to a commenter from yesterday afternoon, "senile ain't just a river in Egypt."
CIVIL WAR 2.0: LEFTIST REIGN OF TERROR, WAR ON POLICE
NOTE: The opinions expressed in some links may or may not reflect my own. I include them because of their relevance to the discussion of a particular issue.
ALSO: The Morning Report is cross-posted at CutJibNewsletter.com if you want to continue the conversation all day.
Follow us on Twitter: @CutJibNews


posted by at
06:48 AM
|
Access Comments