« Monday Overnight Open Thread (7/20/20)
|
Main
|
Mid-Morning Art Thread »
July 21, 2020
The Morning Report - 7/21/20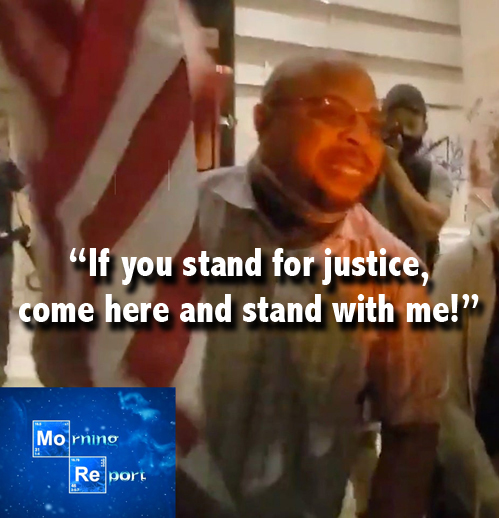 Good morning, kids. Tuesday, and as the saying goes, you take the most flak when you're directly over the target. A couple of stories from several categories underscore that notion and, collectively, seem to indicate that the Democrats - at least those not drinking the Kool Aid of their own polls or Twitter - sense electoral defeat this November.
First, and this observation is anecdotal and just my gut, while the BLM - burning, looting and murder - continue in the name of "oppressed" black Americans, it's by and large being committed by white college-age youths whose minds have been poisoned since kindergarten to hate the freest, most tolerant society ever created. At the same we have a black police officer on the front lines in Portland being utterly savaged verbally by these alleged champions of racial justice, while a completely unarmed black man went right to the scene of the violence carrying an American flag and got right in the face of the terrorists:
..."If you stand for justice come here and stand with me! Stand with me because I'm not here to tear down this f***ing fence, I'm not here to spray paint. It's going on every day!" the man shouted into the crowd. He placed himself directly between the crowd and the opening to the justice building. "If you don't want to get gassed, stop! If you don't want to get gassed, stop! It has to stop! This is not peaceful. None of you guys represent black lives! Sit and protest. Sit and protest..."
Then, there's the story of the black woman, Bevelyn Beatty, who after being arrested for dumping paint all over the Bill DeBolshevik "Black Lives Matter" sign/shrine in front of Trump Tower while railing against the Commie front group, did repeat performances on a couple of other BLM signs in the outer boroughs:
..."Black Lives Matter. Black Lives Matter, right?" Beatty says. "For the black people. This is for the black people. They're destroying business for black people. They're looting for black people."

"No" she says. "No. We're not standing with Black Lives Matter. We want our police. Re-fund our police..."
As I said, these are completely anecdotal. And yet, I cannot help but believe (or pray) that they represent a vast undercurrent of righteous anger that the propagandist media is refusing to report. The recent spike in the body count in places like Chicago and New York and every other major metropolitan area where Democrat rule has defunded and/or handcuffed police and released hardened criminals back onto the streets only adds to the decades of pain and misery inflicted on black Americans in the inner cities. They know full well what it means when there's no police and they're left at the mercy of drug lords and gangs. The inescapable fact is that with rare exceptions, black Americans reflexively vote Democrat. But the difference this time is Trump. Aside from his rhetoric, which in telling blacks directly "what have they got to lose" in taking a chance on him after decades of being defecated on by Leftists - something the GOP never did, he delivered with things like record employment for minorities (and everyone) as well as the push for school choice. And now, all of that has been burned and destroyed, both figuratively and quite literally.
Again, this is purely me putting anecdotal pieces of a puzzle together and interpreting it as one of those sea change moments in history. Remember, just like hate crimes, as well as the lethality of Chinese Lung AIDS, "white supremacy" and "institutional racism" are so prevalent in America that the Left has to fake them to prove they exist. Recall the so-called "grassroots" Occupy Wall Street, which was nothing more than a cheap propaganda stunt aimed at disproving the very real and at the time politically significant Tea Party movement that took back the House in 2010. It's all a titanic dodge. Unfortunately much of Main Street and Wall Street are in its thrall.
Yet even there, there are flashes of sanity with brands such as Goya and Red Bull, as well as Ford telling the black clad brown-shirts to FOAD. As the late great Milton Friedman observed about "making it politically profitable for the wrong people to do the right thing," we have to make it economically profitable for American business to do the right thing, insofar as rejecting the totalitarian bent of BLM et al. Tough nut to crack given the nature of corporatism, academia, the culture etc. and the state of decay and dissolution of our society.
Circling back to my original observations about the panic the Democrats must be in, I give you the ever-increasing madness surrounding the lockdowns over Sino Sinus Syphilis. The numbers, even when they have not been faked and inflated, now prove that this virus is marginally worse than seasonal flu, and children are essentially immune from it. Yet, we are still to be imprisoned and schools are to remain shut. If kids are out of school, a parent or parents must stay home. And isn't this a strange coincidence? Schools happen to be quite popular as polling places for elections. Now, we can't risk people getting sick and dying to cast their votes - four months from now - can we?
And that leads us to the absolutely desperate attempt to shove mail-in voting down our throats.


...Democrats are pushing mail-in voting for the November election using the pretext of COVID-19. Mail-in voting differs from absentee ballots because it requires no action on the part of the voter. Instead, it pushes ballots out to registered voters no matter how inaccurate the voter rolls are. Commentator Tim Pool did a summary of some of the glaring issues with mail-in voting. Everything from a dead cat receiving a voter registration application to fraud prosecuted by the DOJ...

Mail-in voting has led to widespread disenfranchisement in New York City. Why isn't John Kerry worried about that? Because Russia collusion didn't work and Democrats want to ensure voters lose confidence in the integrity of the November election should President Trump win. And they have been laying the groundwork for a revolution since election night 2016...

Widespread mail-in voting could destroy confidence in fair and free elections at a time when this institution could not be more critical. It is not clear that Democrats have any problem with challenging our 240-year history of peaceful transfers of power. They tried in 2016 and appear to be more determined in 2020 if they fail to gain power.
Bingo. If the Democrats were so cocksure that Biden, or whoever is his puppet master, has it in the bag, then we would not have rioting and mayhem (although that may be Antifa and BLM going rogue), we would not have continued calls for lockdowns despite zero danger now from this virus and we would not see an all out push for mail-in election thievery. We also would not have Schiff-for-Brains starting to spout off about Russia again. Then again, maybe they think these multiple schemes are all insurance policies to deliver the victory in November.
There's no doubt, at least by all appearances, that the President and indeed all of us are under siege. But you have to ask yourself, is what is happening his fault by way of his policies or direct actions that he took that the electorate did not approve of? The answer of course is a resounding "no." So by extension, whatever the Democrats are throwing up now, like everything they've done since the Access Hollywood tape is destined to fail. It's a crime that we all have to suffer in the interim.
And then there's 2021 and beyond. But that's another story.


CIVIL WAR 2.0: LEFTIST REIGN OF TERROR, WAR ON POLICE
NOTE: The opinions expressed in some links may or may not reflect my own. I include them because of their relevance to the discussion of a particular issue.
ALSO: The Morning Report is cross-posted at CutJibNewsletter.com if you want to continue the conversation all day.
Follow us on Twitter: @CutJibNews


posted by at
07:58 AM
|
Access Comments