« AP: We Will Capitalize "Black" but Not "White"
|
Main
|
Great Video Demonstrates How Extremely Similar #WokeWhites and White Supremacists Really Are »
July 20, 2020
The Chinese Communist Party Love, Love, LOVES "The Lincoln Project"
China needs Trump out of office-- They need a pliable neoliberal globalist corporatist as president, not someone who's going to point out that China is loading Uighurs on to trains, Nazi-style.
BBC host Andrew Marr confronted China's ambassador to the UK with drone footage of bound and blindfolded Uighur prisoners being herded onto trains.


An Associated Press investigation found that the Chinese government is engaging in "demographic genocide," using birth control, forced abortions, and mass imprisonment against Uighur Muslims in the Xinjiang region.

Confronted with the "very disturbing" video during an appearance on BBC's Andrew Marr Show, Liu Xiaoming downplayed it as a possible prisoner transfer.

"Can I ask you why people are kneeling, blindfolded, and shaven, and being led to trains in modern China. What is going on?" Marr asked.

Video below.

You will not be very surprised to learn that the Chinese Communist Party is now signal-boosting the Lincoln Project.
We might need an FBI investigation into this likely election interference.
SEVERAL CHINESE STATE MEDIA OUTLETS HAVE PENNED FAWNING REVIEWS OF THE LINCOLN PROJECT, A NEVER TRUMP "REPUBLICAN" GROUP, THE NATIONAL PULSE CAN REVEAL.

Launched in 2019 by a cohort of establishment, so-called "Republicans" dedicated to "defeating President Trump and Trumpism at the ballot box," the group is routinely praised by the Chinese Communist Party (CCP) run media outlets such as China Global Television Network (CGTN) and China Daily.


Both outlets are registered as foreign agents in the U.S. under the same law designed to stop Nazi propaganda in the 1930s.

CGTN editor Ceng Jing dedicated an entire op-ed -- "Lincoln Project and the Republicans for President Biden' -- to chronicle the group...


THE CHINESE COMMUNIST PARTY WELCOMES THE LINCOLN PROJECT

CGTN also praises the Lincoln Project founders' alleged "knowledge and resources in Republican politics," and leverages the group to demonstrate "critics of the most polarizing American president is not uncommon."

Another CGTN editor, Liane Ferreira, heaped praise upon the group in a piece entitled "A World of Regrets: Republicans Turn Their Backs on Trump."


Declaring "the end of Trumpism at the hands of Lincoln," the article quotes several of the group's anti-Trump ads and insists its comprise of "high-profile Republicans.
"
The Lincoln Project is now also accepting the praise of... Bette Midler, and calling her "queen."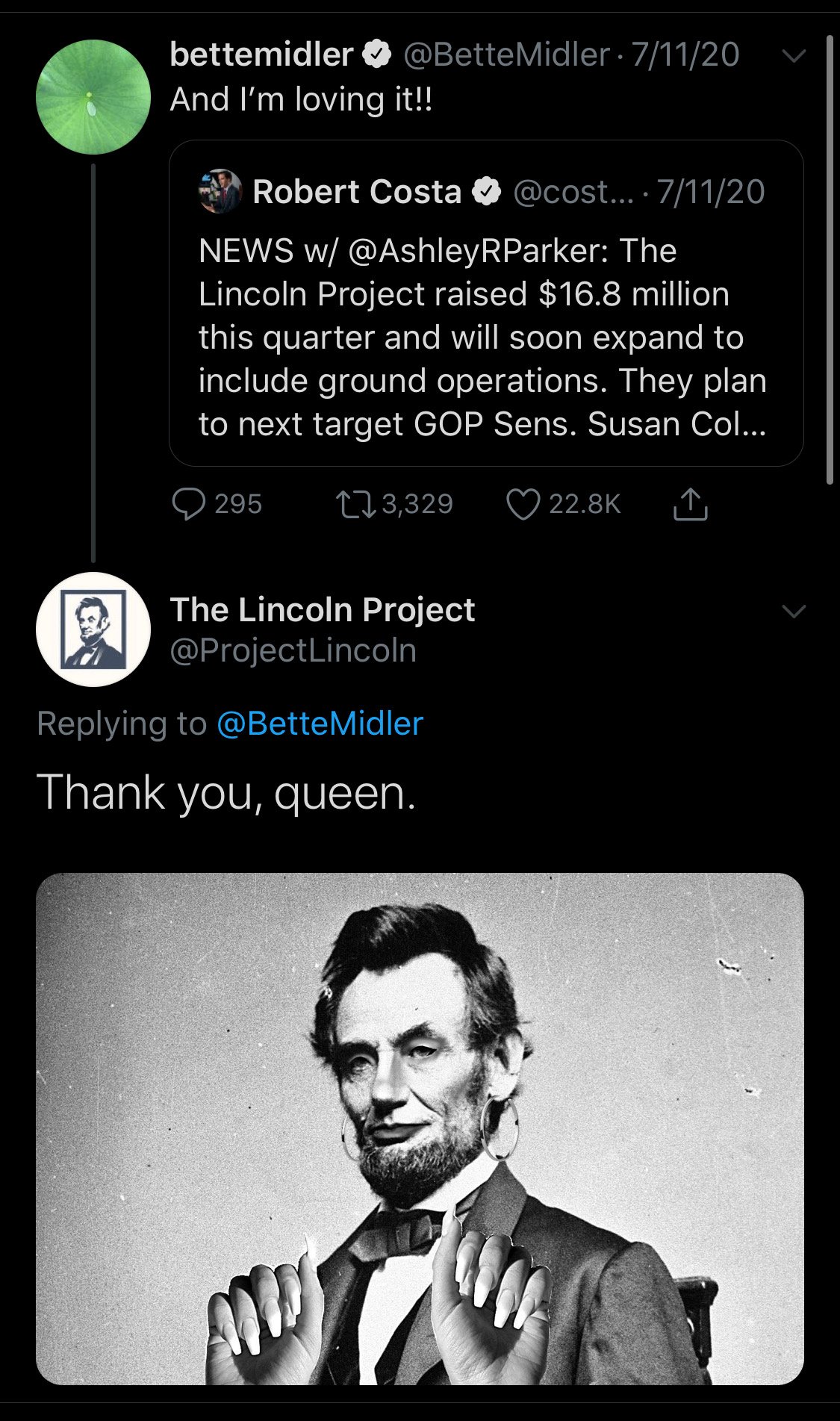 I know you're not supposed to say this, but almost all of these guys seem extremely Barely Closeted Gay to me.

posted by Ace at
02:04 PM
|
Access Comments