« Saturday Morning Coffee Break
|
Main
|
Saturday Gardening and Puttering Thread, July 18, 2020 [KT] »
July 18, 2020
"Weaponizing" Black and Brown Bodies and Voices [KT]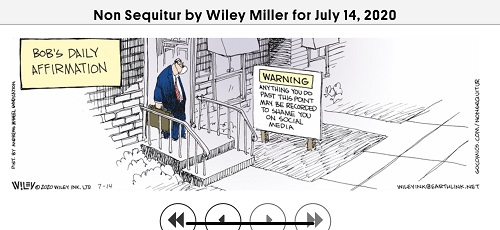 Non Sequitur
I have run across a meme on social media a couple of times to the effect that if a white person posts a quote (worse, a quote with a picture) from a famous black person who thinks that the current "discussion" about race is going overboard, the white person is "Weaponizing Black and Brown Bodies and Voices". UNLESS that white person is willing to read a book by a PhD in grievance studies or a related field.
That's a little variation on "shut up, he explained"! Odd that the meme maker didn't recognize that by making an appeal to authority, he or she (or they) was also "weaponizing black and brown bodies and voices".
Of course, the reason a black person may be quoted by a white person is that white people have also been told that if they express their own opinion outside of Critical Race Theory, they are 'whitesplaining". I got blocked by one person for challenging this meme.
So today I am weaponizing.
Below the fold, a conversation between two people with different skin colors. The News Junkie at Maggies Farm presented it as the moral case against Black Lives Matter. Coleman Hughes believes that his views would not be taken as seriously as they are if he were white.
If you don't have time to listen to the whole thing, start at about 16 minutes. Some points: Inter-racial tensions are very high right now. How the meaning of anti-racism has changed from the Civil rights era. "It's a very different ethos. I think it's much more dangerous". Hughes also notes at about 21 minutes that by their very success, Black Lives Matter has ended up disproving their fundamental premise. Now, America only cares when the victim is black.
Should we throw out all of our foundational morality to correct for past victimization of blacks? Five percent of society can change society if the other 95% stay silent. You stay silent at first, then you are forced to stay silent.

Hughes is not a dream reference for conservatives and libertarians. He has always thought of himself as a liberal growing up. The last couple of minutes of the video touch on politics. He doesn't seem to like Trump, but thinks Trump will benefit from the current BLM chaos. He plans to vote for Biden, because he likes politicians to be boring.
I think he has missed a few details concerning Biden, given his own concerns about the far left. Or more precisely, details about Biden's Rolodex, as Dennis Prager would have said 30 years ago about any politician you were considering during an election.
But he would probably be willing to talk to you about that.
I believe that the video above was occasioned by this piece by Hughes in City Journal, focusing on stories and data regarding shootings by police, riots and race.
Could be shareable with those not sure about the far left position, if you have a mind to follow his quiet call to action in the video above, that the time to speak up is when you still can speak up. From the City Journal piece:
The brutal death of George Floyd at the hands of Minneapolis police officers has sparked protests and riots around the United States. We have witnessed humanity at its finest and at its ugliest. . .

At the root of the unrest is the Black Lives Matter movement, which began with the acquittal of George Zimmerman in 2013 and rose to national prominence in the wake of Michael Brown's death in 2014. My view of BLM is mixed. On the one hand, I agree that police departments too often have tolerated and even enabled corruption. Rather than relying on impartial third parties, departments often decide whether to discipline their own officers; the legal doctrine of qualified immunity sets what many say is an unreasonably high bar for civilians bringing civil-rights lawsuits against police officers. Bodycams (which increase transparency, to the benefit of both wrongly treated police suspects and wrongly accused police) are not yet universal. In the face of police unions that oppose even reasonable reforms, Black Lives Matter seems a force for positive change.

On the other hand, the basic premise of Black Lives Matter--that racist cops are killing unarmed black people--is false. There was a time when I believed it. . .
Here's a very short piece Hughes wrote in January of 2019 on racism, re-examined.
Do any other weaponizable Black and Brown Bodies and Voices come to mind to you?

I hope you have a good weekend.
This is the Thread before the Gardening Thread.
Serving your mid-day open thread needs

posted by Open Blogger at
11:22 AM
|
Access Comments