« Bloomberg Reporter: Ruth Bader Ginsburg Admitted to Hospital With Infection
|
Main
|
Tuesday Overnight Open Thread (7/14/20) »
July 14, 2020
Further Fallout from Bari Weiss Resignation
Update: Former Democrat presidential candidate Andrew Yang says the New York Times is no longer fit for purpose.

Meanwhile, CNN spins for the NYT -- see, Weiss was fired because she was "controversial."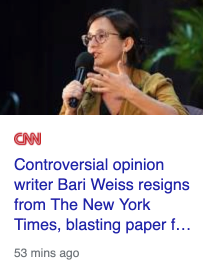 They forget to mention that she was targeted by antisemitic bullies.

Plus: Is this a coordinated effort? Andrew Sullivan announces the end of his employment by the #Wokecult New York Magazine.
Even crusty old leftwing satyr Bill Maher is waking up to the threat of the Woke Left:

posted by Ace at
06:58 PM
|
Access Comments