« The Lead Writer For the New York Times' Racist Mythology "The 1619 Project" Pushes Bizarre Conspiracy Theory That Fireworks Being Set Off in Brooklyn Is a Government Conspiracy Against "Black and Brown Communities," Then Deletes Her Twitter Account
|
Main
|
Unexpectedly, Area Seized By Violent, Mentally-Ill Extremists and Which Forbids Police Officers From Entering Somehow Turns Into Toxic Pit of Murder and Rape »
June 22, 2020
Facebook and the Media, Get This, Lied About The Red Triangle [Bandersnatch]
Last week Facebook pulled Trump campaign ads because of their use of a "Nazi-era symbol". This is bad, Nazis are bad. The worst, really.
"For the Trump campaign to use a symbol — one which is practically identical to that used by the Nazi regime to classify political prisoners in concentration camps — to attack his opponents is offensive and deeply troubling," Jonathan Greenblatt, chief executive of the Anti-Defamation League, said in a statement to the Associated Press.
The Trump ads had used an inverted red triangle to attack Antifa, claiming with some justification that Antifa has used that symbol itself. But what of the Nazi connotations (which are obviously more salient than the stated intent)? I have spent my life studying the Hun. I learned his gutter language, I attended his slatternly schools, I tilled his fetid earth and yet I was not familiar with the horror of the inverted red triangle.
Well, here it is: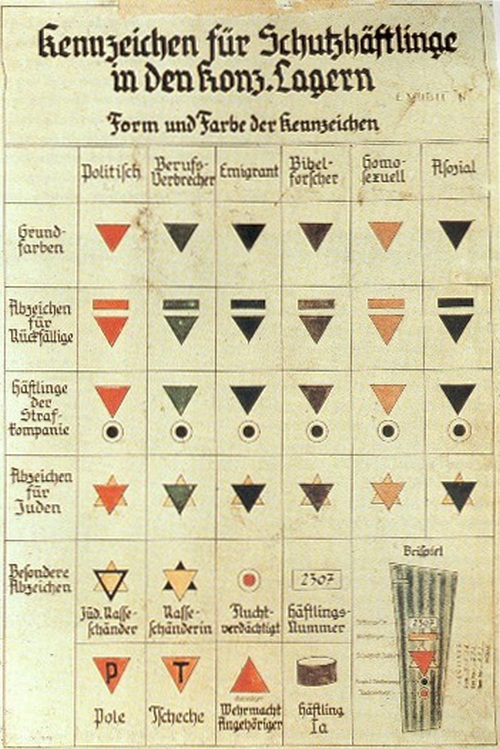 This is a prisoner classification scheme introduced in the concentration camps in 1936. It's a whole system of colored triangles with further symbols amplifying the categorization.
The top row is "Base Color" and identifies prisoners by category: Political, Career Criminal, Emigrant, Bible Scholar, Homosexual, and Asocial.
The vertical column is embellishments on the various triangles to sort them into more specific categories: base color, symbol for recidivists, prisoners of the Punishment Battalion, symbol for Jew, and sundry miscellaneous symbols. If a political prisoner were Polish he would get a P on his red triangle. Note that red is one of six colored triangles used inside the concentration camps. It is unlikely that these symbols had any meaning to anyone outside the camps.
A Jew would not have worn the red triangle. A Jew who was a political prisoner would have worn a Star of David in which the downward pointing triangle was red. A homosexual Jew would get the Star of David with a pink triangle.
I am beating this to death. It's not that important, except in the way that it is. It took me half an hour to scour the German internet for "rotes Dreieck". It's used in some academic articles on Marketing (a sell signal) and some artists have painted a literal red triangle for reasons. Its association with the Nazis is as I've outlined above. I got this with a smidgen of curiosity and a dodgy laptop and I'm not even a fully accredited journalist, I'm just a guy who jokes about tits on the internet.
But once one "authoritative source" links the Trump ad to a "Nazi-era symbol" the entire social- and traditional- mediasphere treats it as Gospel that OrangeManNazi.

posted by Open Blogger at
05:30 PM
|
Access Comments