« Narcissistic Sociopaths with Childlike IQs and the Morals of Rutting Cats, But with an Elevated Ability To Feign Emotions to Manipulate Others, Have an Important Message for America
|
Main
|
The Morning Report - 6/12/20 »
June 11, 2020
Tonight's ONT Is Threatening You With A Good Time!
Oh, look. Gee, I must keep far, far away. I mean, I wouldn't want to be sucked off or anything.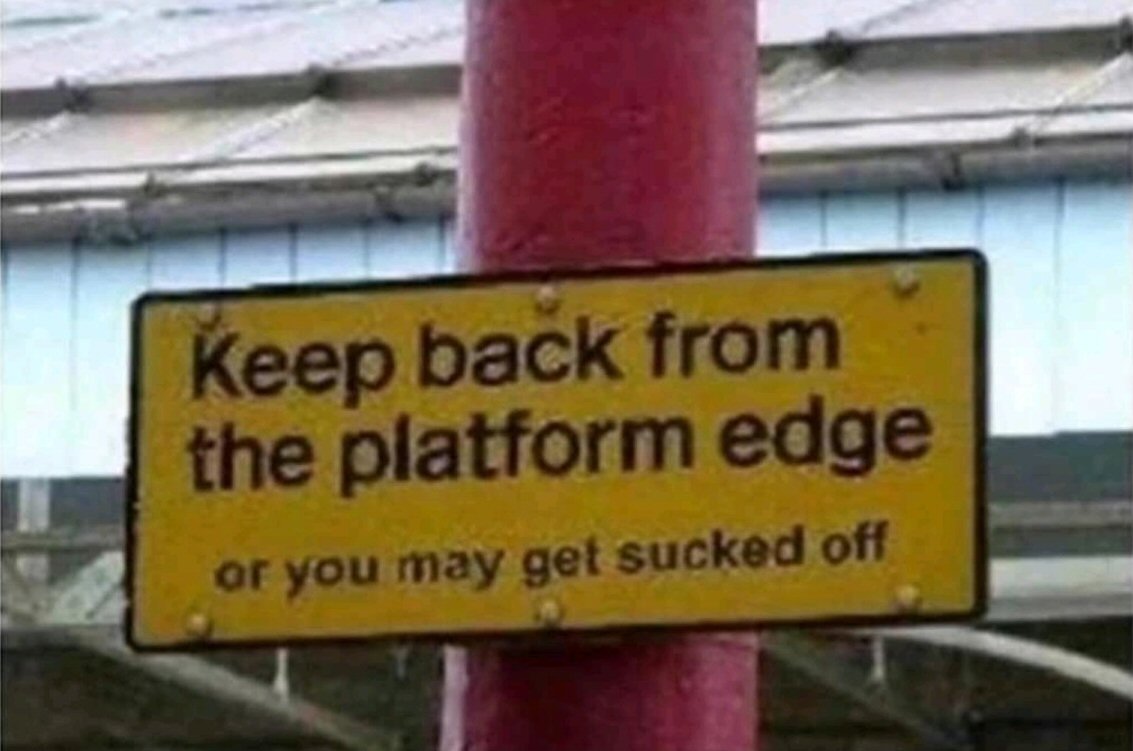 Don't they understand how incentives work? I mean, is this guy trying to deter trespassers, or encourage them?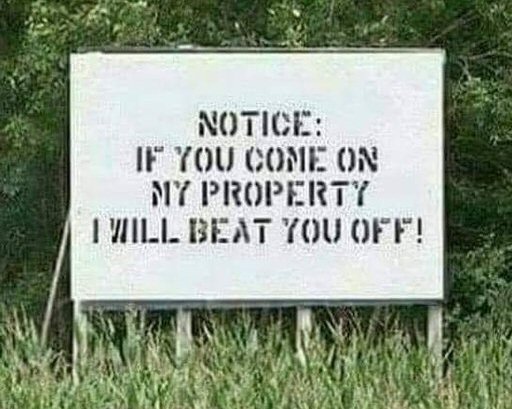 Something Fishy Here
Man, 30, has a whole fish stuck in his rectum after 'sitting on it by accident'
Guy's got a tough roe to hoe. I mean, he's lucky it wasn't a pike, but still, he wasted the time of a skilled sturgeon just for the halibut. And I don't even want to think of the insurance clams! Deep in his sole, this guy knows his parents aren't breaming with pride at the pickerel he's in.
And I should just call it a night right there, cuz you know the whole ONT is going to be nothing but fish puns now. Muldoon will probably be calling a doctor in about 4 hours.

The Naked Truth

People Are Good

Detroit father of 5 who lost home in fire gets $400K in donations within a day
This guy was on the news after his home, his truck and his tools burned up. He had been working his ass off to make a better life for his family, and in a matter of moments it was all gone. He was devastated, "But I'm a big boy. I'm just going to keep on pushing" he said through tears on the news. How did Americans respond to see this story? Generously.
Teen who spent 10 hours cleaning up after protest gifted car and college scholarship
We all saw the destruction on the news. Well, Antonio Gwynn saw it with his own eyes, and decided to do something about it. Getting up in the middle of the night, he started cleaning up. The next day he continued. And how did Americans responds when they saw his story? Generously.

The point of these stories is not that we should run a country with Go Fund Me as the social safety net. The point is that America – normal America, not the Commies from BLM and Antifa – has always valued hard work and a determination to make things better. That America will voluntarily, with good cheer and enthusiasm, reward those qualities when we see them. That's the kind of place I like to live.

Sully Being Sully
I didn't realize this article was a couple of years old when I found it this week. It's a very good article, by Andrew Sullivan, but like almost everything that he writes, there is always one section that just, I won't say negates, but tarnishes, the rest of what he has written because it is so blindingly stupid, and the cause of the gaff is usually either Sully's own bias or a grim determination to be "even handed" of a type that would equate burning witches and toasting marshmallows.

Here's an excerpt:
Liberalism is a set of procedures, with an empty center, not a manifestation of truth, let alone a reconciliation to mortality. But, critically, it has long been complemented and supported in America by a religion distinctly separate from politics, a tamed Christianity that rests, in Jesus' formulation, on a distinction between God and Caesar. And this separation is vital for liberalism, because if your ultimate meaning is derived from religion, you have less need of deriving it from politics or ideology or trusting entirely in a single, secular leader. It's only when your meaning has been secured that you can allow politics to be merely procedural.

So what happens when this religious rampart of the entire system is removed? I think what happens is illiberal politics. The need for meaning hasn't gone away, but without Christianity, this yearning looks to politics for satisfaction. And religious impulses, once anchored in and tamed by Christianity, find expression in various political cults. These political manifestations of religion are new and crude, as all new cults have to be. They haven't been experienced and refined and modeled by millennia of practice and thought. They are evolving in real time. And like almost all new cultish impulses, they demand a total and immediate commitment to save the world.

That's pretty good stuff, and the whole article is worth reading as a treatise on how human beings replace religion with something that acts exactly the same in their life, but where he goes off track is when he talks about the Trump cult. (The article talks about how there are opposing left and right cults in America today. I agree) While I do recognize that there is a Trump cult out there, Sully implies that all Christians who support Trump have joined said cult and are abandoning or replacing their traditional belief system with that of the cult. That's so far from the truth and just frankly stupid (as if a Christian couldn't find a reason to support Trump (a secular politician) except as someone to supplant Jesus Christ in their heart!) that it taints the whole piece. It's still worth reading though.

Badass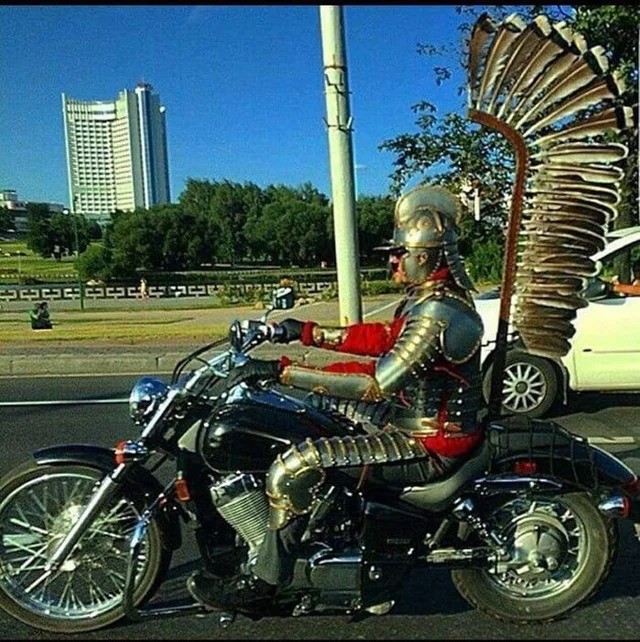 Which leads to our....
Musical Interlude
(By the way, if you want to have some fun, try unpacking all of the images in the painting featured in that video. A lot of them weren't found at the gates of Vienna. The central figure is an American from WWII. There is a Hussar over his left shoulder, but there are also Japanese and Roman warriors. No Janissaries though. If there were, and they were period appropriate, they'd be wetting their pants)

When In Rome

What Life in Ancient Rome Was Really Like

Some interesting stuff, but mostly 101 level.
Resist!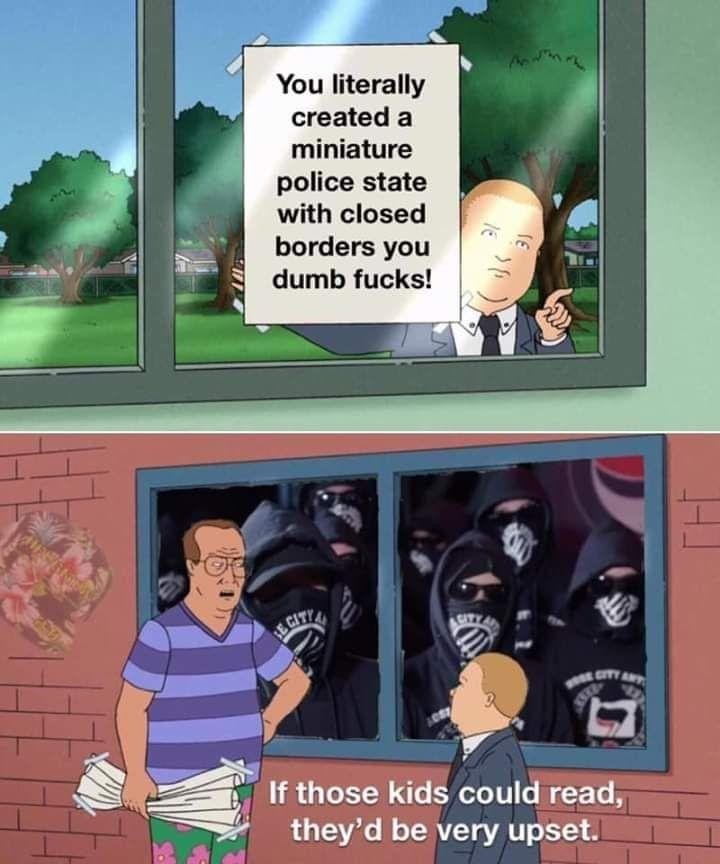 Get Your Exercise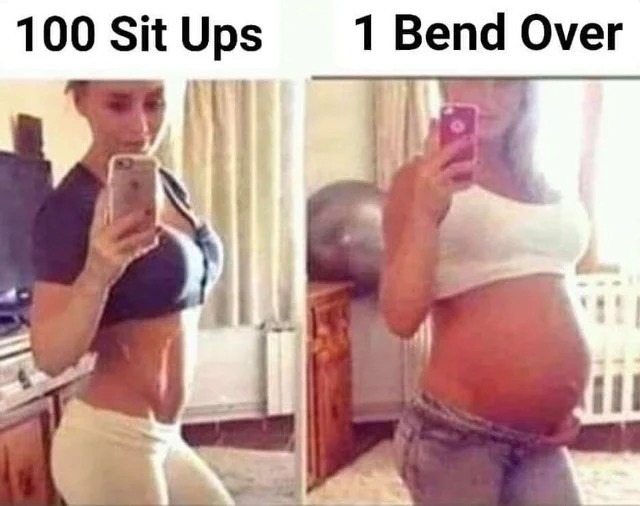 Tonight's ONT brought to you by George Orwell: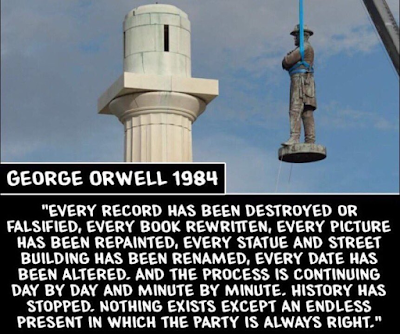 posted by WeirdDave at
09:48 PM
|
Access Comments