« Shockingly, Antifa and BLM Respond to Endless Concessions and Appeasements by... Storming Seattle's City Hall and Taking It As Their New Capital
|
Main
|
Trump Announces He's Starting Rallies Again, and Media Begins Its Latest Preplanned Propaganda Op »
June 10, 2020
Antifa- and BLM-Aligned Groups Are Doxxing Police Officers' Personal Information, Making It Easier for the Left's Designated Killers to "Protest" With Exteme Prejudice
Remember when a Democrat bureaucrat leaked Joe the Plumber's confidential records, to intimidate him for the crime of asking Barack Obama a question?
Maybe if we're just more reasonable with these people, they'll stop.
Maybe they just need to know that We're Better Than That, "that" being aggressive responses in kind.
How's that saying go...? A brave man dies but once, but a coward gets to Preen on Twitter a thousand times.
I think that's it.
Personal information of police officers in departments nationwide is being leaked online amid tense interactions at demonstrations across the U.S. over the police custody death of George Floyd and others, according to an unclassified intelligence document from the U.S. Department of Homeland Security, obtained by The Associated Press.

The document warns that the effort, known as "doxxing," could lead to attacks by "violent opportunists or domestic violent extremists" or could prevent law enforcement officials from carrying out their duties.

Multiple high-ranking police officials in a number of cities, including Washington, Atlanta, Boston and New York have had their personal information shared on social media, including their home addresses, email addresses and phone numbers, the report warns.

"At least one of the police commissioners was targeted for his alleged support of the use of tear gas to disperse protests," it says.

...

Federal officials also identified posts that include specific personal information of several law enforcement officers in Kentucky and their family members, and included a link to a website that contained their full names, the names of their family members, home addresses, specific information about the vehicles they drive and online account login information, the report says.

Hey wait, the Democrat governor promised a One Race Only special program for free health insurance. You mean the terrorists, anarchists, and revolutionaries weren't appeased by that...?
Below, an "Urgent Message" from the President of the DEA Board of Officers.
He basically tells cops and agents not to risk their lives for anyone else but to almost exclusively look out for their own safety and liberty -- their own lives and careers.
Everyone else will have to look out for themselves.
Usually I would say this is a grotesque, cowardly dereliction of duty.
I can't really say that now.
Some people want to see what The Purge will be like. They're going to get their way, whether we like it or not.
Stay safe, friends. Don't look for trouble but if it intrudes into your property and you have a reasonable belief that you are in danger of death or great bodily harm, kill it dead.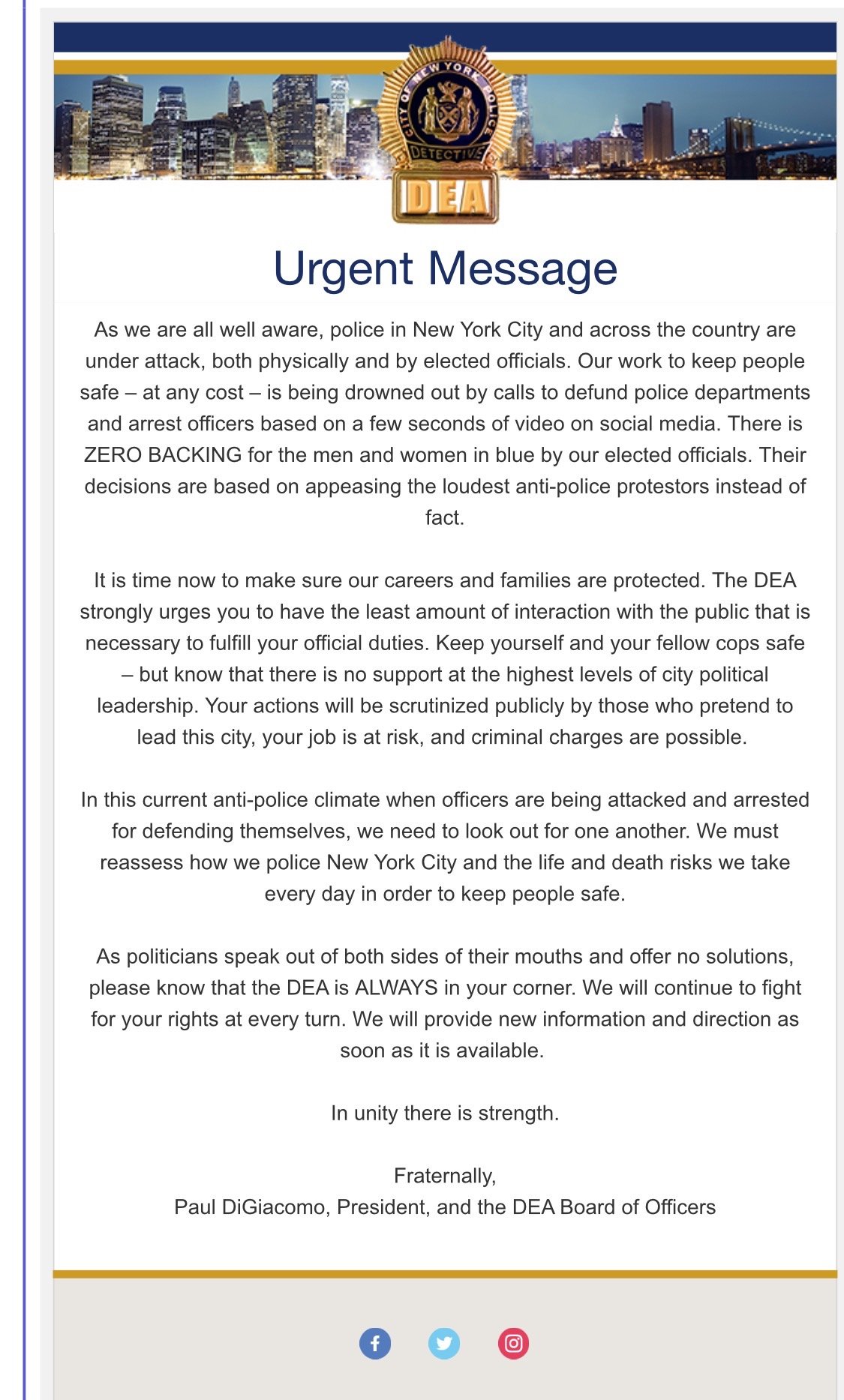 posted by Ace at
04:03 PM
|
Access Comments