« Tesla Manned Rocket Launch
|
Main
|
Saturday Afternoon Chess thread 05-30-2020 »
May 30, 2020
Ace of Spades Pet Thread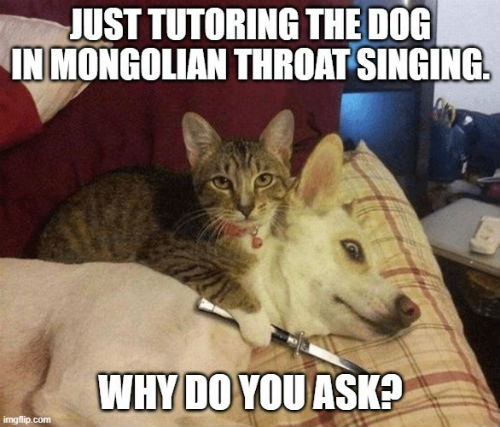 (Wonder if the cat's name is Tanya?)
***
Good afternoon and welcome to the almost world famous Ace of Spades Pet Thread. C'mon in and enjoy the world of pets. Its a wonderful place to be for the next couple of hours. So leave the world and current events at the front door.
***
A Little of This. A Little of That.
Do rescue animals rescue their rescuers? Here is one profound story. H/T m


We have both known pain, fear, hopelessness. We have both had the odds stacked severely against us. Given our histories, Vector and I could each easily be dead.

On October 10, 2011, I sideswiped a taxi while blind drunk, then sped away into the streets of Manhattan. Police tend to frown upon that; I received a night in jail, a hefty fine and a suspended driver's license.

More importantly, I also received the precious gift of desperation. I was finally scared enough to get sober after years of steadily worsening alcoholism. Despite the disease's discouraging statistics, I haven't had a drink since.


I believe addiction is a takes-one-to-help-one disease. It thrives on degradation and hopelessness and, to combat both, recovery relies upon identifying with others who compulsively drank and drugged before finding an unlikely solution. That solution is one another: a bunch of former fall-down drunks who went from doomed to deliverance, and whose experiences in addiction and sobriety are invaluable to fellow sufferers.

My dog, Vector, is a more traditional form of rescue. He is alive by the scarred skin of his mauled-off tail and the saint-like kindness of the Sato Project, an organization that rescues strays from Puerto Rico's infamous Dead Dog Beach.
A longer read, but a good one.
***

Conservative, television watching doggehs. H/T IrishEi
***
Meet The PetMorons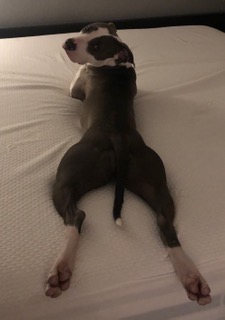 Tilda, our American Pit Bull suggestively posing. - P. Aaron
We debated whether or not we should have shown Tilda. After all this is a family friendly thread. J/K. Great shot. Thank you.
***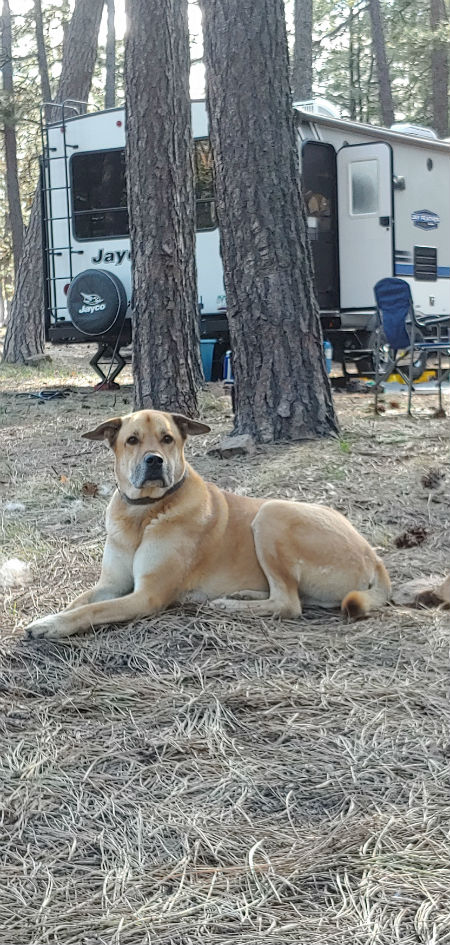 Hi MH,

This is Thor (named for his bark) camping with the family up on the Mogollon Rim in Arizona. The only thing he likes better is lots of snow on the ground. He's a husky/mastiff mix so he loves to run in the cold stuff. Thanks for letting me share. - JD
What a beautiful spot to camp. Looks like Thor is right at home there at that spot. Snow? You're always invited up to the Frozen Tundra. We appreciate your submission today.
***
Hi Mis Hum,

This is Blackie. Late February I took my mom to a shelter in Spokane, WA to get her a new cat. He's about the friendliest cat I've been around, but he is weird. Except for a little milk, cottage cheese, and butter, he loves butter, he's not interested in people food. He once jumped inside the refrigerator and sat in it, but I think he was still in his exploring phase. He has a habit of sleeping on his back whether on a chair, sofa, or someones lap. Every now and then I'll hear a thump, that's him stretching out and falling on the floor. Because of the goofy stuff he does, and at times he's a doofus, I often call him Goofus. I don't think he minds, or cares.

Jake Holenhead

p.s. I sent and you posted a photo of him in late February a few days after we got him.

Hello Jake and Goofus Blackie. We are happy you shared with us today. Blackie seems to be fitting in there nicely. Well done.
***
Wildlife on the Pet Thread. This fine gentlemen spent about two weeks camped outside our front door. I miss him now that he has moved on. - Crystal
So I'm guessing with that fine rack it was early winter there at your humble abode? Nice photo. It was pretty neat that he hung that close. Thank you for sharing.
***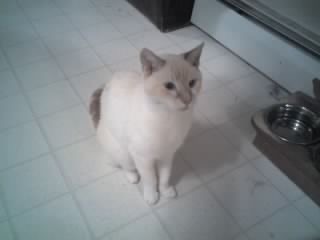 Dear Mis Hum,

After seeing your pet morons thread two weeks ago I knew I had to write to you… there were too many coincidences… There was the cat that was a "colored point", a pet named Angus, and a pet that was rescued in a snowstorm in 2006. All of these things have a lot in common with a colored point cat I used to have who's name was Angus that my wife and I rescued just before the Blizzard of '96.

My wife and I had just moved into a new apartment together, she brought her two cats with her, and I had one of my own named Kitty. To me that was enough mammals in one space. Just as the blizzard was starting, my wife noticed a cat hanging around a dumpster and she knew that if she did not rescue the cat, it would most likely die in the storm, so she brought him inside. When I got home I told her that after the storm was done, she would have one week to find a home for the cat or take him to the shelter. Well after almost 20 years he was still waiting to go to the shelter and he became the best animal I have ever had.

We named him Angus because the first thing we all noticed was that he had really huge balls, reminding me of the AC/DC song "Big Balls," and at the time I couldn't remember the lead singer's name so I just named him after the guitarist, Angus Young. (I'm glad I did because Angus does sound a lot cooler for a cat then "Bon"). This cat was incredibly friendly and immediately bonded with my cat probably because he felt bad for it getting bullied by my wife's cats.

I can't say enough how awesome this cat was, sometime he wasn't even like a cat but more like a dog because he would come to you whenever you called him and he was the quintessential lap cat & would sit on you for hours or however long you wanted him to be there. He was such a laid-back and easy-going cat and the only things that seemed to bother him was if he thought somebody was hurting his friend, Kitty, or if you tried to take his salmon away from him, both of which elicited a very scary growl. He also had these hypnotizing blue eyes and a very unique meow which can only be described as "Mrrraaah". Angus was a very patient and tolerant cat, putting up with the antics of all of my kids when they were very young. For being an indoor cat, he was a very prolific mouser (leaving parts of his quarry for us to find) and he certainly was a survivor, outliving all three other cats by many years.

Unfortunately, he crossed over the rainbow bridge on December 14, 2012 in the arms of all of us. This was the same day the subhuman shot all of those children in Newtown but I would like to think that God called Angus so he would be there to greet all of those children up in heaven. Godspeed Angus - Joe

Your buddy Angus has been gone quite a while and yet the love for him clearly shines to this day. He was an awfully special creature. We are happy that you got to spend time in each other's lives. Thanks for sharing.
***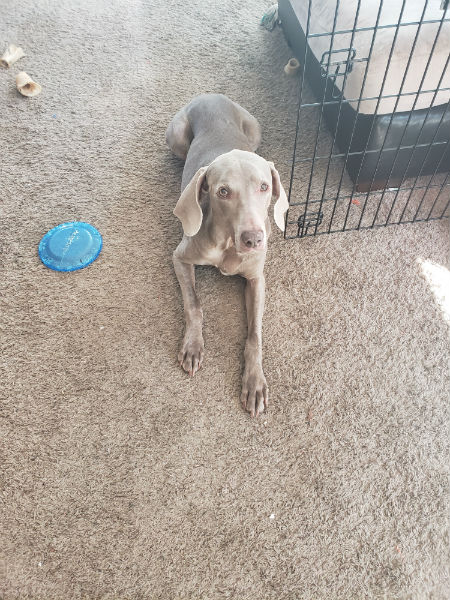 I had to put my Weimaraner (Zelda) down this week. It was both awful and beautiful at the same time. She had a massive stroke at 3am on Wednesday and I found her rolling around my sitting room scared and confused. I sat with her and spent a couple hours just trying to keep her calm and mostly immobile. Gave me time to thank her for being such a good girl. One by one I woke up the kids starting at about 430 so they could say their goodbyes. Yeah, that was the hardest part because they grew up with her. My son arrived from VA about 6am to an dog who was wagging her tail in excitement for him being there. It was beautiful and painful. My son and I put her in the car and we went off to give Zelda her last ride. We were both with her when she took her last peaceful breath. I have no regrets and only fond memories. We all will miss her. - Truck Monkey
Jeez Truck Monkey, what a tough way to say good bye. So sorry to hear of your loss. Zelda sure was a looker. Once again, those special creatures aren't with us nearly long enough. Condolences.
***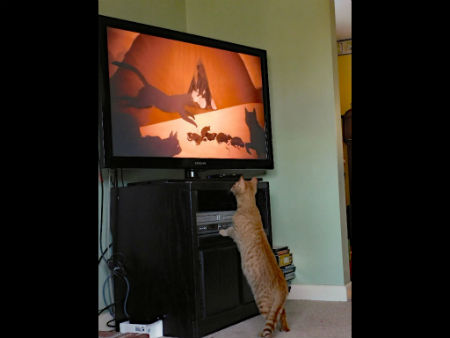 Mikey watches TV with us. But he got to interested in the PBS show on
CATS that he couldn't sit still on the sofa.

We yelled at him, "You'll ruin your eyes watching that close!", but he ignored us. - John
To be fair, John submitted several photos which included Mikey watching PBS. This photo really cracked me up with his inquisitiveness. We appreciate you sending in this story. Thanks.
***
am a AOSHQ lurker but we have some pets that are especially adorable.

These are Nubian goats. We are borrowing them from a friend while we wait for our baby goats to be born.

We live on 40 acres and the goats roam free during the day.

There is no danger they would wander off- they object if we even go in the house and tend to hang out on the back deck calling loudly to us until we come back outside.

They follow us around everywhere we go like dogs.

I don't have a nic since I haven't posted anything since several years ago. I guess I would be Nancy B. if I did post so you can use that.

I have really enjoyed reading the posts and comments at AOSHQ especially during these crazy times.

It's nice to know there are some likeminded, clever and intelligent people out there. I wish I knew more like you guys in person. Nancy B
Quite the interesting pets you have there Nancy. No mention if they play fetch or any other tricks. Glad you lurk and if you would like to meet fellow Morons keep an eye open for possible MoMes in your area. Thank you for being a lurker and coming out today.
***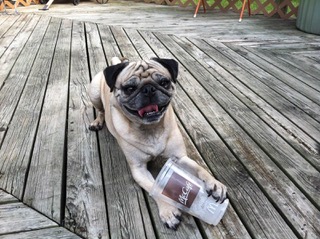 &&&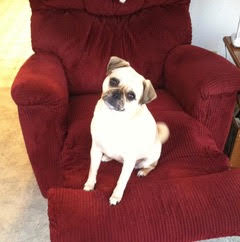 Thanks for the pet thread MisHum. This submission is long overdue.
The guy drinking the McCafe is Jiggs the pug and the lady in the recliner is Maggie, a pug terrier mix. These two really helped Grandpa cope with Grandma's passing back in 2014, but unfortunately we lost Jiggs on April 21st. He was nearly 12, which is a good long life for a pug, but it was still hard on us all.- Prince Ludwig the Deplorable
No need to thank me Prince Ludwig. Cute pups in those 2 photos. So sorry to hear of Jiggs' passing. We are glad you shared with us today.
***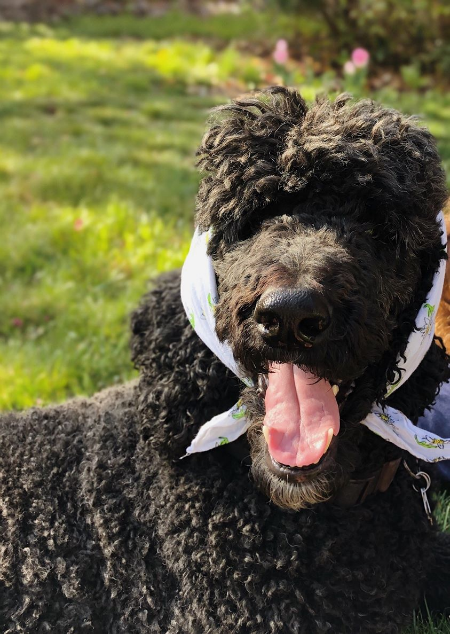 This is Big Poodle. We've had him for 3.5 years. He enjoys eating sticks of butter and digging through garbage cans. We are convinced he has opposable thumbs because he can get into anything. We had a Fiesta Ware butter dish that had a cover to it. We had a stick of butter in it. We put it on top of the toaster on the back of the kitchen counter so he couldn't get it. He took the cover off the butter dish, ate the butter, put the cover back on the dish, all without knocking it off the toaster.

Amazing creature. - Patrick

You mean that big sweetie is amazing and exasperating all at the same time? I've heard the larger poodles are smart. This guy certainly lives up to the hype. Great photo and story. Thank you for sharing.
***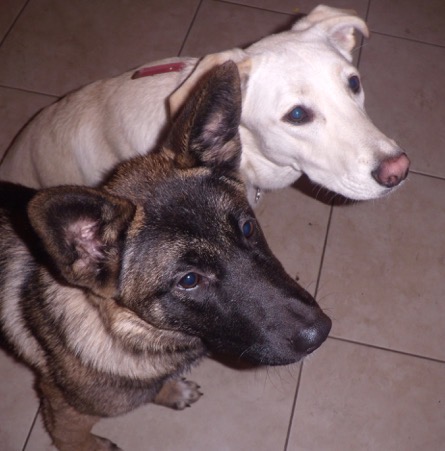 Good post today on putting your pets down. Little did I know I was doing it 2 hours later Gracie (the white one)was breathing har so we took her to vet Internal bleeding , probable tumor so we have to do it. Came out of the blue. She was 10 .She is also the dog that found Opie the Opposum. If you remember that post from awhile ago. Rip Gracie. That's Greta her partnering crime - Al
Damn Al. That's horribly sad. We are so sorry to hear of Gracie's illness and death. I can't speak for the others but I do remember the Opie story. Hopefully Greta will be ok without her buddy.
***
If we learned anything from today's Pet Thread is that life is short and unpredictable. Give those critters an extra S-N-A-C-K and several extra scratches.
A great group of pet photos and stories. Thank you for taking the time out of your schedules to share with the Horde.
Still plenty of photos in the old in-box. We are getting to them. We appreciate your patience. Our address is petmorons at gmail dot com
Have a great week!


posted by Misanthropic Humanitarian at
04:00 PM
|
Access Comments