« Tuesday Overnight Open Thread (5/26/20)
|
Main
|
Mid-Morning Art Thread »
May 27, 2020
The Morning Report - 5/27/20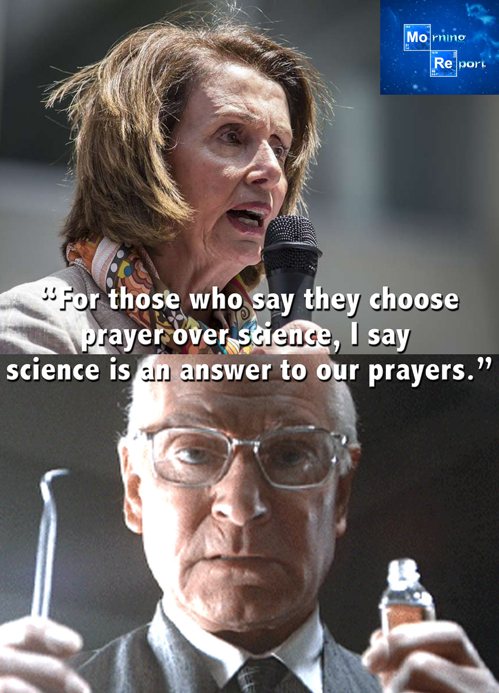 Good morning, kids. Wednesday and another grim milestone of yet another day of America held hostage.
I called it two months ago: despite its high transmissibility, the Chinese Lung AIDS has amounted to nothing more than a bad flu that can be lethal to a relatively small segment of the population. Unlike viral epidemics/pandemics of the past, including the Spanish Flu of 100 years ago that killed tens of millions all over the world, for the first time we imprisoned the entire nation (with much of the world following suit) and scared a large swathe of it shitless with all sorts of misinformation that quickly morphed into disinformation to keep us compliant.
What was supposed to be a two- to at most four-week quarantine to prevent an expected swamping of hospital and ventilator capacity, along with the bodies stacked like cordwood or bulldozed and burned in mass graves, never materialized. But the casualties from a ruined economy sure did, along with the political opportunism of the Democrat-Media Complex and their allies in the Chinese Communist Party to punish America and finally destroy the Trump presidency. And, voila! Instant police state across blue state America, and sadly quite a few red states as well.
It's a war, we were told, that demanded all of us do our patriotic duty by willingly and happily destroying our lives for the greater good of a fundamentally transformed (ahem!) society. But all wars need a slogan, just like "Keep Calm and Carry On" was for that little skirmish that was "like 200 years ago, dude!" Our catchy little media meme is the snappy "We're All In This Together." It's both laughter inducing as well as a powerful emetic; G-d forbid I choke on my vomit, Angel-of-Death Cuomo will write on my toe-tag that I perished from the Peking Pox.
If anything, the last few months will turn out to be the straw that broke the camel's back in terms of dividing the nation absolutely and permanently. Forget reason, forget logic; an imposed national emergency has exposed the very worst in mostly Democrat politicians and quite a number of RINOs as well. I don't know what's worse; Chicago Mayor Lori Lightfoot sending the police to break up Sunday services at a church, the police themselves for obeying that order or ordinary people like you and me who have been literally brainwashed into becoming Stasi-like informants on their neighbors, as was the case in a Staten Island grocery store.
I suppose the silver lining in all of this when the lockdowns are finally or at least mostly lifted is that we have been given a shocking glimpse into the mindset of our fellow Americans. That mindset is a result of the 50-plus-year perversion of academia as propaganda tool along with the societal and cultural dissolution, that it engendered. It replaces G-d with the State and science - perverted science - for reason, logic, faith and compassion. But there's nothing new under the sun. The perversion of science to serve the goals of an all-powerful State has been the stock-in-trade of the Left for nearly 100 years.
... Sometimes the mistakes are honest, but scientists have been caught deliberately manipulating both raw data and processed information in order to help shape and control public opinion.

Science was never intended to be used as a weapon to bludgeon or intimidate dissenting opinions into silence. However, politicians and other authority figures have figured out that the only sure way to decisively win an argument is not to have one. They have begun to experience success by weaponizing science in an effort to silence any intellectual opposition. The basic strategy is simple and straightforward: anyone who dares to challenge the conventional wisdom (typically presented as the consensus opinion of scientists) will be mocked and ridiculed as "science deniers"...

Nancy Pelosi recently said, "It (successfully reopening the economy) won't happen unless we respect science, science, science. For those who say they choose prayer over science, I say science is an answer to our prayers." In another interview she also said, "There are two challenges that we have had in our respectful disagreement in the debate in the Congress of the United States: governance, and science. Our colleagues on the other side of the aisle have an unease with science. If they didn't, we would have long ago come to testing, testing, testing, in its fullest way. Testing, contact tracing, isolation much sooner than we did. Their delay and denial caused deaths because they didn't respect science and they don't favor governance."

It's probably safe to say that Nancy Pelosi really doesn't understand what she's saying and she's merely parroting talking points generated by a focus group of potential Democrat voters. Almost every word in her ugly little diatribe was a lie, even the articles and prepositions. Remember, this is coming from the same woman who told us that we had to pass a bill into law before we could find out what was in it, as opposed to simply reading the proposed legislation and making an informed decision before voting on whether or not it was a good idea...
Like everything else the Democrat-Media Complex and the Globalists have tried in the effort to destroy America, they will not stop and will try again. It is absolutely shocking how easy it was for them to impose their will on us, and in just a matter of a few weeks wipe out the economic and policy gains of a duly elected President and the citizenry of the nation. I hope and pray we are on to this because if we can come out of this and somehow rebuild, we won't survive the next attempt. That's because either the next one will be a real Chinese Andromeda Strain to which many of us will treat it like the boy who cried wolf, or if it's another phony General Tso's Sicken, some random Karen or perhaps an ill-advised "charge of the Lightfoot brigade" against a church will be met with gunfire.
Wind status: [X] Sowed.
Lift the lockdowns. Liberate America.


STRUGGLE FOR LOCKDOWN LIBERATION
Looks like Wretched Whitmer's got some 'splainin' to do not just about flouting her own decrees vis a vis her husband's boat but with appropriating taxpayer dollars for Democrat-controlled contact tracing. Also, Mammy McMengele decrees facemasks for thee but not me, the New York Karen who confronted a black man has been put on leave, showdown between the Republican Lt. Gov. and Governor of Idaho over the lockdowns; the former wants them lifted and the latter is digging in, Lloyd Billingsley on "Kafkafornia" and the real plague is Democrat tyrants.
NOTE: The opinions expressed in some links may or may not reflect my own. I include them because of their relevance to the discussion of a particular issue.
ALSO: The Morning Report is cross-posted at CutJibNewsletter.com if you want to continue the conversation all day.
Follow us on Twitter: @CutJibNews


posted by J.J. Sefton at
08:04 AM
|
Access Comments