« Monday Overnight Open Thread (5/25/20) Memorial Day Edition
|
Main
|
Mid-Morning Art Thread »
May 26, 2020
The Morning Report - 5/26/20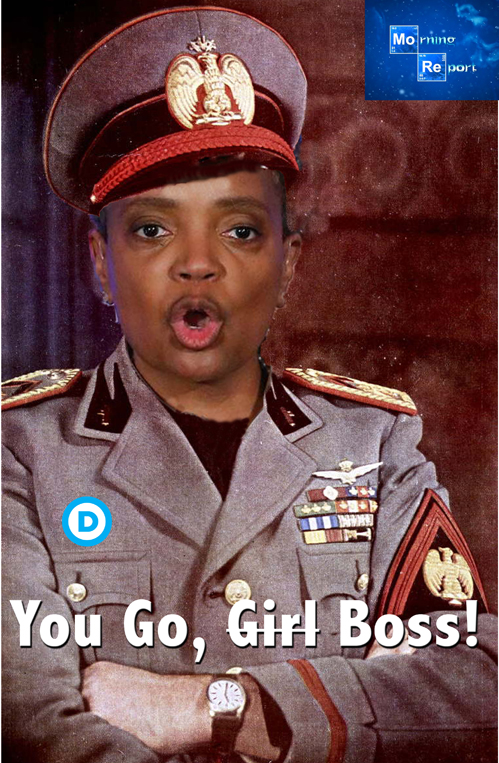 Good morning, kids. Tuesday and another grim milestone of yet another day of America held hostage. Hope you all had a good Memorial Day weekend, but the madness continues.
We'll start off with a flashback to 2007 that, in the words of the late George Carlin, was "before you were born, remember kids?"
...You may recall that Elvira Arellano, an illegal immigrant, took refuge in a church in Chicago back in 2007. As you may recall, even the president of Mexico got involved in the story. Mexico backed the young mother hiding in a church! Chicago's local leadership warned ICE and federal officials from charging into a church. Lift the lockdowns. Liberate America...
Funny how times have changed. Then again the rank hypocrisy and political expediency of the Left is as constant as ever. This past Sunday, Mayor of Chicago, Lori Light-in-the-Loafers Lightfoot sent three squad cars of cops to shut down a church service because it was in defiance of her completely draconian lockdown orders.
... The pastor of the mostly black congregation, Courtney Lewis, reportedly shut and locked the doors and refused to allow the officers to gain entry to the building, Todd Starnes reported.

Pastor Lewis told Starnes that he felt like he was confronting "the Soviet-style KGB" as the officers pounded on his doors and demanded entry to shut the church down.

"Thankfully, our doors were locked as a normal safety precaution we take each service to protect our members from the escalating gun violence in Chicago," Lewis said...

[Lori] Lightfoot, Chicago's Mayor since May of last year, has been targeting the city's churches for several weeks as houses of worship have begun balking at her draconian lockdown orders.

Late last week, Lightfoot excoriated the city's churches, saying that their desire to re-open is "dangerous and foolish..."
Considering two days earlier President Trump declared houses of worship to be essential, Lightfoot's action was predictable and nothing more than an infantile tantrum, yet one that has disastrous consequences. As abhorrent as Lightfoot's behavior was, the thuggish totalitarian move was made that much more disgusting coming on Memorial Day weekend, when we pay tribute to those who gave their lives to preserve the very religious freedom that Lightfoot and her ilk want to crush. The only proper response to the Lightfoots of this world is defiance. Easier said than done considering she has the Chicago Police Department on her side. Whether its officers are enthusiastic or "just following orders" to protect their pensions (which may not be as secure as they might think), going along with the oppression of the citizenry is beyond the pale.
Unfortunately there are too many citizens whose political bent, as well as the mass hysteria over a virus that is now provably no deadlier than a bad flu season, puts them squarely on the side of the oppressors.
If customers see another customer not wearing a surgical mask in the grocery store, should they all corral into an angry mob while pelting the non-mask wearer with a torrent of obscenities until they cooperate? A debate over that very question has erupted online in response to a viral video out of Staten Island, New York showing customers heckle and berate a total stranger for not wearing a face covering...
And this incident took place on Staten Island, which is an anomaly in downstate New York and in NYC since it is a lone bastion of relative conservatism and Trump support. If I'm going to be the one to storm the Albany Statehouse or City Hall to make a citizen's arrest of Angel-of-Death Cuomo and DeBolshevik, to quote Sonny Corleone "I don't want my brother coming out of that men's room with just his dick in his hand."
This is madness. Aside from the alarming Lord of the Flies mob mentality in a Trump stronghold, will enough people like Chicago's church-going black folks who are no doubt historically reliably Democrat rise up in November at the polls, or take to the streets before that? I would hope what's going on in Hong Kong would be an inspiration, but far too many people in this country are clueless as to what's going on across town in their own cities let alone on the other side of the planet. But as I've noted before, this is not an academic exercise or something abstract; this is in-your-face tyranny.
Something's got to give.


STRUGGLE FOR LOCKDOWN LIBERATION

NOTE: The opinions expressed in some links may or may not reflect my own. I include them because of their relevance to the discussion of a particular issue.
ALSO: The Morning Report is cross-posted at CutJibNewsletter.com if you want to continue the conversation all day.
Follow us on Twitter: @CutJibNews


posted by at
07:17 AM
|
Access Comments