« New York Times Editorial on Memorial Day: "Why Does the U.S. Military Celebrate White Supremacy?"
|
Main
|
Memorial Day 2020 »
May 25, 2020
Memorial Day 2020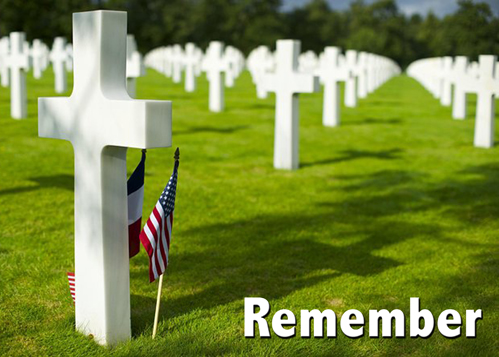 It seems that with each passing year, I become more emotional about this day and what it means. One side of my family owes their lives to the GIs who liberated them while the other side lost a son defending this country out in the Pacific. Since the beginning of this nation, everything we have done and everything we have achieved could not have been possible without their sacrificing their futures for ours. G-d bless their memory and to each of you who lost someone who made that sacrifice.
...On Memorial Day in 1945, General [Lucian K.] Truscott was asked to give a speech at the Sicily-Rome American Cemetery in Italy, where many of the fallen from the Italian campaign were buried. When he took to the podium, he turned his back to the audience and fanfare and simply began to speak to the crosses of the fallen. Famed WWII cartoonist Bill Mauldin was present; he offered the following observations, summing up the character and abilities of General Lucian Truscott.

Mauldin wrote: "He apologized to the dead men for their presence here. He said everybody tells leaders it is not their fault that men get killed in war, but that every leader knows in his heart this is not altogether true.

"He said he hoped anybody here through any mistake of his would forgive him, but he realized that was asking a hell of a lot under the circumstances... he would not speak about the glorious dead because he didn't see much glory in getting killed if you were in your late teens or early twenties.

"He promised that if in the future he ran into anybody, especially old men, who thought death in battle was glorious, he would straighten them out. He said he thought that was the least he could do."

Carentan, O Carentan
by Louis Simpson
Trees in the old days used to stand
And shape a shady lane
Where lovers wandered hand in hand
Who came from Carentan.
This was the shining green canal
Where we came two by two
Walking at combat-interval
Such trees we never knew.
The day was early June, the ground
Was soft and bright with dew
Far away the guns did sound,
But here the sky was blue.
The sky was blue, but there a smoke
Hung still above the sea
Where the ships together spoke
To towns we could not see.
Could you have seen us through a glass
You would have said a walk
Of farmers out to turn the grass,
Each with his own hay-fork.
The watchers in their leopard suits
Waited til it was time,
And aimed between the belt and boot
And let the barrel climb.
I must lie down at once, there is
A hammer at my knee.
And call it death or cowardice,
Don't count again on me.
Everything's all right, Mother,
Everyone gets the same
At one time or another.
It's all in the game.
I never strolled, nor ever shall,
Down such a leafy lane.
I never drank in a canal,
Nor ever shall again.
There is a whistling in the leaves
And it is not the wind,
The twigs are falling from the knives
That cut men to the ground.
Tell me, Master-Sergeant,
The way to turn and shoot.
But the Sergeant's silent
That taught me how to do it.
O Captain, show us quickly
Our place upon the map.
But the Captain's sickly
And taking a long nap.
Lieutenant, what's my duty,
My place in the platoon?
He too's a sleeping beauty,
Charmed by that strange tune.
Carentan, O Carentan
Before we met with you
We never yet had lost a man
Or known what death could do.
* * * * * * *
Vergissmeinnicht
Keith Douglas
Three weeks gone and the combatants gone
returning over the nightmare ground
we found the place again, and found
the soldier sprawling in the sun.
The frowning barrel of his gun
overshadowing. As we came on
that day, he hit my tank with one
like the entry of a demon.
Look, Here in the gunpit spoil
the dishonored picture of his girl
who has put: Steffi. Vergissmeinnicht
in a copybook gothic script.
We see him almost with content,
abased, and seeming to have paid
and mocked at by his own equipment
that's hard and good when he's decayed
But she would weep to see today,
how on his skin the swart flies move;
the dust upon the paper eye
and the burst stomach like a cave.
For here the lover and killer are mingled
who had one body and one heart.
And death who had the soldier singled
had done the lover mortal hurt.
(Capt. Keith Douglas, UK, was killed in action by mortar fire while advancing from Bayeux, 6/9/44.)
* * * * * * *
(Son to Father...)
Do not call me, father. Do not seek me.
Do not call me. Do not wish me back.
We're on a route uncharted, fire and blood erase
our track.
On we fly on wings of thunder, never more to
sheathe our swords.
All of us in battle fallen - not to be brought back by
words.
Will there be a rendezvous? I know not. I only know
we still must fight.
We are sand grains in infinity, never to meet.
nevermore to see light.
(Father to Son...)
Farewell, then my son. Farewell then my conscience.
Farewell my youth, my solace, my one and my only.
Let this farewell be the end of the story,
A solitude vast in which none is more lonely,
In which you remained barred forever
From light, from air, with your death pains untold.
Untold and unsoothed, never to be resurrected.
Forever and ever an 18 year old.
Farewell then.
No trains ever come from those regions,
Unscheduled and scheduled.
No aeroplanes fly there.
Farewell then my son,
For no miracles happen, as in this world
Dreams do not come true.
Farewell.
I will dream of you still as a baby,
Treading the earth with little strong toes,
The earth where already so many lie buried.
This song to my son, then, is come to its close.
(Extract from a poem by Jr. Lt. Vladimir Pavlovich Antokolski. Killed in action, June 6th, 1942)
* * * * * * *

posted by J.J. Sefton at
02:00 PM
|
Access Comments