« Saturday Afternoon Chess thread 05-23-2020
|
Main
|
Saturday Overnight Open Thread (5/23/20) »
May 23, 2020
The Occasional Fishing Thread, Circle of Life Edition [Bandersnatch]
Welcome Piscators and Piscatrixes, Nimrods and Nimrettes, and Rough Riders of all genders to the current installment of the occasional fishing and hunting and other wholesome outdoorsness thread, It's All Connected Edition.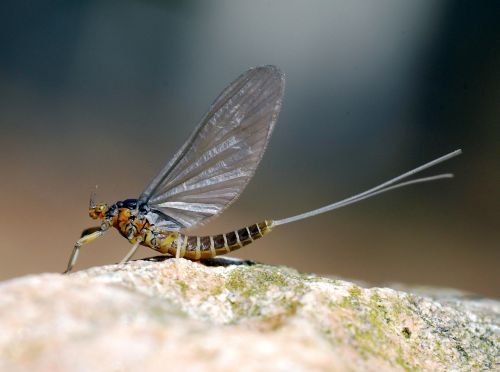 One of the joys of the outdoors is its invitation to Nerddom, or the way it invites compulsive or spectrum types to explore increasingly expanding circles of knowledge. You start with the simplest question – where should I fish? Well, the fish are where the bait is. Why is the bait there? Well, if you're a freshwater guy, it depends on whether it's a freestone creek (water tumbles down hillsides) or a spring creek (water upwells through limestone) and the different chemistries of those waters. Then you can branch out into bug biology or geology and each of those will lead you somewhere fresh and new.
Like that pretty little feller up top. Mayflies are of the order Ephemeroptera because they are ephemeral. They get born under rocks in a stream and live 364 days as nasty little crawlies who get eaten by trout whenever they come out from under the rocks. Then they moult as butterflies do and struggle out of their bug shells at the surface and emerge as pretty, delicate, flying creatures. They fly around pretty for one day and have all the bug sex they're ever going to have and die. Insert your own metaphor.
Of course, you have to dial in the level of nerdiness that fits you. I was on a stream once when an old guy told me that the pattern I was using was a mayfly with two tails and the kind that was hatching now has three. Thank you, Isaak Walton. You don't have to know everything. If there's a good shop near where you're fishing they'll tell you what's going on.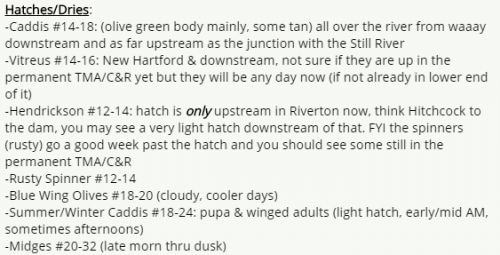 That's from Upcountry Sportfishing's Framington River report. If you ever fish central CT check them out.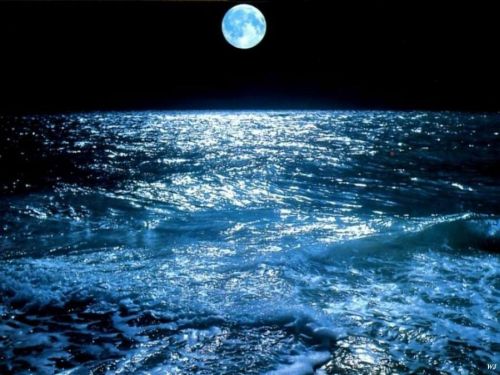 In saltwater – and I'm really a saltwater guy – it's the Moon that's important, at least inshore. In a forum like this (fishing Morons) we were talking about when to fish and one guy said I like Plum Island at dawn at low tide, particularly when it coincides with the New Moon. I said it always does. He said huh?
The tide follows the Moon inexorably. The Moon has a 28 day cycle which means that in a 24 hour day it advances the tide by close to an hour a day. So if high tide was 7:00 this morning it will be close to 8:00 tomorrow. A very handy thing about the tide on Boston, which includes Plum Island and the Outer Cape, is that high tide on a Full and a New Moon is at Midnight. Hence low tide at dawn. There are two tides a day each about six hours in each direction. So if I've been watching the Moon for a few days to know if it's waxing or waning I don't need a tide chart. I'll catch the end of the outgoing at Scorton, then look at Bourne's to see what it's doing, then wander out to Nauset, it should be halfway into the incoming by then.

Now I'm going to tell a story about how some people are just magic. There was a famous fisherman named Tony. Every local knew his truck – he called it his buggy; he called his cabin on the sandbar a camp; I think all the camps are gone now and so is Tony – and people would shadow him. He hated that and if he were on to a fish when someone he didn't know showed up he'd point his rod straight at the fish so that there was no bend to it and the onlooker wouldn't know he was on.
So one night I saw his buggy at cutoff #3. The way the Oversand Permit works is you can't drive on the beach, you drive a sand road behind the dunes and enter at the numbered cutoffs. I kept going and fished at #5, #7, and #9. It was a flat calm night, There was no wind, no surf, no sounds. It was the kind of night where any fish chased any food you'd hear the the food splashing from a dozen yards away. You'd see the bait ripples on the moonlit glassy surface. I scientifically verified that there were absolutely no fish.
I stopped off at #3 just to say hi. I didn't take my rod out of the truck, just a friendly tonight sucks chat. "Hey Mike! Can you believe ALL THE FISH!" What? Mother Eff. So the thing to do that night was to lay out a black eel-like plug and not retrieve it, just twitch it on the surface. I went back and tied on a black eel-like fly, twitched it, caught a fish on the first cast and went home.
I'm making him an honorary late Moron for tonight:
hi mike, just want to say hello...
been fishing just about every night... had a good season so far... hope to get my second over 70#s soon... i hope i hope!!!
gotta be positive you know.
still love hunting for that first hit... i love finding those crazy fish!
when you get bored and want to do some bass hunting come on down...
hope all is well with you
take care tony
heres whats out there
'Ette extraordinaire, the lovely and talented Nurse Ratched went outdoors with Morons.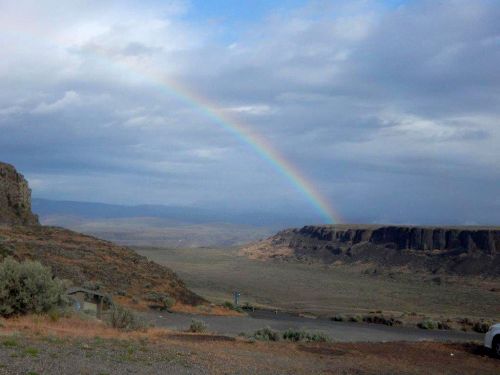 This was our view this past weekend at Camp Defiance.

Winston, a Dreg of Society took the shot.

We had an EPIC campfire. Simply freaking ROARING. Didn't hit the sleeping mat until after 2.

And there was a lot of bourbon involved, and wine. And beer.

But there was mostly freedom and laughter. And camaraderie.
Then again, we're talking about Morons.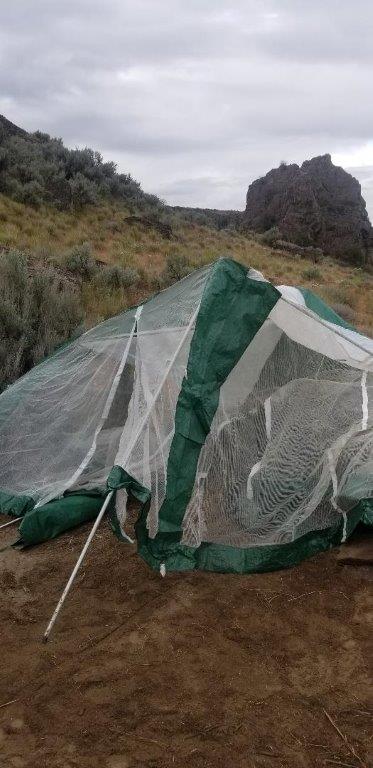 Moron attempt at setting up a shelter. It was raining slightly. And NO, we didn't have the excuse of wind. I think the boy were just drunk. And they refused to read the directions. Like I said, it was a hoot.
And with that we move on to the raison d'etre of this here HQ, the comments section. Brickbats, praise, and fish brag pics are welcome at aoshqfish at sign gmail thing

posted by Open Blogger at
07:30 PM
|
Access Comments