« The Long Promoted, Semi-Mythical "Snyder Cut" of the Justice League is Real, it Is Funded, and It Is Debuting in 2021
|
Main
|
Supreme Court Temporarily Blocks Release of Confidential Grand Jury Testimony to Nadler and Schiff »
May 20, 2020
Pennsylvania Lawmakers Demand the Resignation or Firing of Dr. "Rachel" Levine, the Health Secretary Who Removed His Own Mother from Nursing Homes Even As he
Fuck right the fuck off with the "Don't misgender me" horseshit.
Dr. "Rachel" Levine took his mother out of a nursing home just as he was signing new orders that sick nursing home patients must be mixed in with the uninfected residents of nursing homes.
This, of course, had the result of killing thousands of elderly residents.
But not Dr. Levine's mom!
Lawmakers are demanding this specimen resign or be fired due to his direct involvement with the premeditated deaths of thousands as well as his refusal to turn over data and information about his decisons and the death toll those decisions have caused.
A Lebanon County Republican lawmaker is adding his voice to the calls for the immediate resignation or removal of Pennsylvania Health Secretary Dr. Rachel Levine.

Rep. Russ Diamond said Levine needs to go. He cited "the horrific results of the department's COVID-19 policy" in regard to the number of cases and deaths that have occurred in nursing homes and other facilities under the department's oversight. More than two-thirds of the state's coronavirus deaths have occurred in long-term care facilities.
Let me again point out the irony -- or perhaps the calculated outcome -- that the only places in the US where the infection rates and death rates came close to matching the models' predictions is in those Democrat states whose Democrat governors engineered a mass slaughter of the elderly by ordering that the infected be mixed in with the unifected by compromised.
But hey, let's spend all of our journalistic resources taking telephoto pictures of Jacksonville beaches. Those are nicer places to visit than the death camps Democrats made of nursing homes, and the bodies there make for sexier photos.
...

On Tuesday, Diamond said the scope of the pandemic's toll on nursing home and long-term care facilities did not become apparent to the public until House Speaker Mike Turzai, R-Allegheny County, demanded the release of more details regarding the number of deaths that have occurred inside these facilities. To date, he said only a portion of the requested information was provided and that didn't occur until a month after the request was made.

"Dr. Levine's resistance to release data and her non-cooperation with co-workers, in this case a co-equal branch of government, would never be considered acceptable business management practices in the private sector," Diamond said in a news release.

...

Out of 4,624 COVID-19 deaths that have occurred in Pennsylvania, 3,145 involved residents from nursing or personal care facilities.
So three quarters of the deaths were due to this decision to not isolate infected elderly people, but to put them right back into the nursing homes so they could infect everyone else
After an outbreak at a nursing home, Levine ordered the sick to be mixed in with the uninfected:
"Instead of heeding that clear warning [re: the nursing home outbreak], Dr. Levine instituted Department of Health policies which halted routine inspections and issued guidance for nursing facilities to admit and readmit patients who tested positive for COVID-19," Diamond said.
Murder.
...

He added that he found it disturbing to learn last week that at some point during the height of the COVID-19 crisis, Levine removed [his] own mother from a central Pennsylvania personal care home and checked her into a premium hotel.
Bear in mind, these people put all their faith in models that said that coronavirus was the most infectious disease ever, and one of the deadliest. So of course DOCTOR Levine knew PRECISELY what holocaust he was unleashing in the nursing homes.
But again: Let's send some "journalists" to cover Georgia's laser-tag arenas. Sexier! More fun!
By the way, a friend of mine says that these decisions were not made, as I thought, to appease nurses' unions. I thought nurses' unions were pressuring Cuomo, Murphy, Wolf, and Whitmer to put the infected elderly back into nursing homes to spare themselves any increased risk.
My friend says no -- it's worse than that.

Most residents of nursing homes are on Medicaid, which pays much less of a percentage of costs than prive insurance.
So the pressure was from hospitals to take these money-losing elderly people off their hands and put them back into the nursing homes.
Which would kill thousands of people -- but hey, better that than take a loss on providing treatment, huh?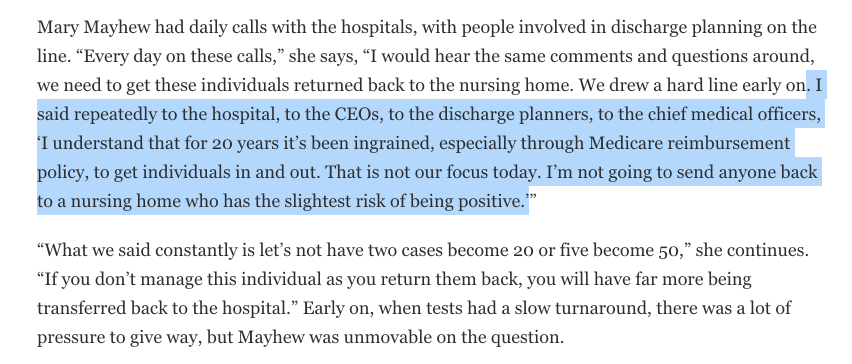 DeSantis had the same pressures from hospitals demanding that sick nursing home patients be taken out of hospitals and put back into nursing homes.
But he told them "No," and ordered hospitals to treat the infected elderly.
But he's the villain and Cuomo's the hero, huh?
My friend adds:
It's also interesting that, if this theory holds, that Cuomo made a *calculated financial trade-off gamble* here. I've been hearing on the news how dangerous and irresponsible that is when opening up a gym or restaurant. But gambling with hospitals or nursing homes? Kosher, according to the media.

The other thing that Cuomo gets a complete pass on is that he was effectively governing like 6 states in terms of these policies. After the media crowned him governor of the country, that whole regional state group thing took off and states like NJ, PA, CT all started mirroring New York's response. And this nursing home thing was one of the things they all followed.
Given the media's absolute determination to claim that Cuomo is a hero (for slaughtering more than five thousand people) and that DeSantis is a villain (for having less than ten percent of the number of infected that New York has, despite having 25% more people), you can see why it is imperative for their narrative that they push conspiracy theories about Florida feeding coronavirus victims' bodies to the gators.

One thing: I'm forced to speculate why Cuomo (and Murphy, and Wolf, and Whitmer) did this, because they won't say why. They won't say why they took people carrying the most infectious disease ever and crammed them into poorly-staffed nursing homes incapable of putting patients in isolation to infect the very same cohort of people who were at serious risk of dying from the disease.
The closest we've gotten to an explanation is Cuomo's statement that old people are just going to die and there's no way to avoid that.
So I guess: Fuck 'em.
Sure would be nice if the media pushed for answers here instead of demanding that DeSantis explain why he's been so incompetent that Florida has less than 10% of New York's infection rate, despite having 25% more people.
(Oh -- and of course the only major hotspot in Florida is Palm Beach -- infected by people fleeing New York City.)
Quick -- send the news crews to golf courses. Healthy sportsmen are sometimes walking within twenty yards of each other. That's dangerous and anti-social.
Unless it's Obama, of course.

posted by Ace at
06:02 PM
|
Access Comments