« Tuesday Overnight Open Thread (5/19/20)
|
Main
|
Mid-Morning Art Thread »
May 20, 2020
The Morning Report - 5/20/20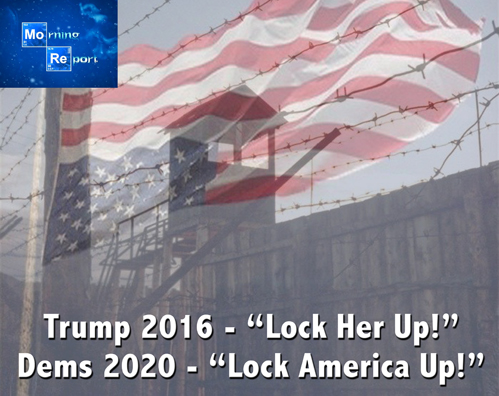 Good morning, kids. Wednesday, and another grim milestone of yet another day of America held hostage.
Despite the justifiably depressing nature of some of the links, I am going to continue my cautiously optimistic mood from yesterday as there are some positive signs that perhaps the state of siege is in the process of lifting, to paraphrase Hemingway, "gradually and then suddenly." After being rebuked by the Wisconsin State Supreme Court, Dem dictator Tony Evers has accepted the defeat and is not going to challenge the decision. His blathering about how people are going to drop dead by the bushel as a result just does not jibe with the reality on the ground in places like Georgia, Texas and Colorado where the lockdowns have been more or less fully lifted, and infections and actual deaths from the Chinese Lung AIDS are either holding steady or falling off. He knows it and people across the country know it.
UPDATE: In Colorado it's only a slight lifting. Consider me chastised.
Unfortunately you still have the deplorable despots, bitterly clinging to their narratives and memes, both because power-tripping is a helluva drug and of course to attempt to strangle the President's reelection chances by destroying the economy. But more and more, that strategy, despite causing untold suffering and misery, is backfiring as Trump's job approval numbers remain at record highs. The President himself, who as Federalism and law dictate left it up to the governors to handle the "crisis" individually, nevertheless fired a warning shot across their bow:
... Trump, whose administration last month revealed guidelines for when states should begin lifting stay-at-home orders and other social distancing measures meant to slow the spread of the virus, has vocally pushed for the rapid reopening of the economy. The president said in an interview with Fox Business' Maria Bartiromo last week that his critics want the economy to remain shuttered until the November election, calling Democrats' reluctance to lift the coronavirus measures "a political thing."

"The governors are making their decisions, and want to make their decisions, and that's the way I want it to, and we will step in if we see something going wrong, or if we disagree, and some people say that's nice, and some people say I shouldn't be doing that, but we're going to do it if we see something wrong..."
The nuts and bolts of how he does this, or even if legally he can take direct action to force the recalcitrant rulers' hands (which invariably will result in immediate lawsuits to tie his hands), is almost beside the point. Where there is one Shelly Luther and Karl Manke there are untold millions who stand in solidarity with them. A political wind the equivalent of a Category 5 hurricane is at the President's back, and he knows it, as apparently does Tony Evers. But he may be an outlier, as we now see from the completely idiotic and insane comments from Bill DeBolshevik, who threatened to send in the cops to literally drag bathers out of the ocean if they dare defy him and go for a swim, or schmucks like LA's Eric Garcetti who has all but declared Los Angeles to be imprisoned indefinitely.
It is now clear that a large number of state governments have decided to morph what had originally been called a very temporary lock down and request to social distance into a permanent state of martial law, with their governors retaining the right to rule by edict for as long as they personally deem.

As most states begin to move forward with measures to reopen their economies following strict lockdowns aimed at slowing the spread of the [Chinese] coronavirus, some governors and big-city mayors are now saying the restrictions will not fully be lifted until a vaccine or treatment for the disease is available - a timeline that could take a year or more.

The leaders' comments indicate Americans could be living with orders restricting personal and economic activity for much longer than many anticipate...

In every single one of these cases, expect the rules to change, once it appears that their stated conditions for lifting their dictatorships might finally arrive. At that time it will suddenly be for other reasons their totalitarian rule must continue, for our safety of course. That is their standard operating procedure, to lie repeatedly for their own benefit...

These are the new fascists, the new brown-shirts, the new political thugs. They are no different than past fascists, brown-shirts, and political thugs. And they are in power because a large percentage of the populations in these [Democrat] states either happily approve their policies of squashing down and destroying those who disagree with them, or are too ignorant and lazy to oppose those policies...
Well, the question is how long can individuals like Noose-'em, Angel-of-Death Cuomo, Sitz-Pritzker, Kate Brown-Shirt, Jay Inbreed and all the others hold out? Again, it raises the question of what can Trump really do to make them cry uncle? Despite its eternal goal of destroying the US Constitution and Bill of Rights, it nevertheless will use them as both a shield and a cudgel when politically expedient. With a corrupt unelected fourth branch of government in the bureaucracy as well as a usually reliable and nearly equally corrupt Judiciary to rubber stamp regulations that could never be passed legislatively nor honestly won at the voting both, this has been their MO at least since the Wilson era, if not before.
It raises the central dilemma that we, the President and decent Americans have faced since almost as long: how are we supposed to counter a now openly anti-American political entity - the Democrat-Media Complex and Party - by relying on the rules, norms and customs that they themselves ignore and subvert in order to maintain their power? The Bush's and RINOs went along with the charade because they were a part of it. The rest of us just threw up our hands in disgust. But the election of Trump truly overturned the tables of the moneychangers. Whatever gossamer-thin illusion of normalcy that for decades maintained the status quo is gone. What we have gone through these past three months, on top of the 5 years of the attempt to take out Trump, and indeed the 8-year Obama Reign of Error made sure of that.
The question I posed, though, still remains. But perhaps the answer doesn't necessarily lie with an honest and decent President, nor reliance on institutions and traditions that, as amply demonstrated by the likes of Comey, Clapper, Brennan, as well as Emmet Sullivan, Amy Berman Jackson and John Roberts, are thoroughly corrupt top to bottom.
If federalism is the legitimate reason for states having the authority to deal independently with crises, real or imagined, federalism as outlined in the 9th and 10th amendment also reserves ultimate authority and rights to the individual citizen. Shelly Luther and Karl Manke, as all of us have, obeyed the emergency decrees and lockdown orders because of assurances that they would be temporary. Yet as time wore on, the more that was revealed, the more the goalposts shifted, and the more onerous and capricious the prohibitions became, despite the disease being nowhere near as deadly to the general population as first believed (or pimped).
Life, liberty and the pursuit of happiness rest with the individual. That is the essence of what this country was founded on. The only resolution to this crisis - the forcible imprisonment of the people and not the Sino Sinus Syphilis - rests with each of us as individuals to engage in civil disobedience and lift the lockdowns ourselves. As I stated, the Left only recognizes the Constitution in the breach and when it suits their political ends. The fact that we have to engage in civil disobedience to exercise that which G-d gave us and is enumerated in that document is proof enough that we have crossed one big-ass Rubicon:

..."We haven't had any bloodshed yet," one member of a Facebook group called Michiganders Against Excessive Quarantine recently wrote.

We hope there is none. But tempers are short. One man has already been charged with making death threats against Whitmer and the state attorney general. And we've seen members of the Michigan Militia swear they aren't going to allow law enforcement to arrest [Karl Manke] an Owosso barber who reopened his business because he had no other income. How long can she hold back demands for freedom - in America?...

The control that politicians and unelected bureaucrats who are advising them have been exerting is clearly slipping away, and they are facing a choice: They can work with the people who feel suffocated and expeditiously restore as much normalcy as possible, or they can remain on their present course, which increases the chances there'll be violence because either a protester or someone in a security line will make a poor decision of out anger or fear, and then pay the price on Election Day...
Lift the lockdowns. Liberate America.


STRUGGLE FOR LOCKDOWN LIBERATION

NOTE: The opinions expressed in some links may or may not reflect my own. I include them because of their relevance to the discussion of a particular issue.
ALSO: The Morning Report is cross-posted at CutJibNewsletter.com if you want to continue the conversation all day.
Follow us on Twitter: @CutJibNews


posted by at
07:51 AM
|
Access Comments