« Saturday Evening Movie Thread 05-15-2020 [TheJamesMadison]
|
Main
|
EMT 05/17/20 »
May 16, 2020
Saturday Overnight Open Thread (5/16/20)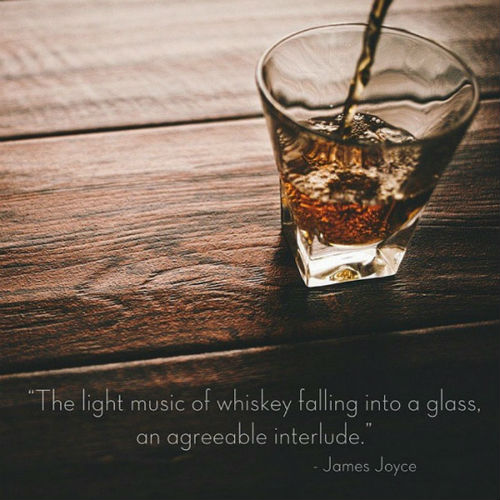 A Quote of The Day and a drink...........
***
The Saturday Night Joke
A woman ran a red traffic light and crashed into a man's car. Both of their cars are demolished, but amazingly neither of them was hurt.
After they crawled out of their cars, the woman said; "Wow, just look at our cars! There's nothing left, but fortunately we are unhurt. This must be a sign from God that we should meet and be friends and live together in peace for the rest of our days."
The man replied, "I agree with you completely. This must be a sign from God!
The woman continued, "And look at this, here's another miracle. My car is completely demolished, but my bottle of 75-year old scotch didn't break. Surely God meant for us to drink this vintage delicacy and celebrate our good fortune." Then she handed the bottle to the man.
The man nods his head in agreement, opened it, drank half the bottle and then handed it back to the woman. The woman took the bottle, immediately put the cap back on, and handed it back to the man.
The man asks, "Aren't you having any?"
She replies, "Nah. I think I'll just wait for the police."
Some years ago Adam ate the apple. Men will never learn! H/T Legally Sufficient
***

Poor little Former Prince Harry, Be careful for what you wish for.

Prince Harry May Have Regrets About 'Megxit' as It's Revealed He's Struggling With New Life
Harry is particularly missing life in the Army, as he had to give up his military appointments when he stepped down as a royal ...

Speculation is mounting that Prince Harry is having regrets about stepping down as a senior member of the British royal family and moving to Los Angeles, California with his wife Meghan Markle. It has just been reported that Harry is struggling with the fact that he is both friendless and jobless in his new home.

So the sex isn't that hawt after all?
***
***

There really is a market for everything.

HARRISBURG, Pa. (WHTM) – U.S. Customs and Border Protection (CBP) officers in Harrisburg agreed with the Pokemon slogan, "Gotta catch 'em all!" when they seized more than 86,000 counterfeit Pokemon action figurines Wednesday.

They say if authentic, the figurines would have had a manufacturer's suggested retail price of nearly $604,000.

While inspecting international parcels May 4, CBP officers examined a shipment manifested as "plastic furnishing articles" that arrived from Hong Kong. The shipment contained 15 boxes that contained a combined 86,400 Pokemon toy action figures.
***

Government, thou shalt not pick winners and losers.

A Federal Judge in Michigan has ruled Gentleman's Clubs are eligible for Wuhan Virus federal assistance, claiming businesses cannot be discriminated against. And let's be honest, the clubs give guys more joy than a Walmart or Amazon.

Strip club workers and owners, losing their shirts in this coronavirus pandemic, cannot be barred from emergency federal loans and grants, a federal judge ruled on Monday.

U.S. District Judge Matthew Leitman sided with plaintiffs, led by the DV Diamond Club in Flint, Michigan, and said the Small Business Administration — in doling out finds from the Paycheck Protection Program — cannot exclude legal businesses deemed to be of a "prurient sexual nature."
***

A cool thing? Or shit? You be the judge.


YouTuber Funk Turkey (previously at Neatorama) fed lyrics from AC/DC songs into a Markov chain and generated a new AC/DC song. The lyrics make about as much sense as you'd expect, but this is definitely an AC/DC song. The real test would be to drop this into a playlist of a fan and see how they react. You can do that, because the song is on Spotify. He's going to try this with Metallica next. -via reddit
***

Well, this ought to work out well for the NFL. Can we use virtual officials while we are at it?

If the NFL must at least begin its upcoming season in empty venues due to coronavirus-related safety concerns, Fox has a plan for that: Digitally-rendered audiences and crowd noise.

Or if you want to acknowledge how weird that could be, imagine watching a game on TV in which the stadium is populated with ghost fans. Sports Business Journal reporter John Ourand caught the news while listening to sportscaster Joe Buck on Sirius XM's Andy Cohen Live.
***

Do you want to put on extra pounds? Do you want to make CBD shake his head? No, we aren't talking maple syrup on French Toast..........

***

Well, at least Wisconsin doesn't have Florida Man.

Florida Man Justin Mosser had a very legit reason for driving around with his penis out and (ALLEGEDLY) stroking it as he pulled up next to women driving around Avon Park, Florida a town right in the middle of nowhere Florida. It gets hot and he needs to air it out. Legit reason. It's hot AF season in Avon Park and the humidity is rising. Justin needs to air it out. Simple as that.

Maybe he will connect with tonight's Genius Award Winner.
***
The ONT Musical Interlude
&&&
&&&
(H/T redc1c4)
***
Lord, let's hope she doesn't reproduce. Genius Award Winner.
***

Tonight's ONT has been brought to you by Advertising.

Notice: Posted with permission by the Ace Media Empire and AceCorp, LLC. Let's not kid one another who else would give permission?

posted by Misanthropic Humanitarian at
09:50 PM
|
Access Comments