« The New York Times, Racism and a Pullet Surprise [KT]
|
Main
|
Ace of Spades Pet Thread »
May 09, 2020
Saturday Gardening and Puttering Thread 5/9/20 [KT]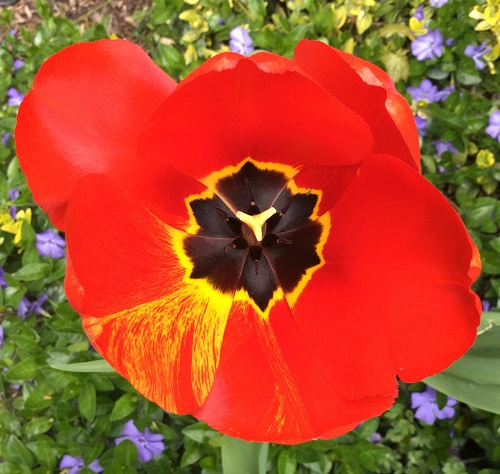 Hello, gardeners, putterers and dreamers! Got any projects going in the garden or garage this week? Notice anything unusual about the tulip above from Admirale's Mate? How do you think it got that way?
Gardens of The Horde
The Famous Pat* in Idaho left a detailed, entertaining comment on the doings in her garden last week, as usual. It's generally a good idea to check back later in the weekend for comments by people who were, you know, gardening, when the thread went up.
She usually writes about edible things, but when she sends in photos, sometimes there are flowers:
These are "official Holland, Michigan Dump tulips" along one side of my front sidewalk. The maroon ones have a white edge. The white ones have lavender edges and some lavender streaks. The ones that look orange, started out mostly yellow with orange edges and streaks, but became more orange as time went on - they're my favorites. The white petals on the grass are from a crabapple tree.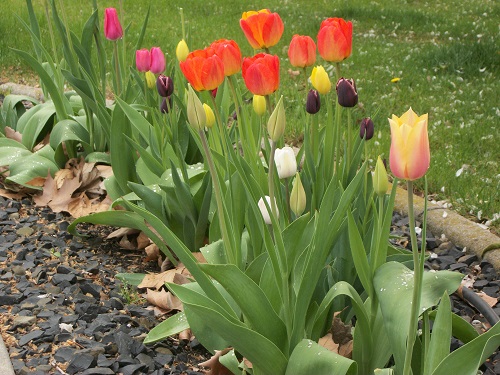 The tulips are lovely. I would not expect it from Michigan Bulbs.
I think I see some of those problematic sycamore leaves, too.
These are the "official Holland, Michigan Dump tulips" on the other side of my front sidewalk, showing the black interior of the yellow/orange tulips. Leaves of a mini-daylily are in the background at left.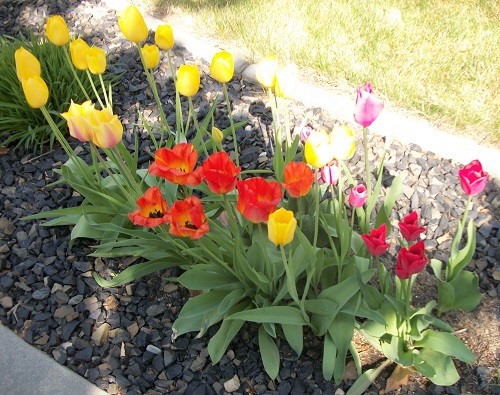 Johnny Jump-Ups near my shed, showcasing this year's sport - all yellow, and slightly larger than the rest.
This is the best display I ever had from the Johnny Jump-Ups at the side of my shed.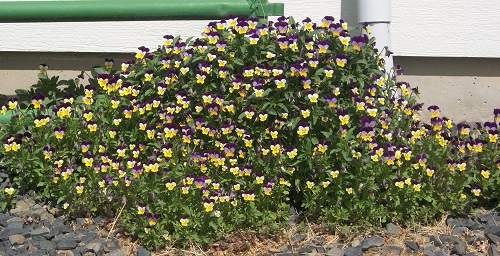 How I wish you could smell this lily-of-the-valley!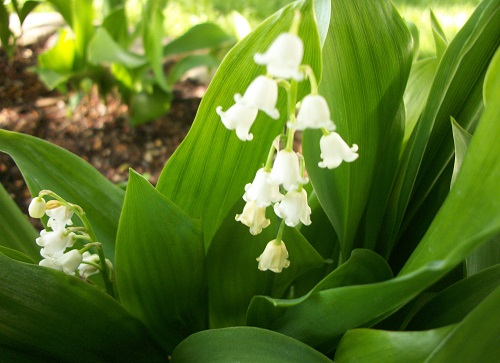 A closeup of a flower on my relatively new dogwood tree.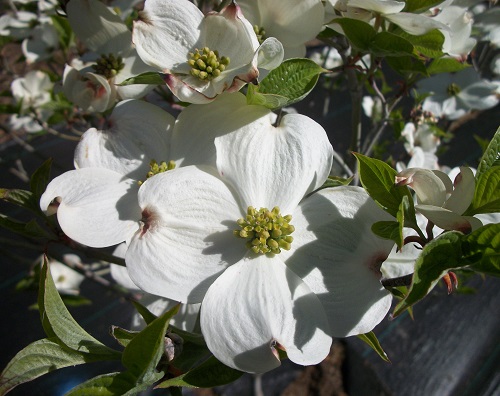 I would like to swear, on my oath as a Moronette, that my husband is worthy of being an Official Member of the Moron Horde. The fob on the right holds my house keys. I needed a new fob for my gun keys, and my husband found me the fob on the left. Perfect!!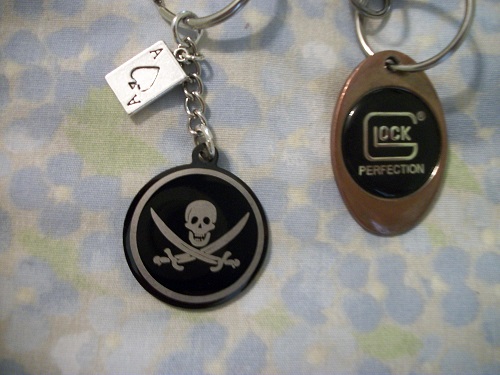 I suspected as much. I'm going to tell Weasel.
Edible Gardening

Gordon in Minnesota sent the following inspiring photo at the end of April:
It looks like we will get in the ground a week early. Center, chocolate cherry. Next is W hybrid, then Garden Gem, both from UFlorida.

When you send them a $5 donation they send seeds. I wanted the Garden Gem because that's the one the guy developed to be tasty AND transportable. They sent Garden Treasure and W Hybrid also.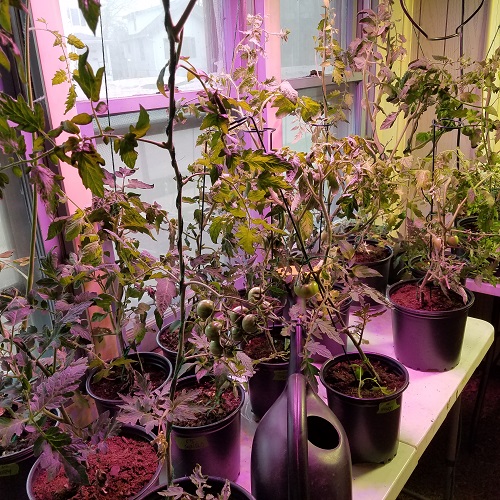 Then on May 4, YAY!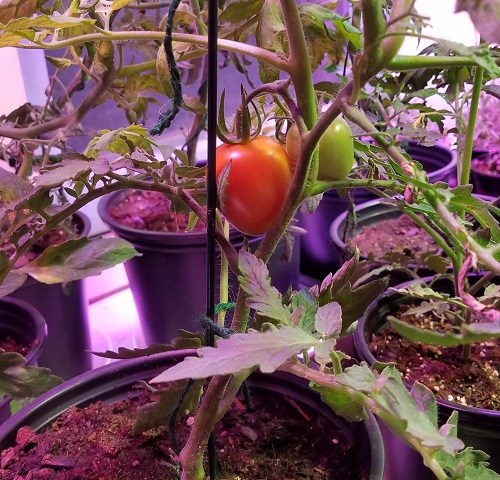 Meanwhile, from Central California:
Thought this was rather pretty. -Blake- semi lurker in marginal standing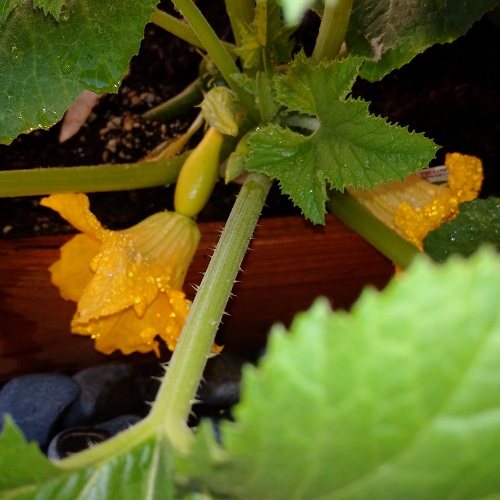 It is lovely. The little squash looks delicious, too.
International Gardening and Farming
Last week we visited a farm in Colombia.
Here is a commercial salad greenhouse in Switzerland. The owners have invited people to come directly to the greenhouse to pick up produce, since they have been prohibited from going to the farmers market. Anything like that happening around you?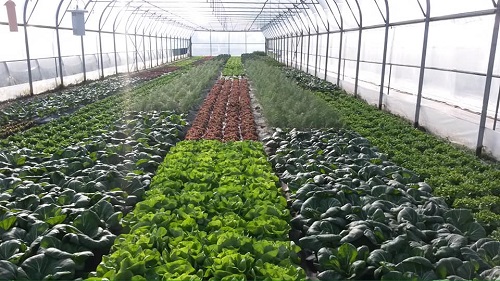 And we have more International photos today, from The Horde!
Hi there - I'm Maz, a longtime lurker. My wife and I live on the island of Tortola in the British Virgin Islands (just East of the US Virgin Islands and about 70 miles East of Puerto Rico).

Our garden is full of aloe plants, and the hummingbirds love the blossoms (which have just ended).

All the best,

Maz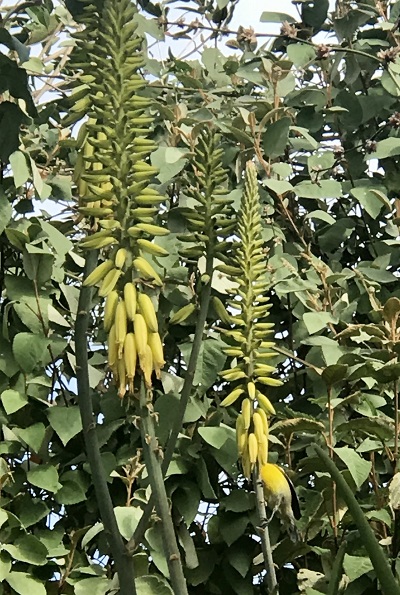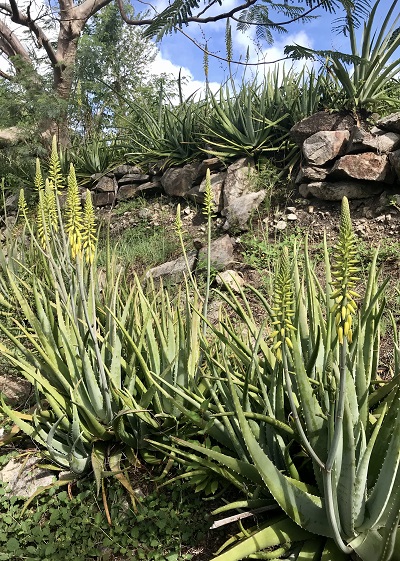 We also have lots of Bananaquits, also locally known as the sugar thief, who also love them. Here are some recent pictures.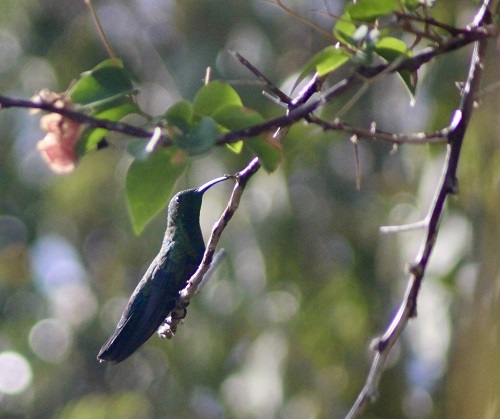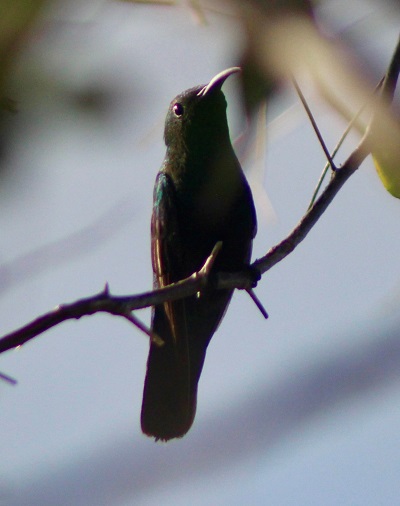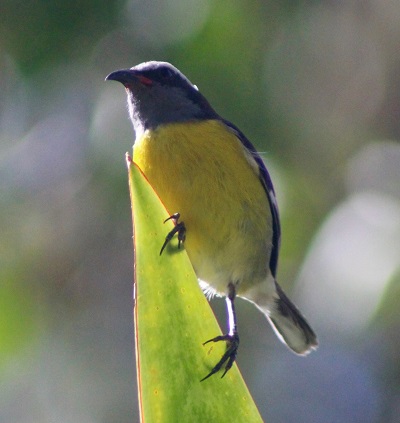 Interesting birds.
And they have:
a variety of other beautiful tropical plants including bougainvillea, wild tamarind, flamboyant trees, cactus (it's dry because we are at the windward end of the island), frangipani, christmas palm, and hibiscus. Plus a whole lot of lizards, geckos, ground spiders, palm rats and (a recent visitor) a Puerto Rican Racer which is a fast moving, aggressive and slightly poisonous 3 foot snake.

Probably the most spectacular plant we have is the attached photo. I'm not actually sure what it is! Sorry about the water bottle in the picture - not sure how that got there!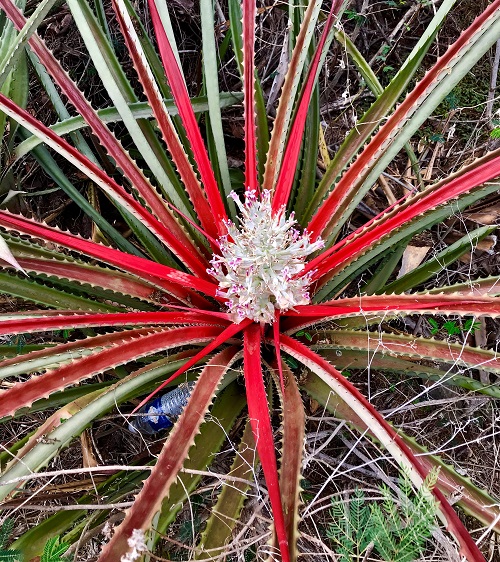 Anybody know what it is?
So fun to see these photos! Thanks so much, Maz!
We have some more international photos for next week. Stay tuned.
If you would like to send information and/or photos for the Saturday Gardening Thread, the address is:
ktinthegarden
at g mail dot com
Include your nic unless you want to remain a lurker.

posted by Open Blogger at
01:16 PM
|
Access Comments