« Formerly Conservative Website National Review to Stop Running Columns From Formerly Conservative Grifters
|
Main
|
Wiped, Like With a Cloth? Christopher Steele Testifies He Cannot Produce Records Of His Alleged Conversations With His Alleged Single Source Because They've All Been... Wiped »
April 24, 2020
Super-Woke Lesbian Feminist Ideologue and Former Personal Assistant to Harvey Weinstein Hand-Picked by Feminist Failure Kathleen Kennedy to Produce New "Female-Centric" Star Wars Series
Four of the five Disney Star Wars films had a female lead.
But that's not enough for relentless feminist ideologue and catastrophic failure Kathleen Kennedy.
A new rumor details that Disney and Lucasfilm are working on a new "female-centric" Star Wars series.

The rumor comes from Variety and details the series is being helmed by the co-creator of Netflix's Russian Doll series, Lesly Headland. Headland is expected to write and serve as showrunner for the series.

She has barely any credits. She has zero sci-fi credits, except, arguably, for this Russian Doll series, though that just seems like a Chick Comedy. It does have the premise that she dies every day and starts the day over at the same place, but 1, that's simple fantasy not sci-fi, and 2, of course that's ripped off of Groundhog Day.
So the #WokePatrol is once again hiring based on plumbing, not merit.
By the way, I'm pointing out she's a lesbian not to knock lesbians, but to note that her idea of "diversity" is absolute homogenity: She wants to surround herself with nothing else but woke white feminist women, preferably overweight, who are either lesbian or "questioning."
Leslye likes attacking "white women" for not being strong enough "allies" for marginalized groups.
...

Headland recently discussed the film industry where she described white executives as the "silent killer." She stated, "I'm also seeing the silent killer, which is a lot of white women at the top who are kind of reinforcing old ideas."

She added, "As I started to rise in television, I started to just get more blunt. And just start saying like, 'I would like a black writer' because if I said diverse, you know, you get well 'White is diverse,' which is something somebody said to me. I was like 'It's not, but cool.'"
Except here's the thing: White feminists do think that "white" is diverse.
Comics Matter looked at the personnel of a book industry charity a couple of weeks ago, and chuckled to see they were all -- all! -- white women who actually looked like they were near clones of each other.
He noted the old saying, that "A-level people hire other A-level people, but B-level people hire C-level people. But white women just hire other white women."
Which is true. And I don't mean conservative white women, I mean liberal feminist white women. They consider themselves a "minority" -- despite women being more numerous than men, and having more college degrees than men, etc. -- and therefore are absolutely without shame in hiring one white woman feminist/likely lesbian after another.
You can walk into any publishing house and see nothing but white feminist woman quasi-clones, 90% of whom went to the same twenty colleges, and yet they're all absolutely convinced they're being oppressed and the system is stacked against them.
And then they just go out and hire more white women and mutter darkly about evil men who only hire men. Which we don't -- there are laws against it.
But if you're a white feminist woman -- sky's the limit on how non-diverse you can make your office. Every time you hire another white woman, your diversity quotient somehow goes up.
I'm not bothered by this new "female-centric" series, for two reasons:
1, Kathleen Kennedy is a known failure who is only being allowed to pretend to be head of Lucasfilm for political reasons. Disney is the most PC #Woke company on earth, and doesn't want to be seen as firing women, even for gross, repeated incompetence.
I get the sense that she will cry #MeToo if they fire her.
I do not believe this series will ever happen. This is some bullshit that Kathleen Kennedy and her Woke Squad of white women feminists have put together, and Disney said "sure" because it doesn't cost too much money to pay a minor writer to jot down some ideas.
2, I also don't care if Disney does make this series. As some commenters said in the previous thread, no one cares about Star Wars any more. It's a dead brand. Dead. There is no more anger about ruining it; it's already ruined.
And also: I want Disney to die -- DIE DIE DIE -- so I'm all in favor of them producing more unwatchable woke garbage.
By the way, Disney Star Wars made a big announcement a few weeks back about their big new project, "The High Republic," in which "diversity" would be a core value. So core that they listed it twice on their whiteboard.
And how diverse would The High Republic be? So diverse that the exalted Jedi hero would be, get this, a fifty something schoolmarm white woman who is likely a lesbian and certainly owns more than eight cats. (Space cats, whatever.)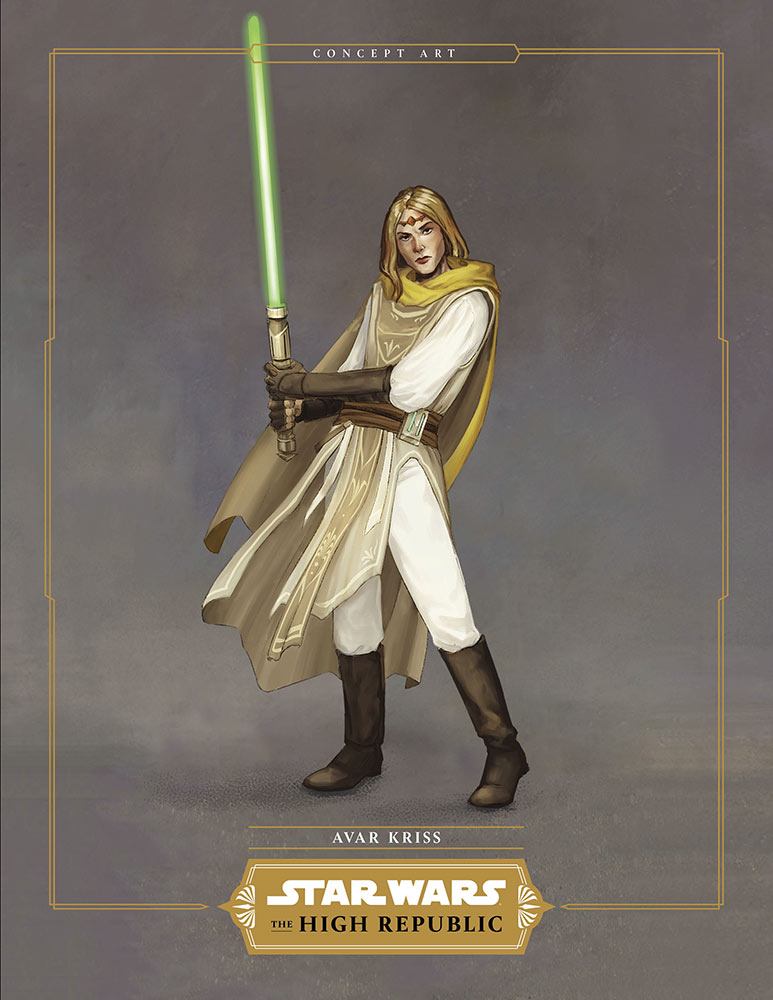 Space Wizard Karen would like to see your manager.
Star Wars recently introduced a number of the characters appearing in their upcoming publishing initiative Star Wars: The High Republic. The first character introduced is Avar Kriss.


On StarWars.com, Kriss is described as the brightest, most noble example of Jedi-hood." They also describe her as "the best of the best."

She wields a green lightsaber, has medium-length blonde hair, and wears a white garb with a yellow cloak. She has brown gloves and boots. Atop her white outfit, she sports a yellowish brown tabard. It's all tied together with a brown belt.
She uses her Jedi Mind Trick powers to get the cashier at Bed, Bath, and Beyond to accept expired coupons.
All they do is push this weird gender politics agenda, and then they wonder why no one cares about this dead brand anymore.
Here's this "Leslye" woman running her fat, Brie Larson like mouth about how diverse she wants to make everything, as she sits on a couch with two other near-clone white women.

posted by Ace at
01:18 PM
|
Access Comments