« Wednesday Overnight Open Thread (4/1/20)
|
Main
|
Mid-Morning Art Thread »
April 02, 2020
The Morning Report - 4/2/20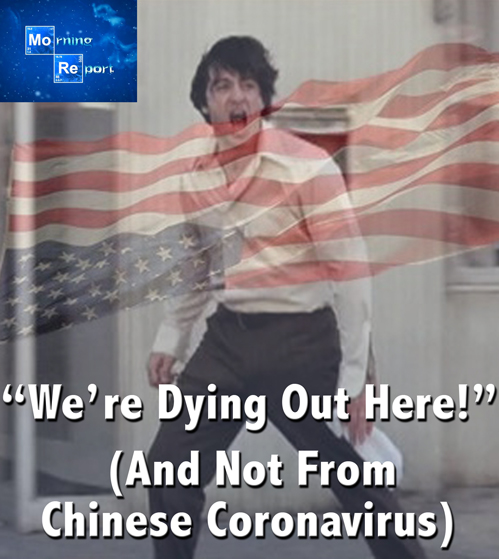 Good morning, kids. Why bother saying what day it is? It's simply another grim milestone: the next day, in which we are stuck in a surrealistic limbo as we watch our lives ruined, our economy put into a coma, and our enemies foreign and domestic salivating at the prospect of seizing power - all because of a virus. Yes, it is highly contagious, yes there is no vaccine for it (yet), and yes it has killed several thousand people. But after four years of a press aiding and abetting an attempted coup to overthrow a duly elected president and exposed as liars, (after decades of lies to advance the Leftist cause) and government bureaucracies charged with protecting our national security and safety in on the plot, you'll have to excuse my reticence in believing a damn thing they're telling me. Horrible as it is that people are dying, the way this is being portrayed still does not jibe when you dive into all the numbers. But for argument's sake, let's say I'm wrong. Let's say that in fact tens of thousands actually do - God forbid - die of the Shy Knees Affliction, could you blame me for being skeptical?
In any case, I still maintain that we are cutting off our legs with a rusty hacksaw in order to cure a case of pink eye. Rush Limbaugh has the numbers to chew on to put this in context. In the first three months of this year, here is a list of worldwide deaths:
Coronavirus, 21,000 deaths.
Seasonal flu, 113,000.
Malaria, 228,000.
Suicide, 249,000.
Traffic fatalities, 313, almost 314,000 deaths.
HIV/AIDS, 391,000 deaths.
Alcohol related deaths, 581,000.
Smoking-related deaths, 1,162,000.
Cancer deaths, 1,909,000 deaths.
Deaths attributed to starvation, 2,382,000 deaths.
And death by abortion, 9,900,000.
Remember that the world's population is 7.8 billion. 7,800,000,000. Limbaugh also makes the salient point, to counter the Left's disgusting hypocrisy that all we care about is money and not human life, that they are willfully ignorant of the amount of money, public/taxpayer and private (including charitable donations in the millions from evil one-per-centers and corporations), time and resources allocated to try and prevent all of the above. We don't just say to hell with it and accept it. If we did, you could multiply those numbers easily by at least 100. But life goes on. And that means work. No not jut for the sake of work or "greed" as the Sandersnistas will spout at you. You cannot have life if you do not have economic activity. Period. In a free society, work gives us something beyond merely money. It gives us a purpose. Even working the most menial, unfulfilling job still means one has the sense of responsibility and pride in being able to provide for himself and his family and not rely on others for his sustenance. By others, I mean the government. Now you understand the socialist Donkey Chompers hatred of free market capitalism.
And that's why it's kind of hard to swallow the line that the cure for what ails us is destroying our economy and surrendering our freedoms to the State. Of course, only temporarily. Nudge-nudge-wink-wink.
Anyway, let's dive into the links.


CHINESE CORONAVIRUS, FICTIONS AND FACTS
Roll up your sleeves for a 20 cc shot of kosher goodness chock full 'o Joo-cooties! Seriously, an Israeli team with a tantalizing announcement of a vaccine coming very soon, VP Pence talking early June when we'll have the worst behind us, if only Malig-Nancy Pelosi read Trump's SOTU, or bothered listening, she'd know that that was when he told the world about the Chi-Com Lung AIDS, but Nancy being who she is lies, one more study indicates that the projections are too high, Dr. Oz along with many area doctors seeing massive anecdotal results, tell Nipsy Cuomo to allow the anti-malaria drugs to be used, Daniel Greenfield highlights the litany of leftist priorities that made New York State the disease's hotspot (tidbit: contact with the police is a health hazard), now that Gretchen Witless Whitmer has put herself on top of Joe Biden's VP list, she suddenly backtracks and now wants chloroquine for Michigan, Biden thinks Trump should call Obama; good idea as Obama is the shit-Midas gold standard for what not to do in any given situation. Also, Disney pitches in with masks and the Other McCain on rural areas just as vulnerable as cities.
NOTE: The opinions expressed in some links may or may not reflect my own. I include them because of their relevance to the discussion of a particular issue.
ALSO: The Morning Report is cross-posted at CutJibNewsletter.com if you want to continue the conversation all day.
Follow us on Twitter: @CutJibNews


posted by at
07:57 AM
|
Access Comments