« Rachel Maddow: There Is No Way the Navy Hospital Ships Will be in NYC and LA in a Week. "That's Just Nonsense."
Reality: One Week Later, the USS Comfort and Mercy Arrive in NYC and LA
|
Main
|
The Morning Report - 3/31/20 »
March 30, 2020
Monday Overnight Open Thread (3/30/20)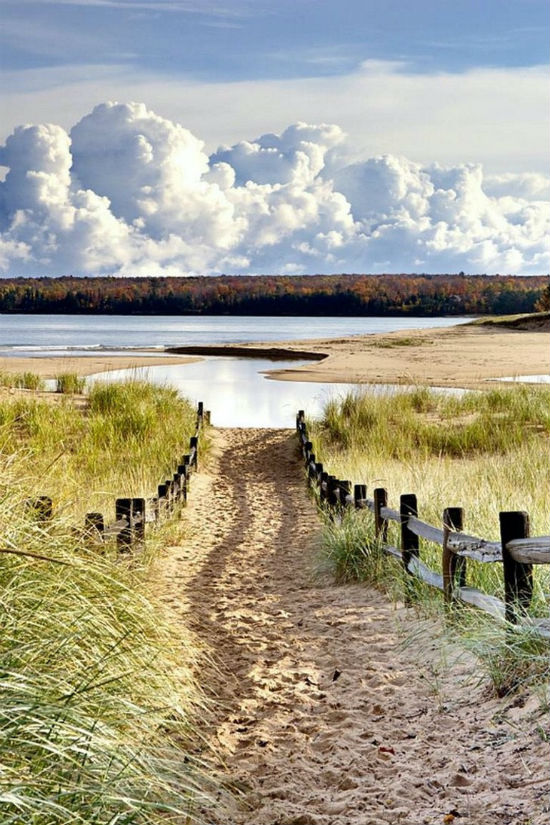 ***
The Quotes of The Day

Quote I
For the director of music. Of the Sons of Korah. According to alamoth. A song.

1 God is our refuge and strength,
an ever-present help in trouble.

2 Therefore we will not fear, though the earth give way
and the mountains fall into the heart of the sea,

3 though its waters roar and foam
and the mountains quake with their surging. Psalm 46

Quote II

I am prepared to meet my Maker. Whether my Maker is prepared for the great ordeal of meeting me is another matter. Winston Churchill

Quote III

So I had the chorus, which to me sounded like a hit. And I thought, I'll do something really unusual. I'll write it that this is a song separate from the verse. So the actual chorus is something that's coming out of a jukebox, and the two kids in the disco who are flirting are hearing this song that's a hit."Alan Merrill

Quote IV

All the world's a stage, and all the men and women merely players: they have their exits and their entrances; and one man in his time plays many parts, his acts being seven ages. William Shakespeare

Quote V

"We went from being nobodies to essential workers. I've never felt appreciated in my job until now. A lot of people don't realize it takes a truck to get stuff on shelves. If it wasn't for a truck driver, you would have nothing." Chad Montgomery
***

Don't let the bastards grind you down.

How to make wine in your Instant Pot: A step-by-step guide to brewing easily at home
I set out to brew my own vino as a fun and tasty project. If you have an Instant Pot, here's how you can, too.
***
When this Kung Flu shit comes to an end, it is time about producing necessary items here at home. Shocked, just f*cking shocked that 600,000 face masks from China had to be returned.

The Dutch government has recalled over half a million face masks it imported from China after discovering that they were faulty.

The Netherlands said on Saturday that it had asked its hospitals to return around 600,000 face masks which health professionals are using to treat patients of the coronavirus.

"The mouth masks that are not satisfactory have been retrieved," Holland's Ministry of Health told Dutch broadcaster NOS.

The NOS reported that the faulty masks fail to meet safety requirements because they did not fit on the faces of doctors and nurses and were failing to prevent particles of the COVID-19 virus passing through.
***
A lawsuit has been filed against the governing agency of the three major Arizona universities over refunds for tuition, housing, and other fees.

The Arizona Board of Regents, which governs Arizona's three major public universities (Arizona State University, University of Arizona, and Northern Arizona University), has been named the defendant in a lawsuit to recover spring semester fees after students were asked to move off-campus amid the coronavirus pandemic.

"I'm glad a class action lawsuit has been filed, but disheartened [that a] lawsuit is needed to force ABOR to address this dire situation..." Tweet This
According to ABC 15, the lawsuit was filed on behalf of students for the "unlawful and unfair" holding of students' money.
***
The real reason old farts run America.

Most older people still feel gratitude to be Americans and are willing to serve their nation and community, whereas, after 60 years of ODIOS, many left-wing youths no longer believe in the goodness of America or accept responsibility to preserve their birthright of liberty, not even the basic civic duty of voting.

Why are the elderly still running things? Now you know.
My father was a WWII vet. We didn't always see eye to eye. But, I'm proud he taught me to love this country, warts and all.
***
Don't you have some donuts to go and eat? The CHP is looking for speeders.

If you have traveled on Bay Area freeways in recent days, then you've probably noticed a few drivers treating the lightly trafficked lanes like a NASCAR speedway.

The California Highway Patrol has noticed them, too.

"We are seeing a rise in motorists traveling at excessive speeds in the Bay Area," CHP - Golden Gate Division said Friday in a Twitter post. "We are still out in force and will continue to issue citations. There is no faster way to get a suspended license than driving 100 mph+."
***
Tell me, why shouldn't we be able to carry, conceal and protect ourselves?

A concealed carry permit holder fatally shot a woman outside a north Tulsa shopping center Friday evening after she reportedly opened fire on customers.

Tulsa Police responded about 6:30 p.m. Friday to the 5300 block of North Peoria Avenue for a reported shooting. A woman was found dead at the scene, according to a news release. She has not been identified as of Friday night.

A man with a concealed carry permit reportedly told arriving officers that he shot the woman after she started shooting at customers outside the shopping center.

This could have been Tonight's Feel Good Story of The Day.
***
He fought the law. And lost again.

CHARLES COUNTY, Md. – A Maryland man hosted about 60 people at a bonfire Friday night, defying the state's coronavirus emergency order, investigators said.

Shawn Marshall Myers, a 41-year-old registered sex offender who was also indicted as a murder accomplice, was arrested after twice violating Gov. Larry Hogan's order against gatherings of more than 10 people, the Charles County Sheriff's Office said in a press release.

Initially, deputies responded to a complaint of a large gathering at Myers' home in Hughesville on March 22. As a result, Myers was advised about the governor's order and agreed to break up the crowd.
***
The ONT Musical Interlude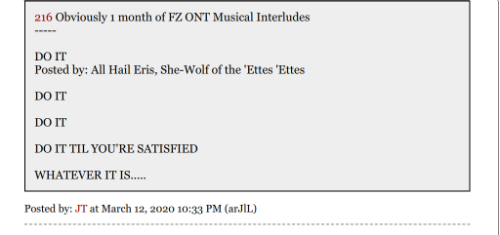 &&&
Don't like Zappa? Suck it up Buttercups.
***
New York University Tisch School of the Arts Dean Allyson Green is tonight's Genius Award Winner.

Following several communications between students and the school administration, Dean Allyson Green earlier this week attached her dance video to an email to students in which she explained that she doesn't have the authority to refund tuition and that it's "challenging" for the school to give students their money back right now.

The video is now making the rounds on social media after NYU Tisch senior Michael Price, 21, shared it on Twitter.
***
Romance. Tonight's Feel Good Story of The Day.

A Guy From Brooklyn Sees A Girl Dancing On A Roof, Sends Her A Drone With His Number On It
***
Tonight's ONT has been brought to you by Definitions.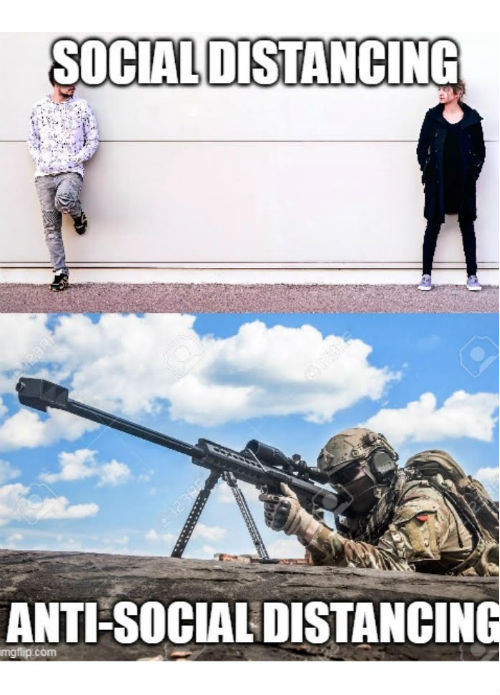 Notice: Posted with permission by the Ace Media Empire, AceCorp, LLC and the CDC. ONT tips, sanitized loose change, drink tokens and burner phones to petmorons at gmail dot com. Complaints? Who gives a f*ck?

posted by Misanthropic Humanitarian at
09:56 PM
|
Access Comments