« "Global Warming" Alarmist Who Panicked the World By "Predicting" a Half Million Wuhan Flu Deaths In the UK Alone Now Says... Never Mind
|
Main
|
Washington Post Doxxes Internet Rando with Only 400 Followers, Just For Saying He Thinks That Economics Are, At Some Point, As Important as Lives »
March 26, 2020
Trump's Approval Rating for Handling the Wuhan Flu: 60%
The Media's? 44% -- Eleven Points Underwater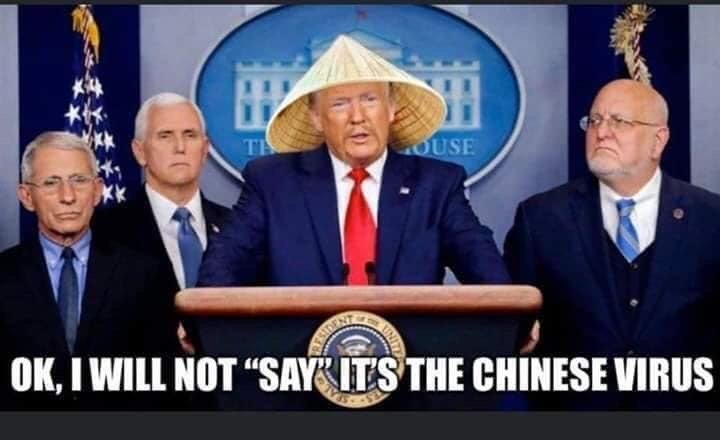 In a poll of the public's approval for all actors in this ginned-up epidemic of panic, the public puts the least trust in the media.
Trump is trusted much, much more than the media.
That's gotta hurt.
President Trump scored among his best approval ratings ever in the latest Gallup poll on his handling of the COVID-19 pandemic. As PJ Media's Matt Margolis reported, this is the fourth poll in which Trump has excelled and that is remarkable considering the media anvil sitting on his head.

The media have done even worse in the poll. And why wouldn't they? They:

* Were caught carrying water for the Chinese government to criticize Trump.

* Tried to do silly gotcha stories on Trump for failing to keep proper social distancing while sitting close to other reporters.

* Slammed Trump for giving what they consider "false hope" about using malaria meds to help treat very sick patients.

...

* Called the president a xenophobe and racist for instituting a travel ban from China early in the crisis.

* Called Trump a racist for calling a virus from China a Chinese virus.

* Called him selfish for not doing getting a COVID-19 test even though his doctor didn't think he needed one. It was negative.

...

& Used Chinese government talking points about that government's response to the disease.

* Blamed Trump and "right wing media" of sending mixed messages in a National Emergency that changed by the hour.

* Encouraged other media not to air the president's daily Coronavirus Task Force briefings deriding them as "dangerous."

...

And what of the media's approval rating during this National Emergency? According to the same Gallup poll, the media have not acquitted themselves well, coming in last.
More at the link.
Because Trump is beating them, the media is becoming increasingly shrill about the need to censor Trump from the airwaves. They hope that if the public only hears the leftwing corporate Chinese-colluding media, they'll have no other choice but to believe them.
They're wrong. We hate them. Despise them.
They are literally enemies.
After listing all of Trump's sins committed during these briefings, Washington Post's media critic Margaret Sullivan lowers the boom.

The press -- if it defines its purpose as getting truthful, useful, non-harmful information to the public, as opposed to merely juicing its own ratings and profits --must recognize what is happening and adjust accordingly. (And that, granted, is a very big "if.")

Business as usual simply doesn't cut it. Minor accommodations, like fact-checking the president's statements afterward, don't go nearly far enough to counter the serious damage this man is doing to the public's well-being.

Radical change is necessary: The cable networks and other news organizations that are taking the president's briefings as live feeds should stop doing so.

Sullivan thinks that the briefings have become a platform for Trump's "self-aggrandizement," "media bashing," and "exaggerations and outright lies."

You mean a president running for re-election blows up his own role in the crisis and tries to make himself look good? That's never been done before in history! Or, at least since Barack Obama took credit for killing bin Laden.

...

What CNN and MSNBC are worried about is that Trump is becoming hugely popular as a result of these briefings. Unpresidential though they might be, Trump has defied conventional wisdom, shrugged off the virulent, unbalanced criticism from the press, and has toned down his act enough to appear calm and confident. People don't care so much what Trump says, they care how he says it. And the president, to his credit, has been very good at these briefings at exuding confidence and a take-charge persona.
By the way, I like that Doctor Guy P. Benson, Ph.D., is now pretending he wasn't a member of the media pushing the panic as hard as xhe could.
The wife of Vox Wunderkind Ezra Klein knows what we really need -- an even deeper economic depression.
Maybe it's time for this Gang of Geniuses to take a step back from the Makin' Predictions game and evaluate how accurate their last ten thousand predictions turned out.

posted by Ace at
01:17 PM
|
Access Comments