« Sunday Overnight Open Thread (3/15/20) Too Much Content. I Forgot About The Communist Debate This Evening Edition.
|
Main
|
Mid-Morning Art Thread »
March 16, 2020
The Morning Report - 3/16/20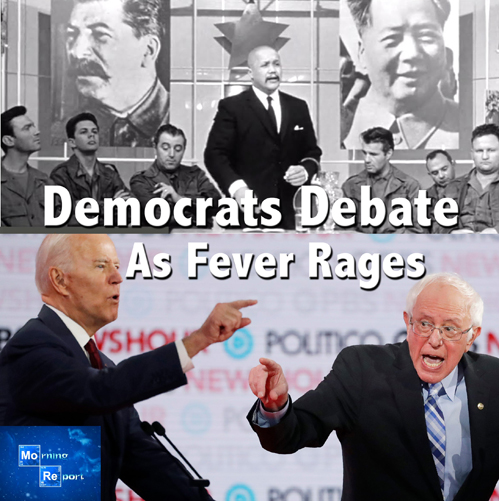 Good morning, kids. Fasten your seatbelts. It's going to be a bumpy ride this week and probably for the next month or so. The Chinese Coronavirus, Oriental Plague, Yellow Fever International Silver String Submarine Band is now spanning the globe to bring you the constant variety of panic. The thrill of short selling, the agony of no toilet paper. As travel bans are enacted, events cancelled, Broadway theaters going dark, schools closed until April and the world seemingly sealing itself inside its homes after smearing sacrificial lamb blood on the door to ward of Malach ha Mawis, there seems to be something missing and I can't quite put my finer on it. What could it be? Wait, I've got it. An actual mass death toll. So far in the USA alone, the last time I checked we have a grand total of 60 victims. Yes, I know that in China, where this plague came from (and as some are speculating as a possible biological warfare experiment or even intentional attack) the estimated toll is a few thousand dead. And it's estimated because, for the benefit of anyone completely insane enough to support Joe Biden and Bernie Sanders, China is a brutal, totalitarian regime that believe it or not lies and propagandizes to insulate itself on its quest for global domination. That said, the disease is said to be finally quelling in China and that the hotspot now is Europe, particularly Italy. But I digress.
Back to the reality check, according to this Australian news site, since the Chinese Coronavirus was first announced 69 days ago, as of this morning:
Total number of confirmed global cases = 170,150
Total number of confirmed global deaths = 6,513
Total number of confirmed recoveries = 77,254
Two things to bear in mind as you don your Level 4 biohazard suit after gargling with Purell and molten zinc, the world population stands at 7,800,000,000. That's 7.8 billion for you Leftists. The other thing is that last number, or more significantly what it represents: people who have recovered from the virus. That means if you're unlucky enough to come down with it, and in a nation of about 315 million and given the numbers cited, the odds right now are still kind of long, unless you're respiratory system is compromised or you're an elderly person the worst thing you'll experience is a very bad flu. Or am I wrong about that?
Seriously, I'm only going off of what I know about this virus and nowhere can I find any actual information on its pathology. Yes, I know the numbers are cold comfort to anyone who G-d forbid comes down with it or worse, has a friend or relative who succumbs to it. But given what the media is reporting, how our officials are reacting at the federal, state and local levels, and more disturbingly how our economy is affected (malevolently or otherwise), this whole thing just does not add up.
I really am at my wits end with this. And frankly, I smell rats all the way around with this. Ironic considering that 2020 is the year of the rat in China. From Anthony J. Ciani at American Thinker:

If COVID-19 (scientifically known as SARS-CoV-2) had started in Singapore or Taiwan, it would have traveled the world, infected billions of people, killed millions, and there wouldn't have been a single peep about it. "But it kills people," you cry. That is what cold and flu do, especially to the elderly and those lacking basic medicines. The world is panicking over a virus that causes mild colds in the vast majority of cases. Amid the panic, China is profiting as it buys up stocks at bargain-basement prices. Instead of engineering a pandemic, did China engineer pandemonium?...
As usual, Victor Davis Hanson has an in-depth analysis for both Trump and America at large when we come out the other side of this madness:
...When the virus peters out and the panic fades, China may be permanently rebranded and recalibrated by the world at large. Its trading partners will trust it far less to honor any commitments or to abide by any international agreements. Supply chains will be diversified. Tourism will be reduced in fears another such coronavirus will follow SARS and COVID-19 - and be hushed up. Countries that had particular close commercial and cultural ties with China - Iran, South Korea, and Italy - were hurt most during the epidemic by Chinese silence and duplicity...

Ostensibly, the panic-driven shutdown of the U.S. economy could plunge us into recession or worse, with dire consequences for the 2020 campaign. Some on the Left see COVID-19 in unapologetically political terms, as the magic solution to ending the Trump presidency and his supporters in a way that all the past hopes and dreams of doing so - from subverting the Electoral College after the November 2016 election to Mueller and impeachment, and all in between - utterly failed.

Whatever the ultimate human and economic toll from the coronavirus, there is no doubt that Trump, as president, will be blamed for the economic slowdown of spring and perhaps even early summer. The media despises the president as does entertainment, academia, and the media, ensuring in popular culture and the news that he will be demonized in a way Obama was not, despite reacting far more slowly, to the swine flu threat of 2009.

But here are some caveats. Warmer weather and spring, global quarantines, travel bans, more testing and increased knowledge of the virus may all eventually conspire to slow its spread. And when its relative non-lethality is fully digested (perhaps 98 or 99 percent of those in the general population below 65 in previously good health who are infected recover), and the cases begin dropping off, the economy will not just recover but take off...
As I said up top, fasten your seatbelts; it's going to be a bumpy ride.


CHINESE CORONAVIRUS, FICTIONS AND FACTS

NOTE: The opinions expressed in some links may or may not reflect my own. I include them because of their relevance to the discussion of a particular issue.
ALSO: The Morning Report is cross-posted at CutJibNewsletter.com if you want to continue the conversation all day.
Follow us on Twitter: @CutJibNews


posted by at
08:01 AM
|
Access Comments