« Tuesday Overnight Open Thread (3/3/20) Super Tuesday Edition
|
Main
|
Mid-Morning Art Thread [Kris] »
March 04, 2020
The Morning Report - 3/4/20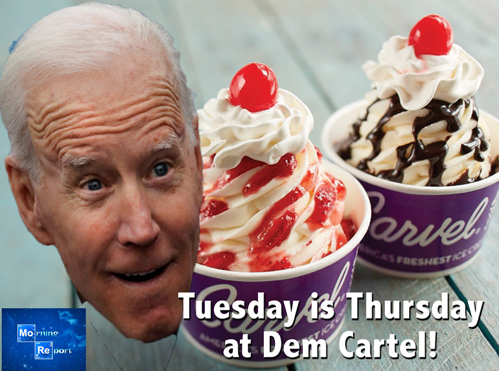 Good morning, kids. As the late great Tom Carvel once intoned, "Wednesday is Sundae!" But for Joey Brain-Bleed, Super Tuesday is Thursday! His gaffe-tastic campaign for US Senate, er, President came roaring back to life as people in 9 of the 14 states chose to "vote for the other guy." And that other guy was him. As of this morning, Biden essentially swept the south, along with one of the twin jewels in the crown, Texas. He also nabbed Fauxca-Has-Been's home state of Massachusetts, where she took a humiliating third place and is more than likely out for good. As for Little Big Gulp Bloomberg, $500 million did manage to buy him a victory... in American Samoa. But the tiny-tot-tyrant is reportedly reassessing where he goes from here. May I suggest Hell? At least Jeb Bush's $130 million for 4 delegates is no longer at the top of the laughing stock list.
As far as Bernardo Sandersnista is concerned, although he only took 5 states, he bagged the biggest prize, California. That makes the score so far Biden 453 and Sanders 382, with Warren at 50, Mini-Mike at 44, and the rest either irrelevant or no longer running.
Now, let's see if we can unpack the dynamics of this. First, as we all know, the Democrat Party is now openly at war between an old guard elite of "incrementalists" if you will, who had been driving the country ever leftward for 100 years, and a radicalized, in-your-face Socialism-or-Bust movement whose cadres, suckled from the teat of poisonous anti-Americanism courtesy of our schools, demand revolution now. It's kind of ironic that the head of this movement happens to be an aging, white, apostate Jewish male, but I digress.
Make no mistake; the incontestable fact is the Democrat Party and all of its rival factions have the same goal in mind - the destruction of America as founded and its replacement with a Trotskyite socialist state. The problem for the old guard is that they understand that Sanders, Alexandria Donkey Chompers and their allies' insanities and inanities do not play well in Peoria and will get them wiped out like never before come November against President Trump. The other element that Rush Limbaugh touched upon is that Sanders winning the Presidency (G-d forbid) and even the nomination threatens the sinecures and hold on power that the Democrat Party has had since forever. So, despite the proclamations and protestations about socialism by James Carville, the erstwhile Chris Matthews and all the others, their grip on power is what the opposition to Sanders is really all about. Joe Biden as sacrificial lamb preserves that, and just as crucially their control over the House. The delusion is that Joe Biden wins it all, but with the mental agility at this point of a small brachiopod with advanced BSE he would essentially be the public face of the third term of Valerie Jarrett, Bill Ayers and Nazi collaborator George Soros. But that ain't happening, coronavirus-fueled Wall Street sabotage or not. Just thought of this as I was about to post: don't think the Ukrainian bribery and shakedowns with Biden, his son and others are going to be ignored by Trump or perhaps even the Sanders team if the latter starts lagging behind or he loses the nomination. Two-edged sword.
Circling back, the sudden, and convenient, withdrawal of Mayor Peter Puffer and Aimless Klobuchar and simultaneous backing of Biden surely will have impacted his big wins. Whatever one suspects of the DNC's ability to influence each individual race, it's also kind of revelatory about the attitudes of average Democrats themselves. Despite all the hype about socialism, it seems as if they too aren't exactly enamored of it either. Coupled with long-time force of habit in voting Democrat and general anti-Trump brainwashing, and the Biden surge makes a bit more sense. That's not to say that the DNC is not going to do whatever it takes to sabotage Sanders up to and especially at the convention. You can bet your bottom dollar they will. But there are still 33 more primaries to go. I also wonder whether Biden wins it outright or Sanders is robbed as he was in 2016, what will the Sandersnistas do, aside from rioting in Milwaukee? Do they stay home in November or run Sanders as the official Green, Socialist or CPUSA candidate third party?
It's evident that the Democrat Party can no longer go on as before. The septuagenarians and octogenarians will not be allowed to achieve John Dingell status and become nonagenarians. No doubt, Mayor Peter Puffer and a few more like him are going to be the contenders come 2024 and beyond. That said, given his twisted Gramscian pedigree, will he embrace the Socialism openly a la Sanders and Fauxca-Has-Been or massively disappoint the youth by putting it "back in the closet" so to speak? I think much of that depends upon whether the old guard Democrats retain power no matter what happens leading up to and after Milwaukee.
The other big story that is sure not to be noticed by the agitprop media is Trump's performance yesterday.
The obvious news is that many voters, after staring into the abyss of Bernie Sanders' socialism and seeing Fidel Castro looking back at them, are turning to Biden as their preferred candidate. Biden, after looking like a loser last week, is looking like a contender this week.

The less obvious news, though, is that in many states there was a real fire among Republicans, even though Donald Trump is a virtually uncontested incumbent. People ought to be staying home but in several states they are voting for Trump in droves...
Go long on Orville Reddenbacher and Kozy Shack tapioca.


POLITICS, 2020 ELECTION
Along with Super Tuesday, some other items of note include Mollie Hemingway warning the Dems about drawing the wrong conclusions from the GOP's tempestuous 2016 primaries, the Biden camp telling James Comey to get the hell away from them, and Jeff Sessionszzz and Auburn coach Tommy Tuberville headed for a runoff in Alabama GOP Senate race.
NOTE: The opinions expressed in some links may or may not reflect my own. I include them because of their relevance to the discussion of a particular issue.
ALSO: The Morning Report is cross-posted at CutJibNewsletter.com if you want to continue the conversation all day.
Follow us on Twitter: @CutJibNews


posted by at
07:40 AM
|
Access Comments