« Music Thread
|
Main
|
CNN: This President Is Not Speaking Enough About the Threat of Coronavirus; He's Putting the Republic in Peril
Also CNN: We're Cutting Away from Trump's Coronovirus Presser to Get Back to Our Pre-Planned Advertisement for Michael Bloomberg »
February 27, 2020
FiveThirtyEight.com: The Most Likely Result of the Democrat Party -- Now a 50% Likelihood -- is "No Winner/Brokered Convention"
How do we engineer this outcome?
Oh wait, that would be immoral, say the people who have been actively sabotaging the GOP for three election cycles in a row now.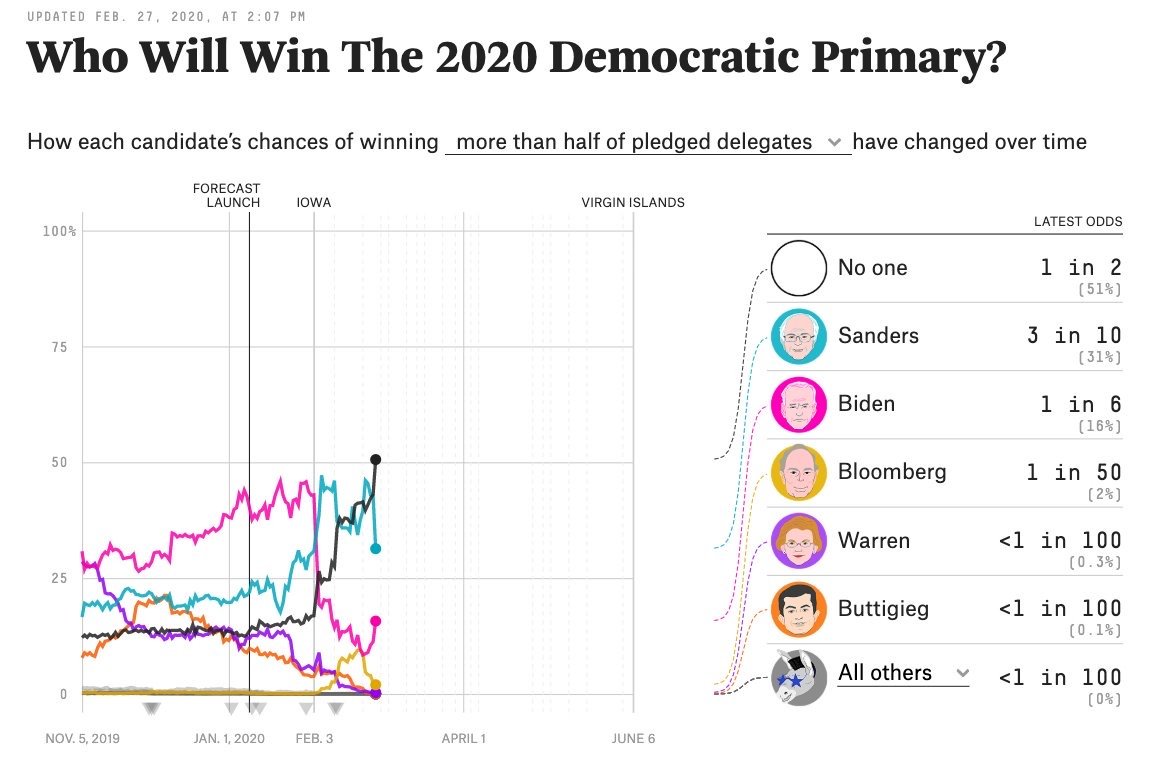 The New York Time reports -- or wishcasts -- that the Democrat Party is so determined to stop Bernie Sanders that they're considering thwarting the party's majority will to do so.
Or near majority, anyway: If Bernie comes in with the most votes but not the actual majority required by the rules for a first ballot, no-super-delegate win, then they'll nominate someone else.
They know this will damage the party, but some are saying it would be worth it to damage the party to stop the greater damage of Candidate Sanders.
Dozens of interviews with Democratic establishment leaders this week show that they are not just worried about Mr. Sanders's candidacy, but are also willing to risk intraparty damage to stop his nomination at the national convention in July if they get the chance. Since Mr. Sanders's victory in Nevada's caucuses on Saturday, The Times has interviewed 93 party officials -- all of them superdelegates, who could have a say on the nominee at the convention -- and found overwhelming opposition to handing the Vermont senator the nomination if he arrived with the most delegates but fell short of a majority.

....

This article is based on interviews with the 93 superdelegates, out of 771 total, as well as party strategists and aides to senior Democrats about the thinking of party leaders. A vast majority of those superdelegates -- whose ranks include federal elected officials, former presidents and vice presidents and D.N.C. members -- predicted that no candidate would clinch the nomination during the primaries, and that there would be a brokered convention fight in July to choose a nominee.

In a reflection of the establishment's wariness about Mr. Sanders, only nine of the 93 superdelegates interviewed said that Mr. Sanders should become the nominee purely on the basis of arriving at the convention with a plurality, if he was short of a majority.
Biden has retaken the lead in Florida, after Bernie's boosting of Fidel Castro.
But meanwhile, the Bernie Bros -- who surely include a lot of antifa members -- are harassing Democrat officials so much that they keep getting the cops called on them.
The night before the Nevada caucuses, the chairman of the state's Democratic Party called police after several supporters of Bernie Sanders gathered outside his home at 11 p.m. with a bullhorn to issue a warning about the next day's election.

"I want assurances that there isn't going to be any shenanigans going on tomorrow. The Democratic Party does not control what happens," Maria Estrada, a self-described "Berner" from Los Angeles, said into the bullhorn, according to a Facebook Live video she streamed on her personal page. She repeatedly said she didn't want to see a repeat of the 2016 election, which she insinuated was rigged against Sanders.

At least three other times in recent days, Estrada led a group of Sanders supporters who gathered late at night outside the homes of Democratic Party officials and California lawmakers, including those of Secretary of State Alex Padilla and state Democratic Party Chairman Rusty Hicks. Police were called at least twice.
Meanwhile, Biden just dropped an anti-Sanders ad, claiming Sanders wanted to primary Barack Obama.
"Bernie Sanders was seriously thinking about challenging our first African-American president in a primary," a narrator in the ad, targeted at South Carolina's large contingent of African-American voters, says.

"Sanders...can't be trusted."
That might turn off some voters, but the thing is, a lot of Democrats accuse Barack Obama of having been a conservative.
They've gone crazy. No, the Democrats are not "just good well-meaning patriots," as the NeverTrump c**ks are always piously lecturing us. The Humungoous is not, despite claims from liberal NeverTrumpers, a reasonable man at all.
Update: Via John Sexton at Hot Air, some video of the, um, "Night Protests," which the Little Antifas streamed on FaceBook.

posted by Ace at
04:30 PM
|
Access Comments