« In Wake of Sanders' Win, Chris Matthews Floats Name of Possible Democrat White Knight Savior
|
Main
|
Claim: Gigantic "Mystery Skeleton" Washes Up on a Scottish Bight »
February 12, 2020
The Soyciety Pages: Ol' "Three-Wives Charlie" Sykes: I'm Glad My Liberal Media Allies Aren't Covering the Story of the Terrorist In Florida Who Tried to Run Down Republicans. Attempting to Kill Republicans Just Isn't an Important Story.
Plus: The Bulwark, wasting no time, starts making "The Conservative Case for Bernie Sanders"
🚢 🚢 🚢 🚢 🚢

One NeverTrumper/Bulwark Hanger-On complained that the New York Times still had not covered the admitted politically-motivated, anti-Trump/anti-Republican terrorist who tried to run down GOP volunteers signing people up to vote.
Charlie "3-Wives" Sykes actually stepped in to argue: No, it's good the media isn't covering that, because it's not a big enough story. We have important stories to cover like Orange Man Bad, which hasn't gotten enough coverage the last three years.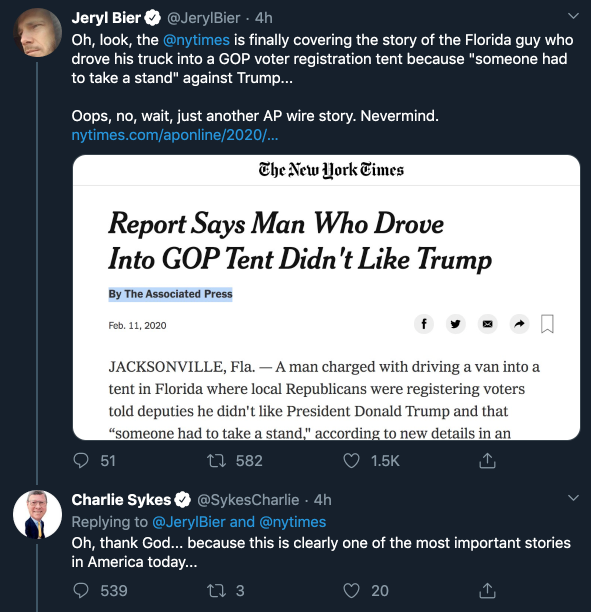 Even this c*cked-out, tucked-under sissybitch feels the need to distance himself from his political ally's nigh-open support of leftist violence against conservatives:
As a friend says: how much of a leftwing sycophant and c*ck do you have to be to get Ramesh Ponuru to say "Nah, Brah"?
The Bulwark mentions the mentally-ill man who ran down a body of mostly-antifa supporters in Charlottesville three fucking years ago, killing one person, about once every two weeks.
They just can't stop talking about The Charlottesville Massacre.
That's a Politically-Motivated Run-Down story from three years ago -- with an assailant who was too mentally ill to really be said to be operating with normal political motives -- and The Bulwark still covers it as if it happened this past weekend.
But now comes a leftwinger -- and Charlie Sykes political ally -- attempting to murder GOP volunteers just for signing people up to vote, and Charlie Sykes says, "No, we shouldn't be covering leftist attempts to murder Republicans."
I guess Republican lives just aren't worth anything to the Bulwark Boyz.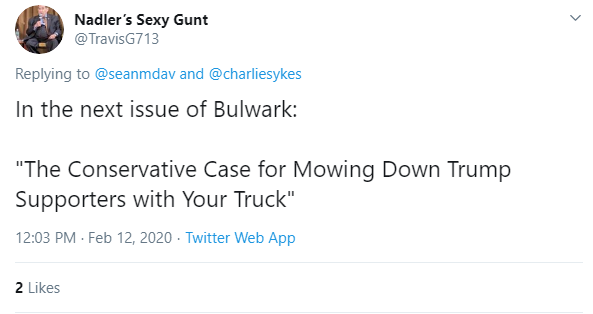 A friend says, "Somebody should ask him if he's going to hire the van driver to write at The Bulwark."
Why not? They've added every other otherwise-unemployable misfit and nitwit.
I'm sure Pierre Omidyar can set aside a little extra money to land this outside-the-box thinker and self-starter.
As a wise man said:
They hate you, too. They're attacking me so they can get to you next.
Kind of hard to rebut Trump when you're publicly declaring that a few broken Republican bodies are no big deal compared to the Greater Good of attacking The Bad Orange Man.
Is today the day you're paid to suck Pierre Omidyar's dick, Charlie, or is it Bill's day today?
Are you sucking George Soros' dick today, Charlie? What's his ass taste like?
You nasty, vile, fat, old gay-for-pay bathhouse hustlers.
🚢 🚢 🚢 🚢 🚢
By the way: Do you guys think that the Bulwark has already worked out its schedule for "slowly, reluctantly" accepting Bernie Sanders, a communist, as the "true conservative" in the race?
Do you think they've already planned out their first tentative ventures in this line? Do you think they've assigned writers to cover the various ways in which the communist Bernie Sanders is truly "conservative," on a deeper level?
Because I do.
Even this pathetic c**k is saying that some, ahem, "principled" conservatives are going to start working hard to "justify" supporting Bernie Sanders.
I think Ol' Dan will be one of the late adopters to the "Bernie is really 'conservative' on a fundamental level" party.
But he'll be there.
They all will. In six more months, this group of Twitter Sissies will be pronouncing Bernie Sanders' honeymoon in the Soviet Union as "Reaganite, in its own way."
Incidentally, I still have not stopped marveling at the idea -- adopted by half of National Review -- that Barack Obama's Vice President, the man who was actually more liberal in the Senate than Barack Obama himself, the man who was a partner in installing the most leftwing, socialist government the United States ever had -- was some kind of "conservative" that "principled conservatives" like BaseballC**k could get behind as a "conservative alternative to Trump."
Joe Biden wasn't chosen as an ideological contrast to Obama. As I mentioned, his voting record was actually more leftwing than Obama's.
He was only chosen as a racial "balance" to Obama.
And yet just four years after conservatives finally saw the end of the Obama/Biden administration, the "True Cons" and "principled conservatives" are/were pushing for an Obama Restoration with Joe Biden completing Obama's Third Term.
This is your Intellectual Class, Conservatives!
Do you feel satisfied? Do you feel like you've gotten good value for your money and patronage?
Joe Biden was never a conservative alternative to anything. He was simply rebranded that by a chronically mendacious and mercenary group of bitter dead-enders of a discarded Ruling Class.
They needed, for Branding Purposes, for Joe Biden to be "conservative," and so with just a few Twitter threads and National Review posts, he was remade into that.
But oh, don't listen to Trump. Trump lies. And the way Trump supporters believe all the silly lies he tells? How cultish!
🚢 🚢 🚢 🚢 🚢
Update: Above, I asked rhetorically, do you think they've already picked out which writer would be the first to earn Pierre Omidyar's March check by writing The Conservative Case for Bernie Sanders.
I was going to say, Jonathan V. Last as my guess. But I withheld.
Well, faint heart never won fair Pierre Omidyar's donations.
Because if I had said "Jonathan V. Last would be the first to write The Conservative Case for Bernie Sanders," I would have been right!
From The Bulwark's newsletter this morning:
2. Policy vs. Corruption

You may like or dislike Bernie's politics. That's a matter of ideology.

What is dangerous about Trump is not his ideological predilections, but his mode of governance. It's the corruption of the system itself.
Did I not just say they would find a "deeper way" in which Bernie Sanders is more "conservative" than Trump?
DID I NOT?!!
Here's the thing: You can say "socialism is horrible!" And you would be correct. (Mostly.) But the choice isn't merely:

(A) America elects Sanders and becomes Venezuela, or
(B) America elects Trump and stays great.

I mean, for starters, Bernie is not going to eliminate private health insurance any more than Trump has built a wall from coast to coast that Mexico paid for. When you hear about Bernie's "socialism," take it seriously, not literally.

But also, because the real choice is:

(A) America elects a socialist who tries to enact legislative polices that may or may not pass, or

(B) America elects a guy who is systematically dismantling the rule of law.

Bernie is Moar Conservative in maintaining the Rule of Law.
Socialists are famous for maintaining the rule of law, Your Conservative Intellectual Elite has decided.
Look: You can fix bad policy. If the government passes legislation that you think is too liberal or too conservative, you can change that the next time your side takes power. Policy can be course corrected.

But you can't "fix" the rule of law. Once it's broken, it's gone. It's gangsterism all the way to the horizon.

If Bernie is the nominee, that's what the real choice will be and anyone who wants to pretend otherwise is just trying to build an alibi for themselves to explain why, when the chips were down, they went with their party preference. Again.
He's now attempting to shame Republicans who will vote for their mere "party preference" instead of voting for the clearly Moar Conservative Communist alternative.
When I was talking about "when do you think they'll start pushing Sanders as conservative," I was in fact being serious, and I wasn't joking. I knew they'd do this. They have done every awful thing I've predicted they would do.
But I did not think the answer to the question "When will they start selling Communism as Fundamentally Conservative?" would be Today.
Oh, PS, having thought it over some more, I'm very very sorry we swept aside this intellectual rot and not-so-hidden sexual admiration for Barack Obama. Clearly, these "men" were and are True Conservatives and Intellectual Titans and we were really very wrong and ignorant to reject their sage, steady leadership.
Do you think that if we beg them, they'll agree to Rule over us once again, and guide our Uneducated positions to become more polite and effeminate?
Do you think they'll do it if we promise as an inducement that we'll sleep with their vile hag wives and let them watch?
🚢 🚢 🚢 🚢 🚢