« Saturday Gardening and Puttering Thread 2/15/20 [KT]
|
Main
|
Saturday Afternoon Chess Thread 02-15-2020 »
February 15, 2020
Ace of Spades Pet Thread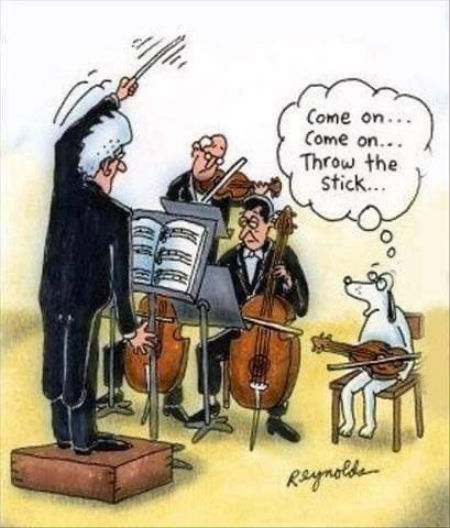 (H/T Legally Sufficient)
***

Good afternoon and welcome to the almost world famous Ace of Spades Pet Thread. Take off those shoes, kick back, relax and enjoy the world of pets.

***
A Little of This. A Little of That.

A cute little video sent in by Tami. Correlation does NOT mean Causality

More cute videos. Doggeh variety. H/T Hank Curmudgeon
***
"This is a game created by my pastor's brother. He's kind of a quirky, intelligent guy. I've played this game, and it's a lot of fun for cat lovers and haters alike. I thought the Ace of Spades crowd might like it.
Thanks for your consideration! - AKA California Girl (not Caligirl).
***
Coping with guilt. H/T Mary

I can't be the only one
My daughter saw me beating myself up over Salem and sent me this.
It actually helps and I hoe it can help anyone else who lost a pal
***
Meet The PetMorons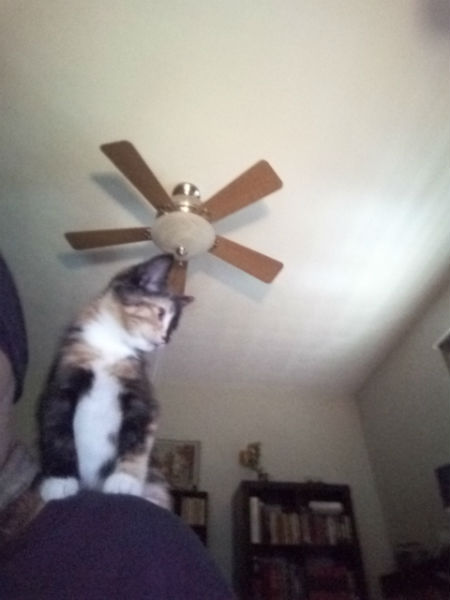 Did I ever send you this? This is Emma. She's a little spitfire. Sweet and onry as heck.

She is Graylians big sister by about 5 minutes.

Sitting on my shoulder. She has learned how to climb up clothes without digging her claws into my skin.

That darn Cat! - Tim in Illinois
Amazing kitteh there Tim, be careful before she goes up onto the ceiling fan and causes mischief. Thanks.
***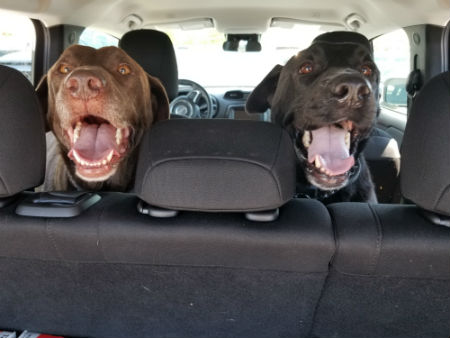 This is Draper (chocolate) and Dillon (black), littermates. I took them in about a year ago. Draper's a goofball and Dillon's the sweetest. They're my buddies. - Andy
Who wants to go for a R-I-D-E? So how much spelling do you do around those characters? Raising littermates can be tough. Tell us your ups and downs.
***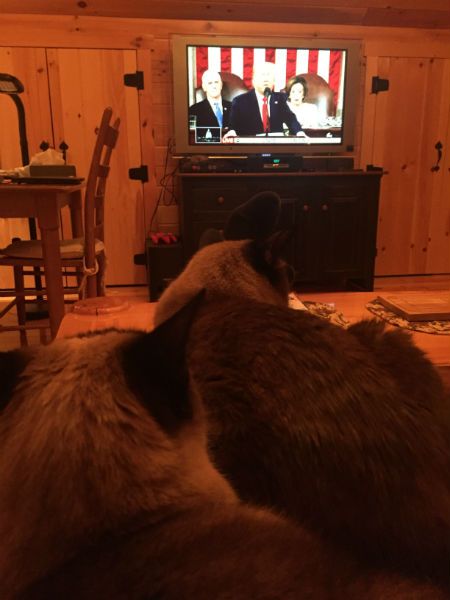 RI Red sends - Max and Mia say:

"Now, that's one crazy Cat Lady!"

Max and Mia should stick to the catnip and leave the politics alone. Thanks for the submission.
***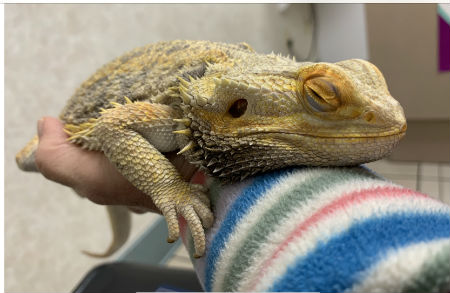 I want to say thank you for the times you have posted pictures of our bearded dragon, Newbie.
We picked him up at a local chain pet store almost 10 years old. He was dragging his right front arm, and they were going to discard him. We took him in anyway, and a few days later his right arm popped back into a socket. This Friday morning, he was awake but sleepy. When my son got home from college in the afternoon, he was unresponsive and his beard was jet black. My wife made the trip to the vet with him and his belly was full of a thick yellow fluid indicative of heart failure, kidney failure, and a possible tumor. We made the decision to put him down, rather than draw things out with painkillers. My wife held him one last time, and let him go. This is the first time since my son was in third grade (he's 23 now) that we have not had a bearded dragon in the house, and it seems very strange. - Christopher.
Our condolences on your loss. What a shocking find. It doesn't matter how big or small an animal is when they pass there is a huge void. Newbie had beautiful colorings. Thanks for sharing.
***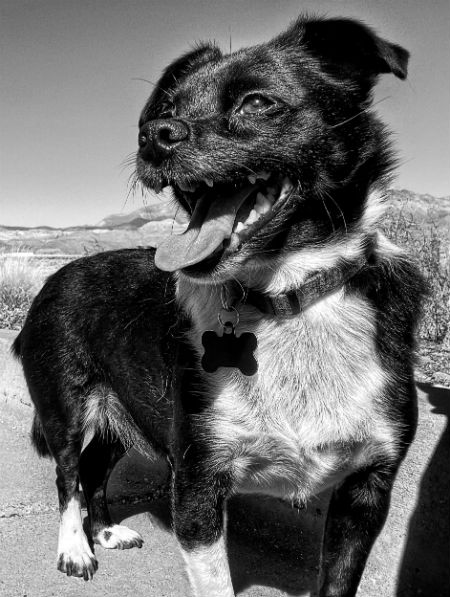 This is "Tuxedo", who we call "Tuxter", a pound rescue who is part chihuahua and part terrier. He's about 10 now. Don't leave a ribeye out to go get a drink. He will steal it. Other than that he's a pretty good pup. He hates any phone notifications, and of course, thunder.

P.S. I've been reading ace.spades.mu since the beginning, but I've never commented. - Ken
Thank you for your long time support. Jump in and comment, we're not that bad. Rib eye steak? I think he's a normal dog. Thanks for sharing today.
***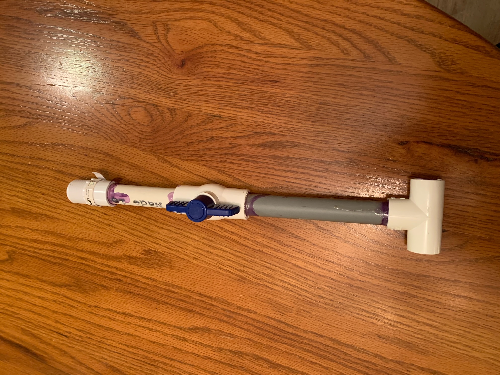 Here are my beloved morons. That's Domino in the middle (3 YO spoiled toy poodle), Mindy in the back and Mocha upfront. Underneath these critters is my new WHITE comforter. I now have to run the lint brush twice a day because the cats shed so bad. However l, it's a pleasure because I SO love these beauties. Thanks for giving us a great Sat Pet Thread each week. Sure love the stories. Debbie
How dare you abuse those poor animals? I mean really Debbie. You're lucky we don't know where you are at otherwise we would rescue those pets. We are glad you shared with us today. Thanks.
***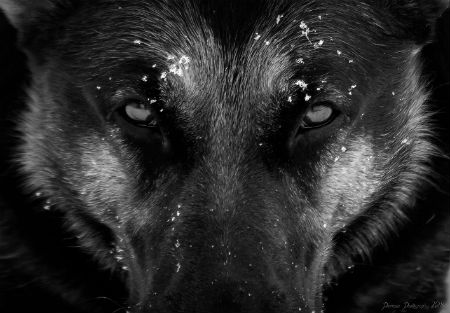 Our German Shepherd Lena, wolfish in the snow. She's now seven, and a grand lady! - lizabth

What an awesome photo lizabth. Thanks for sharing. So with a dog called Lena are there any Olie jokes? J/K. Cool looking dog.
***

Thank you to all of you who submitted pets and links this week. Us PetMoron masters appreciate that.
If you have something to share, please forward to petmorons at gmail dot com.
We just celebrated our 4th birthday, God willing and the creeks don't rise, we'll have a few more.
Have a great week!!

posted by Misanthropic Humanitarian at
03:00 PM
|
Access Comments