« Rush Talks About Receiving the Medal of Freedom
|
Main
|
EMT 02/08/20 »
February 07, 2020
Rejected Themes For The ONT
Y'know, sometimes when I have writer's block for the ONT, like now, I try real hard to think of theme posts I could write. For example, I bet I could get a dozen ONTs just out of Yahoo! Answers.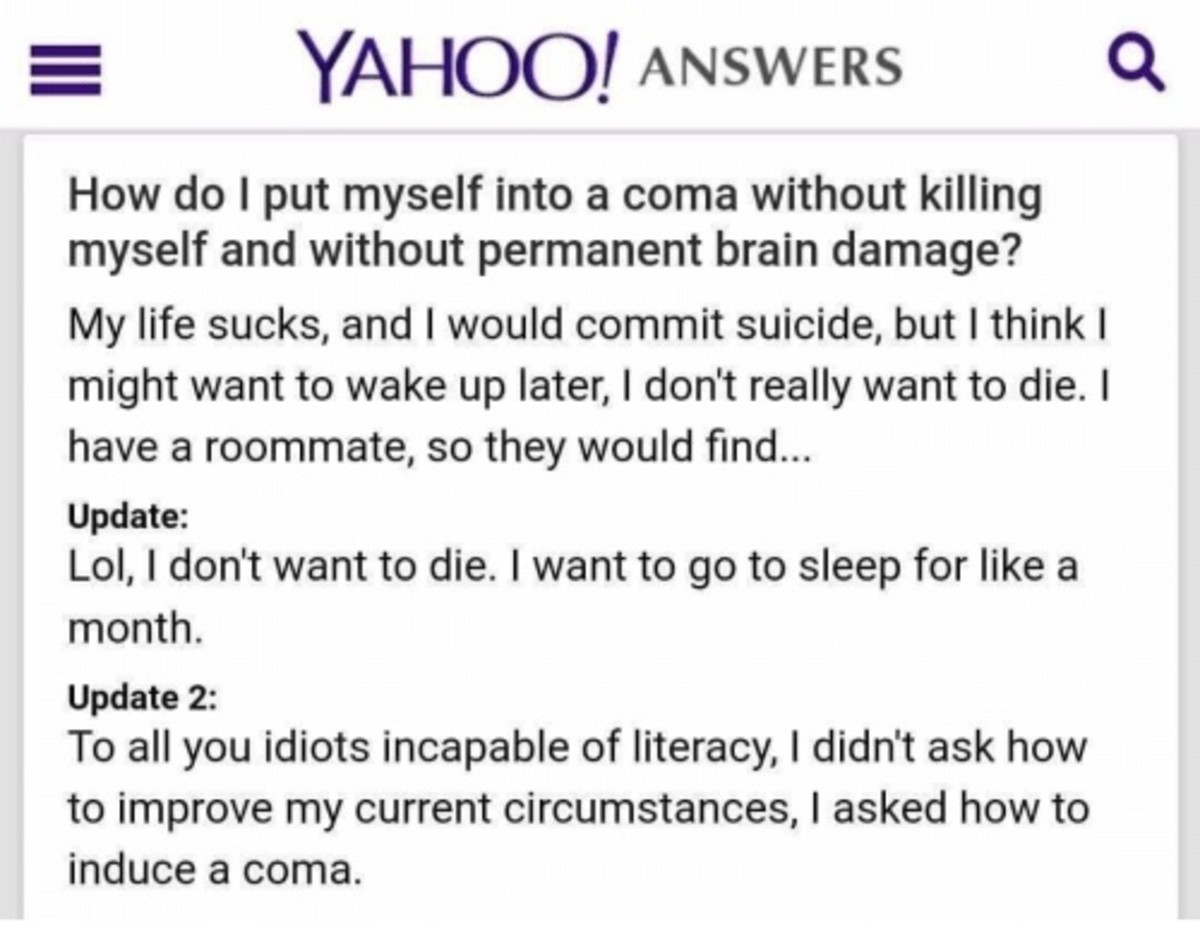 Here are some other rejected (for now) ONT themes.
Did you know there is a surprising amount of material out there related to Cotton Eyed Joe? Enough for an ONT? Probably. I mean, it was even in the Super Bowl!

There are even cotton eyed jokes

Cute is a subject with plenty of material. I could definitely do an all cute ONT.
How about this picture I took of my friend's newborn daughter?
Nothing cuter than baby feets.
Some topics have plenty of material available, but they're verboden on the ONT. Like sex, Ace's legendary busty lesbians notwithstanding. Still, people send me stuff I can't really use, like this from @tmi3rd. (Warning! NSF...well, just not safe. Not safe, leave it at that. Although frankly, if you click on a link to a song called "Booty flow" by "Partiboi69" you kind of deserve what you get)
We also try to stay away from Ethnic Humor

Considering that one of the ONTs that I write is Friday Night, you'd think that there would be more drunk humor, but surprisingly there's not.

This is a particularly rich vein to mine.
A veritable mother lode, to be honest.

Naturally, there is always a place on the ONT for thought provoking content, and there have been some surprisingly deep discussions on the ONT at 3 in the morning (admittedly not by folks from the previous section). I've never done an entire ONT that's all serious stuff, I figure that humor is a big part of what people are looking for here. Here are a few serious links.
Thorstein Veblen's Theory of the Leisure Class

The Question That Explains Almost Everything

And of course, there is always an appetite for smart military links.
The Navy Is Arming Nuclear Subs With Lasers. No One Knows Why.

And, last but not least.....Politics. The ONT is a break from the political threads that dominate the daywalker's world, but it is still something of interest to most posters, so it does creep in from time to time.

Trump's 2020 State of the Union address was nothing less than magnificent
White House to Nancy the Ripper: You just tore up the last surviving Tuskegee Airman, and that's your legacy
I do have a thought on this that I hadn't seen anywhere. I think Nancy clumsily tore a page from Trump's speech playbook. Trump gave a great speech, but it isn't being talked about nearly as much as it should be because everyone is talking about Nancy ripping up the printout. She has effectively stolen some of his thunder. Pretty clever of whoever thought of it, assuming it was intentional. I doubt such a strategy could percolate out of Pelosi's gin-soaked mind, but if you watch, you'll see that right after Trump hands her the text, she tests to see if she can tear it, as if she'd been told to do so and was checking to see that she could.

Anyhow, those are just some of the themes I've considered and rejected for the ONT. Instead I always take a little from column A, a pinch from container C and mix liberally with Vitamin Davey to get a multifaceted ONT.
Tonight's ONT brought to you by work ethic:

posted by WeirdDave at
10:00 PM
|
Access Comments