« Project Veritas Hidden Camera: Elizabeth Warren Staffer Complains That Democrats Spend All Their Time Arguing About Pronouns Rather Than Discussing Real Problems
|
Main
|
With Biden Apparently "Imploding," Democrat Liberal Establishment Starts Spinning Caucus as No Big Deal Anyway
Update: State Party says it will do a "quality control" check; may not release results tonight »
February 03, 2020
Iowa Caucus Results Thread
UPDATE: BIDEN WILL HAVE TO STRUGGLE JUST TO MAKE THE TOP THREE
Big update:
Dave Wasserman gives this as his twitter bio:
Dave Wasserman @Redistrict U.S. House editor of the nonpartisan @CookPolitical Report & @NBCNews contributor.
And this is what he hears:
Dave Wasserman @Redistrict Widespread reports of Joe Biden barely/not viable in types of precincts he should be to have any type of chance. Having a hard time seeing him in top three...long way to go.
Wow.
Ohhhh my:
Jennifer Jacobs

@JenniferJJacobs

First alignment at Iowa City-15 was:

Sanders 98
Warren 69
Buttigieg 30
Yang 21
Klobuchar 16
Biden 14

BUT that's 248 and the headcount was 246 — so they are recounting.

#iacaucus2020


Earlier:
There are... "technical issues" in the app used to report results.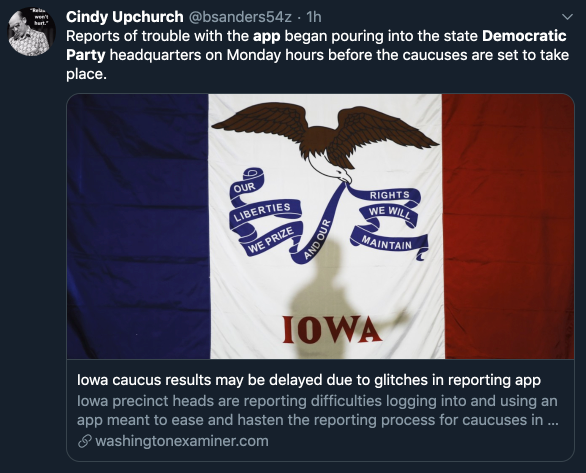 A friend says, "Hey, it takes time and coordination to rig a vote against Sanders."
And they're not being forthcoming with details about how this app even works:

A politically-connected friend says that Biden's people are putting out the word that they expect to come in third place.
Now, is that their real prediction? Or are they claiming they expect third place, so they can claim victory when they come in second place?
Which is another way of saying, "come in losing place"?
I think the latter.
But if this tip is accurate (and I think it is) they are writing off a win as a possibility.
And... Now this.
Nate Silver says it can "confirm" that the scrapped, memory-holed Des Moines Register poll showed Biden in... fourth place, with a mere 13%.
If you can't read that, the poll found:
Sanders 22%

Warren 18%

Buttigieg 16%

Biden at 13%

They suppressed a poll showing Bootygag doing pretty well -- beating Biden! -- because, allegedly, some of their interviewers omitted his name or mispronounced it?
I don't find that credible.
The theory that this poll was suppressed not due to problems conducting it but because it created headaches for the Democrat Establishment Permanent Ruling Class seems... more viable.
If this news about the suppressed poll is true, and if the poll was actually accurate -- two big ifs -- well, Sundown Joe might be lucky to eke out a third place finish.
Hmmm: If 35% -- over one third -- of caucus attendees are attending the caucuses for the first time... they're not just showing up to support Old Establishment Joe Biden, right?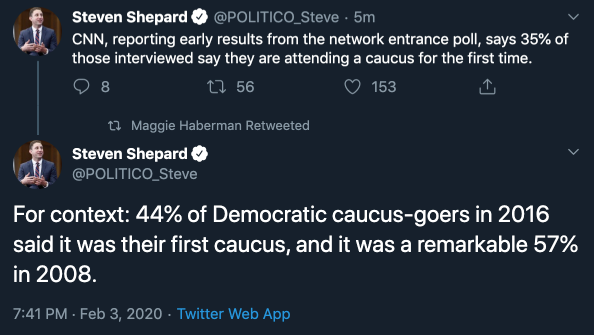 More: Did Adam Schiff and Jerry Nadler destroy Joe Biden?
Every day for the four months of impeachment, we were reminded frequently of Joe Biden admitting to forcing the Ukrainian president to fire a prosecutor investigating his son's firm -- or lose billions in US aid.
That can't have helped.
To celebrate Biden's impeding victory, he's a musical tribute -- an absolute shred of Dancing in the Streets.

posted by Ace at
07:50 PM
|
Access Comments