ę Graphic Testimony in Harvey Weinstein Trial Suggests Disgraced Mogul Looks "Intersex"
|
Main
|
LOL: DNC Plotting to Re-Introduce "Super Delegate" Voters to Screw Bernie Sanders Again Ľ
January 31, 2020
Senate Votes on Witnesses, Plus:
Countdown to the UK's Exit from the EU
Update: I'm told they've reached a deal to hold the acquittal vote on Wednesday. The day after the State of the Union.
Well, as long as it doesn't interfere with your weekend, Heroes.
Impeachment: Apparently Republicans have the votes to block witnesses, but do not have the votes to call for a speedy vote on the merits.
They are negotiating with Schumer about this. Schumer wants to keep this running indefinitely. I don't know what the rule is here, or why they don't have votes to proceed to final vote, but people are talking about Wednesday to have the final vote.
They will have the votes to find Trump not guilty. Just not until next week.
Why not do it tonight and tomorrow, I asked a friend. "Because Senators are lazy," he said, "And they want to go home. So they're putting off the country's important business to have a nice Superbowl weekend."
Thank you for your service, c*nts.
Brexit: A country regains its sovereignty at 11 pm GMT, which is 6 pm EST.
Throughout the day, bands of ardent Brexit backers draped in Union Jack flags gathered outside Parliament in London to celebrate, their numbers growing and volume increasing as the time grew closer. Nearby, pro-Europeans waving the blocís blue and yellow flag came to commiserate.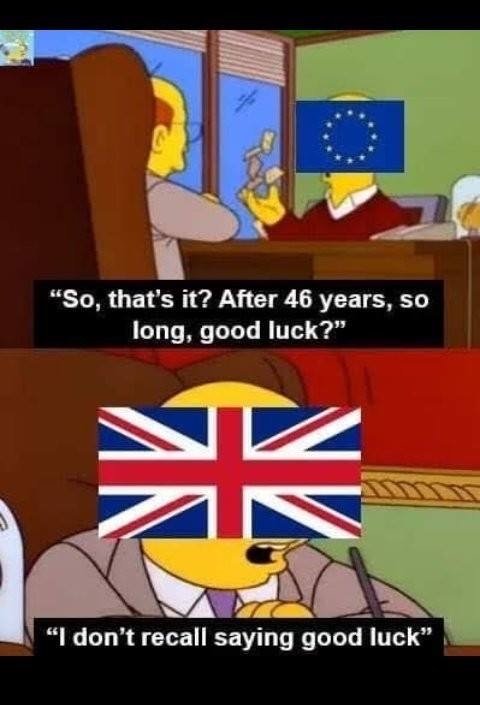 Below: The EU removes the UK flag from its stand of flags; a report on the upcoming moment of escape; and Brexiteers celebrate.

Via Ed Driscoll at Instapundit, here's Nigel Farage giving a tour of the huge European Parliament in Strasbourg. It's only used 48 days per year -- the rest of the time, the parliament is in Brussels.
Farage notes that the EU is really doing its part to reduce its carbon footprint.

posted by Ace at
05:40 PM
|
Access Comments