« Arab Kleptocrat Schemes To Keep The People He Represents In Poverty...Or A Day Ending In "Y"
|
Main
|
Super Bowl Thread »
February 02, 2020
Food Thread: What's In Your Super Bowl?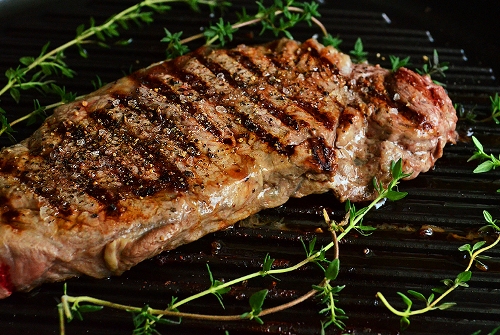 Yeah...that will be the Super Bowl food here at Chez Dildo. I refuse to buy into the over-marketed guacamole and chips and chicken wings mania.
DON'T TELL ME WHAT TO DO!
And, in part because I couldn't find any good avocados; most of them had somebody's big fat thumb print in them. At least I am assuming that from previous experience. And I already had some fine chicken wings a few days ago at a dive bar near here. They were big and juicy and very crisp! I was impressed.
As an appetizer? There will be the leftover Sous Vide pork ribs. Yes...I'll Sous Vide anything, and pork ribs work particularly well. Perfect tenderness and texture. The only flaw was my dry rub, which I created for pork, but it works better on other things! Yeah...nobody said I was good at this.
Eat what you want. That's the message. I don't mind (in fact I embrace) traditional meals. But the hyper-marketed lunacy of The Super Bowl makes me just a bit irritated. Do I really have to walk past 12 foot beer and chips displays on the way into the market?
******
Last week I challenged you maniacs to beat my precious seven-year-old Velveeta and take the crown for oldest food. The rules were, alas, incomplete, so two entries will be evaluated by the competition committee before the contest ends.
Can the entries be purchased as souvenirs, or inherited? Or must they have been purchased by the competitor for consumption?
These are the questions that consume all of my waking hours!
But here is a taste (as it were)....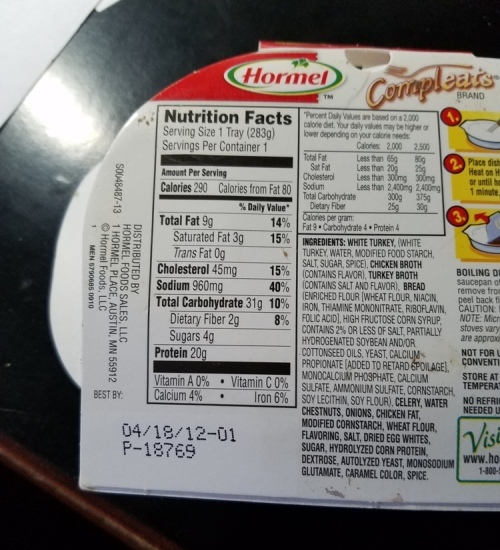 From "CFO Mom"
And another...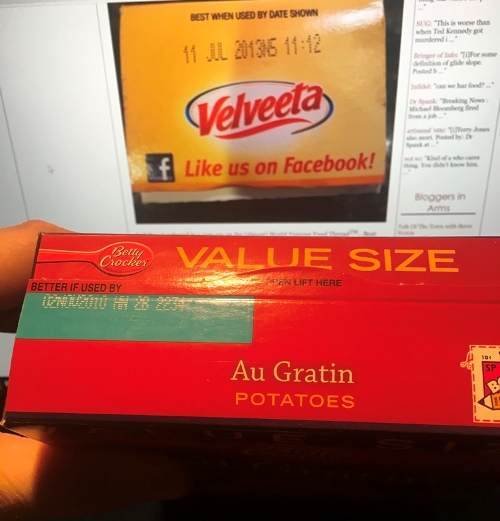 From "Andrew"
Perhaps the winner must consume the winning entry before he receives the prize?

******
Don't get me wrong; I would eat these cookies and probably be happy, but I think that in general a cookie should be limited to a few flavors. There is simply too much going on in these, and I think it detracts from the pleasure of eating sweet things.
Salted Pretzel Cowboy Party Cookies
Although I admit that pretzels as an ingredient always piques my interest. That salty crunch is such a pleasure!
******
What the hell; maybe they should just be done with it and build a fully automated McDonalds. That would amuse me greatly, and infuriate the Fight For 15" lunatics.
Your fast-food drive-thru will soon be easier and faster

Those improvements appear to be underway, as McDonald's has just announced the acquisition of Apprente, a Silicon Valley startup founded by two Israeli tech entrepreneurs. They create voice-based platforms for complex, noisy, multilingual, multi-accent and multi-item conversational ordering. In McDonald's restaurants, the technology is expected to allow for faster, simpler and more accurate order taking at the drive-thru. In the future, it's expected that the technology will be incorporated into other facets of the restaurants, such as mobile ordering and in-store kiosks.
******
Watermelon Martini
...Except it isn't a Martini. It's not even close. Pureed watermelon and weak-sauce Soju (a Korean spirit)? Spare me.
This illustrates the conceit of many food writers and bloggers and unfortunately too many professional chefs. Don't take a classic food or drink, torture it beyond all bounds of civilized behavior, then call it some minor tweak on the original.
By the way, if any of you want a drink made with watermelon, just talk to shiv-master Bluebell, who makes a killer frozen watermelon Margarita. Yes, I drank it. Happily. And yes, I know, it wasn't really a Margarita, but at least it had full-power booze in it. And besides, if you want consistency in food punditry you'll have to go somewhere else, where they put maple syrup on their French Toast and shake their Manhattans.
You know...Hell.

******
These kinds of articles are always light on facts and heavy on scurrilous charges of racism and xenophobia and a dozen other buzzwords of the Left. And...I wonder whether they were paid by the Chinese government for this article?
Pinning Coronavirus on How Chinese People Eat Plays Into Racist Assumptions
The outbreak has had a decidedly dehumanizing effect, reigniting old strains of racism and xenophobia that frame Chinese people as uncivilized, barbaric "others" who bring with them dangerous, contagious diseases and an appetite for dogs, cats, and other animals outside the norms of Occidental diets. These ideas, perennially the subtext behind how Chinese people are viewed by the Western gaze, have been given oxygen anew after preliminary reports linked the coronavirus outbreak to a Wuhan wet market where produce and meat are sold alongside livestock and more exotic wildlife like snakes, civet cats, and bamboo rats; and to bats, which are frequent carriers of viruses that cause human disease.
Stop your whiny bitching about reality. Have we fallen so far that we cannot recognize that some cultures do some things better than others? Must we immediately trot out the dreaded charge (so watered down as to be completely ineffective!) of racism?
Sorry...cultures that eat rodents and bats and other disgusting things, coupled with a cavalier attitude toward food safety are inferior to those that don't. It's not racist to recognize that.

******
I have heard of this place from some of you folks and also the occasional article about the best hams in America.
Benton's Smoky Mountain Country Hams
Their prices seem reasonable for the rumored quality. Anyone have recent experience with their stuff? it looks great!
******
Food and cooking tips, Large-breasted Muscovy ducks, well-marbled NY strips, bartenders who use vermouth in Martinis, crisp bacon (although I am moving toward less crisp), thick and fluffy pita, and good tomatoes that aren't square, pale pink and covered with Mestizo E.coli:
cbd dot aoshq at gmail dot com
. Any advocacy of French Toast with syrup will result in disciplinary action up to and including being
nuked from orbit.
And yes, shaking a Manhattan is blasphemy...it's in the Bible!

And...A Bleg: Anyone know of a contract sewing company that will reproduce a kitchen product from a well-worn example? Start to finish, and a small run...maybe a few hundred. If so, please contact me at my email address above.
Thanks!
&topic=world_news">

posted by CBD at
04:00 PM
|
Access Comments