« The Morning Report - 1/15/20
|
Main
|
The Morning Rant »
January 15, 2020
Mid-Morning Art Thread [Kris]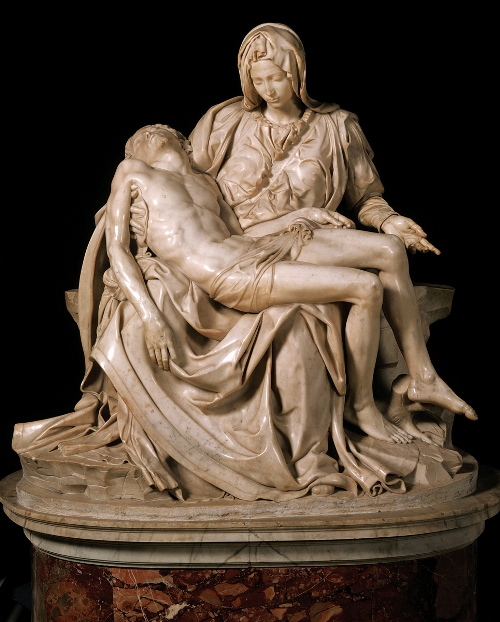 Pietà
Michelangelo di Lodovico Buonarroti Simoni
Michelangelo is my favorite artist of all time, and this is probably my favorite work of art in all of history. His most famous composition, the ceiling of the Sistine Chapel, was painted under protest, taking him four years to do, almost alone, while being constantly harassed by busy-body cardinals and fans trying to sneak a peek. He insisted he was a sculptor only, seeing painting as the inferior medium. His sculpture made him a house-hold name during the High Renaissance, and it was arguably his "Pieta" that started his journey to immortality.
It is a simple piece, really, just Mary and Jesus. There are no extraneous detail or images to distract the viewer. No background. No angels or humans emoting on the edges. Just the two most important figures in Roman Catholicism immediately after one of the defining moments of that faith system. Mary holds her Son one last time before He is entombed. While Jesus is in the physical center of the work, Mary is the real focus here. She is the setting for the piece and dictates mood.
Michelangelo is famous for his large, thick women and even this early in his career, we see his style. Mary is massive. The sculpture is already 6 feet by 5, but in your mind's eye, stand her up. She would tower over her Son and the viewer. Mary's contours define the work's frame. Jesus is draped on her lap but his form remains almost wholly within the work's boundaries. The composition recalls myriad depictions of the Madonna and Child in art, but where those works depicted innocence, hope, and salvation, with the hint of sadness, this work is all tragedy, mourning and pleading. Jesus' form mimics the folds of her garment causing Him to almost disappear in her lap.
In Catholicism, Mary is a personification of the Holy Mother Church. This work is a physical manifestation of the Catholic Mass. Mary's lap is the altar and Jesus's body is the Eucharist laying on the altar, broken for the salvation of the viewer. To me, the overall shape of the work also looks like the silhouette of a church façade. The work looks triangular, but since it is sculpture, it is really pyramidal. To me, pyramids feel solid, stable and eternal, which make this work truly ageless and timeless.
Mary holds her Son up for the viewer to see better, but her left hand is held out in a gesture of pleading with the viewer to consider what her Son just went through and to believe. But Mary doesn't look at the viewer. She can't. She is still and mother hanging onto her dead Child, burning His image into her brain for as long as possible. She is also not crying. She has cried all her tears during the Crucifixion. Now she has nothing left but total sadness. She looks very young, almost younger than Jesus. This symbolizes her perpetual virginity. She retains her outer youth and beauty to symbolize her inner beauty—her purity.
Michelangelo was about 25 years old when this was unveiled. There's a story that says this work was originally unsigned and when it was unveiled the crowd was so stunned, it was thought angels descended from heaven to carve it themselves. Michelangelo was so offended that someone else got credit for it that he sneaked into where it was in the middle of the night and carved "Michelangelo made this" on Mary's sash. I don't know if this is true but it sounds like him.
[Kris and I agree that sculpture is difficult to represent on a computer screen...even more than two-dimensional works. Here is a video of the sculpture that does it a bit more justice.]

posted by CBD at
09:30 AM
|
Access Comments